We all usually stop at the rock house to stack a rock, sign the guestbook, and get a nice group shot. But in 2004, the winds, rain and especially lighting didn't let us stop. It wasn't safe to have 80 people and 34 metallic vehicles all in one place with lightning all around. It was too bad we could not get a group photo, but our safety is more important. I added some photos of the rockhos are from last year's run. So we headed on down into to the trees (which were old Bristlecone Pines straight out of the Wizard of Oz forest). Everyone made it down off the mountain safe. Views off to the south thru the clouds offered up Georgetown and I-70 to Loch Lomand Lake to the west.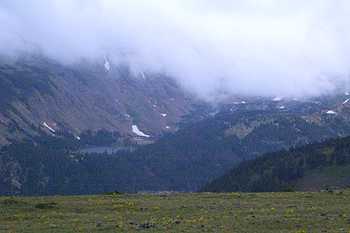 Loch Lomand Lake from the 'Rock House'...(VS)


Once down off the switchbacks at the air-up spot, some aired up, while others headed down to Idaho Springs in the rain for some air. Yea!! A great day for all, and everyone was a winner. The spirit of the Hobo lives on to the next trail...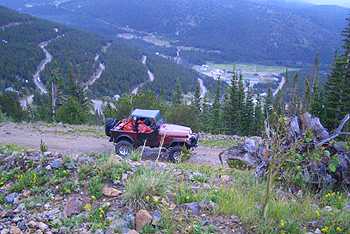 We worked our way back down to Alice thru switchbacks..(VS).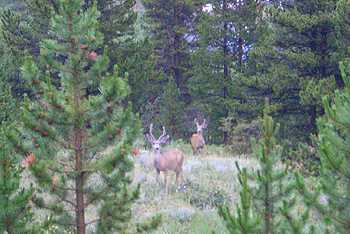 Some caught a glimpse of deer along the way down...(VS)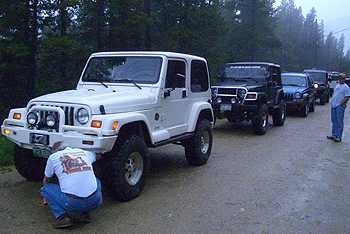 Airing back up after a fun trail and a fun day...
(VS)

CONGRATS from the HoboJeepers to
JIM KNIGHT
the 6th Annual Hobo Run 2004
'Top Hobo'

Thanks again to the "Hobos for a Day" for your support (you know who you are), hope you had as much fun as we did, and we look forward to seeing you next year in mid-July for the 7th Annual Hobo Run 2005!!
'See ya on the trail!!'
MHJC Patrol 1 HoboJeepers
"JEEP, JEEP!!"

*Here are some other Hobo Run/Kingston Peak Trip Reports:
5th Annual Hobo Run-HoboJeepers
4th Annual Hobo Run-HoboJeepers
3rd Annual Hobo Run-HoboJeepers
2nd Annual Hobo Run-HoboJeepers
1st Annual Hobo Run-HoboJeepers
Kingston Peak Loop Trail 99'-HoboJeepers
Kingston Peak Loop Trail 00'-HoboJeepers
Kingston Peak by mountain bike
Kingston Peak Map & Trail Descriptions by 4x4trails.net
Kingston Peak Trail Report by TrailRidge Runners 4x4 Club

A special "Thanks" and please support all
of this years local Hobo Run 2004 Sponsors:

*AAA TRANSMISSION WAREHOUSE- of Englewood: John-303-789-2001: HOBO RUN 2004 Dash Plaques & Trophies
-We are the 'Baddest Boyz in the Tranz Bizness'! We offer a full service of Automatics to manual repair. 4x4 custom trannys always welcome.
*MILE-HI JEEP REBUILDERS- of Denver: Jim-303-629-0378: 6th Annual HOBO RUN Traveling Bandanas
-Established 1962 in Denver, CO--We carry a full line of new and rebuilt JEEP replacement parts, & aftermarket accessories.
*BESTOP- of Westminster:
-Replacement tops and accessories for Jeep Wrangler, Jeep CJ, Jeep TJ and Jeep YJ.
*4WHEEL PARTS- of Aurora:--Jeremy-303-347-5337
-Wholesaler supplies aftermarket parts and accessories for Jeep and other four-wheel drive vehicles.
*CRANE HIGH CLEARANCE- of Littleton: Tim/Chris-303-651-7757
-Crane High Clearance is all about strength, durability, and great looks. We strive to bring unique products to market that you can not only use but abuse!
*OFF-ROAD TECHNOLOGY- of Colorado Springs:--Bruce-719-633-1111 ext 34
-Bumpers, roof racks and accessories for off-road/4x4 enthusiasts.
*SWAGMAN PUBLISHING- of Castle Rock:--Jeanne-303-660-3307
-We research and provide four wheel drive trail maps and travel guides to America's backroads published by Swagman Publishing. For your next American 4WD adventure our travel and trail guides.
*FUNTREKS.COM- of Colorado Springs:--Joan-toll free-1-877-222-7623
-Guidebooks by Charles Wells cover back roads & 4-wheel-drive trails for SUV owners and serious 4-wheelers. Books include Colorado, California, Arizona and Moab, UT.
*ELITE AUTO GLASS- Metro Denver-
- Windshield and Auto Glass installed nationwide.
and other industry sponsors of the HOBO RUN 2004:
*LEATHERMAN TOOLS- From modest beginnings, the popularity of Leatherman tools has grown rapidly.
*REDNECK CONCEPTS- Get in and out of your Jeep easily with the Redneck Concepts The removable Cowboy StirrUP Step.
*SOLAR COSMETIC LABS- manufactures of NO-AD sunscreen.
*FIBERLINK WEBBING PRODUCTS- Provides all your webbing products from industrial strength tie downs through tow straps and tie downs for your recreational vehicles.
*4WHEEL DRIVE HARDWARE- Specializes in Jeep parts and accessories.
*SHELL VALLEY- Manufacturers of Fiberglass Jeep Replacement Parts, and stainless parts.
*QUADRATEC- Jeep accessories & parts.
*KLUNE INDUSTRIES- KLUNE-V Planetary Crawler Underdrive for extreme four-wheel-drive applications.
*RADIATOR SPECIALTY PRODUCTS- Quality automotive, hardware, plumbing, and traffic safety products to the world, including GUNK.
*FOURXDOCTOR- Jeep body protection, fuel tank protection, diff guards and more.
*HI MOUNTAIN JERKY- With several blends to choose from you can't go wrong with Hi Mountain's Jerky Cure and Seasonings.
*GARMIN- is a leader in Global Positioning System (GPS) technology and an innovator in consumer electronics.
*PERFORMANCE ACCESSORIES- Off-Road Products - 2WD & 4x4 Truck Parts and Accessories for street trucks, SUVs, and more.
*CLEANTOOLS, INC.- Home of the famous Absorber towels, and Glosser detailing towel.
*OH BOY OBERTO! BEEF JERKEY- For over 85 years, "Have Fun" has been more than the company motto!
*OASIS MANUFACTURING- Safety Seal Tire Repair Kits. Air compressors and air down kits.
*LECARRA STEERING WHEELS- Lecarra Steering Wheels are designed and made to provide maximum comfort and driving satisfaction
*SKID ROW AUTOMOTIVE- Makes skid plates and accessories for offroad vehicles.
*FIRESTIK ANTENNAS- Firestik antennas, mounting accessories and coaxial cables for CB and Amateur Radio communications and technical support information.
*OASIS MANUFACTURING- Safety Seal Tire Repair Kits. Air compressors and air down kits.
*DELORME Colorado Gazateer MAPS- Provides mapping programs for handheld computers, Gazeteer Maps, and more...
*TILLAMOOK COUNTRY SMOKERS- Fresh Smoked Meats from Tillamook Country Smoker with roots reach back 50 years, when a man named Art Crossley started making his own unique brand of beef jerky. Buy online and save!
*TUFF COUNTRY SUSPENSIONS- Tuff Country suspension lift kits & leveling kits for 4wd vehicles.
*DURANGO 4x4- Welcome To Durango4x4.com. Warn Winches - Lowest prices and FREE Shipping on orders over $500!. Jeep accessories & parts out of Durango, Colorado.
"JEEP, JEEP!!"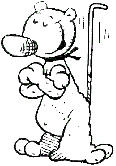 *To HOBOJEEPERS HOMEPAGE w/frames*
(c) Copyright 1999,2000,2001,2002,2003,2004 MHJC Patrol One
Jeep is a registered trademark of Daimler Chrysler Corporation