PATROL ONE OUTINGS
ALL-4-FUN 2005
Gunnison, Colorado
FAMILY/
VENDOR'S DAY
Wednesday, July 27th
& MHJC BBQ under the Pavilion...
@ Around Camp-Gunnison, Colorado

Ahhhhhhhhhhhhhhhhhhhhhh, time to relax, sleep in, sit back, eat and drink, met and mingle, sit back, eat and drink, met and mingle, and enjoy Family/Vendor's Day! Every Wednesday of All-4-Fun's is set aside to do all the above mentioned. Some even took the opportunity to fish, do another trail, or take a long nap...
The festivities started with a parade down the main street of Gunnison. It looked like everyone came out to drive their rig thru Gunnison in the parade. We were 2 in a row and were strung out for a long ways! At around 8:30am, we all met up near the city park. Staging in various neighborhood blocks, we waited until 9am to start. At Western College, a band camp was running, and we asked if they wanted to be in our parade, so we got a whole H.S Band to be in the front (an ALL-4-FUN 1st). Off we went, and in 15 minutes it was over! Many Gunnison residents didn't even know we were in town, they did now!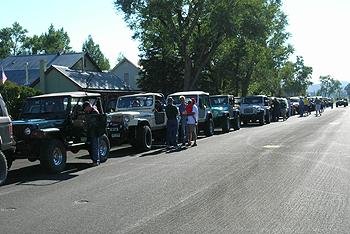 Lining up for the parade...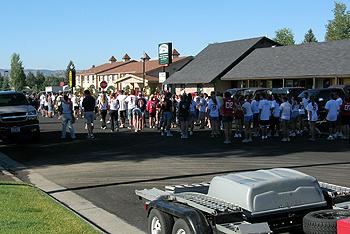 A marching band too!!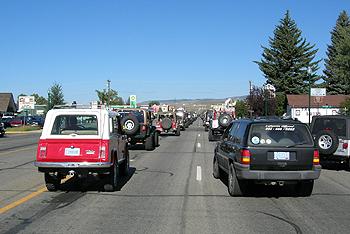 Down Hwy 50/Main Street of Gunnison...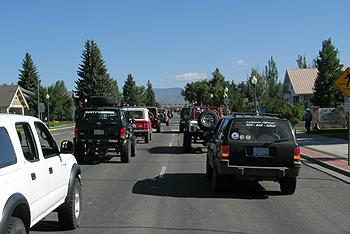 Then North up Hwy 139...
The manufacture's set up under and around the 'big top' early for the day. By 9:30am, most were set up and chatting with participants already. It was a 'shopping mall' of who's who in the 4x4 aftermarket industry. A great way to meet one on one with the owners and sales reps about new and old products from many big names to answer questions and give special show discounts.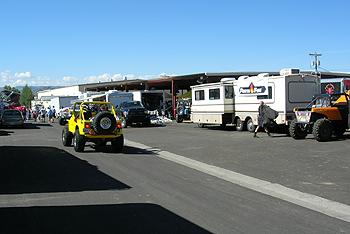 Vendors set up everywhere...
Numerous vendors were around from 10am to 4pm. Thanks to Paul Zimmerman and Chevette in Promotions for organizing the day. Vendors for the day included those on the All-4-Fun page on the MHJC website. Those I know were there-and/or donated door prizes (and listed in the program) were: Bestop, Off-Again, BigOTire, Warn, Poison Spyder Customs, M.O.R.E., Clemson 4Wheel Center, Tellico 4x4, Bits of Silver, Tomken Machine, Tuffy Security Products, High Country 4x4, Rockhard 4x4, 4Wheel Parts, Fabtech, Mile-Hi Jeep Rebuilders, Raingler-Jeeperman, ARB, Gunnison National Forest Office, Discount Tire, Porta Fire, Medved, Colo Custom Crawlers, Klune V, Miller Off Road, RedNeck Concepts, and Western Adventures to name a few. Thanks to those above for supporting All-4-Fun and we look forward to seeing you at next year's Vendor day!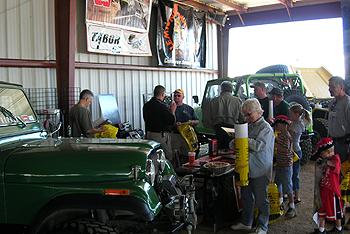 Many vendors, like Warn...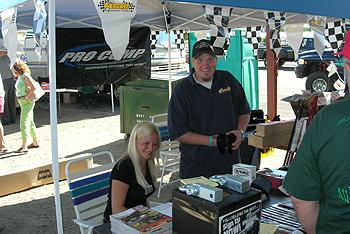 4Wheel Parts...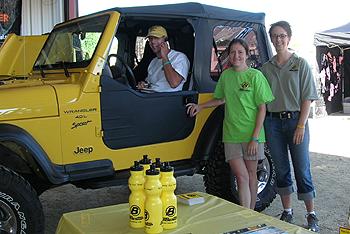 Bestop...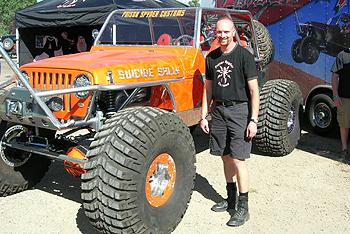 Poison Spyder Customs...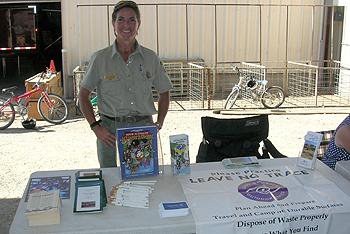 Gunnison National Forest Rep...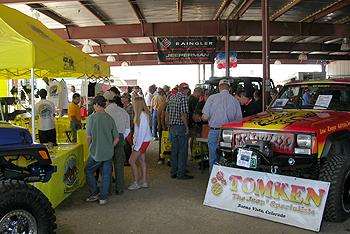 Raingler, Tomken, MORE...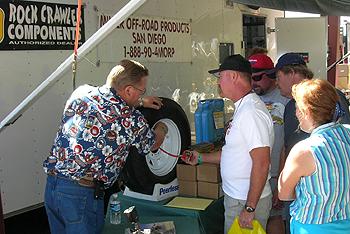 Miller Off Road shows of some of their products one-on-one...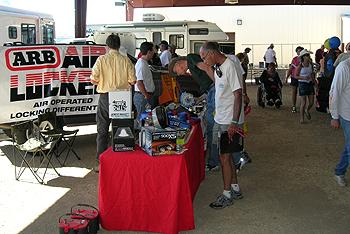 ARB on hand to answer all your Q's...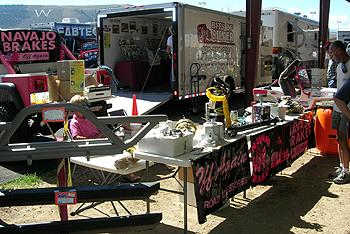 Off Again and Bits of Silver...
Anyone who wanted to have his or her rig in the Show-N-Shine set up from 9:30am-11:00am. This year's Show-N-Shine had all kinds of rigs, and a new twist on category's. Richard D.. created 4 categories for everyone to participate. They were all based on how 'Trail Ready' you rig was. They were Stock, Modified, Super Modified, and Extreme. Judges were picked based on their knowledge of the category, and guidelines were followed. I was judge in the modified category, a hard one at that. There were about 18 nice rigs. All capable of being on the trail, thought the top 4 were rigs I would run with, and had owners who knew their rigs and were 'Trail Ready'.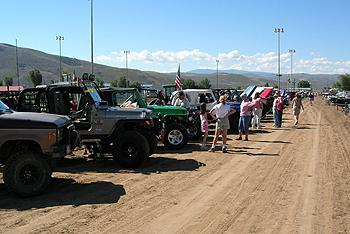 A great showing for the Show-N-Shine!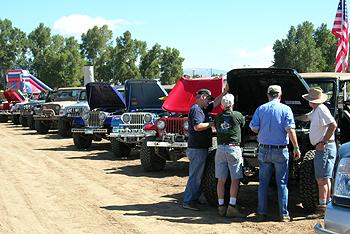 Many nice rigs,,,,hard to judge.
Hot dogs were served from 11:00am-2:00pm thanks to Tellico 4x4. Thanks also to the guys and ladies on the 'front lines' actually putting the Hot Dog lunch together. Free beer (from Clemson 4Wheel Center) was close at hand most of the day, along with free soda.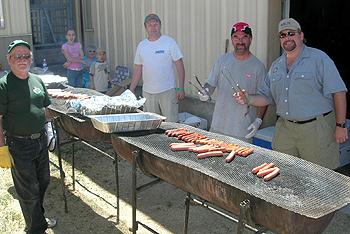 Hot Dog Masters...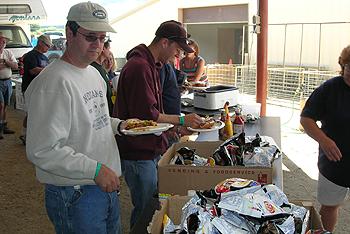 Lunch was filling and just in time...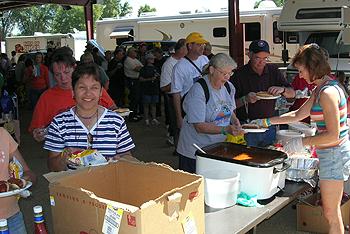 Plain or with chili, they hit the spot!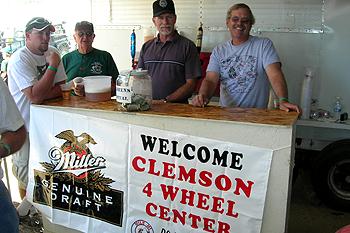 Beer guys ready to serve you another cool one...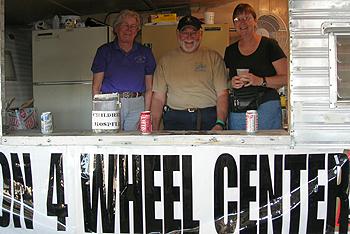 Or, a cold soda will do...
Kids Games his year was put on by Ed Collins and his committee starting about 10:00am. The kids had fun games to compete in along with a climbing wall, and air slide, and air jumping playground (provided by All-4-Fun--the company). Looked like a lot of fun!!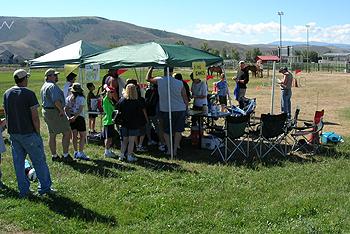 Kid's Games...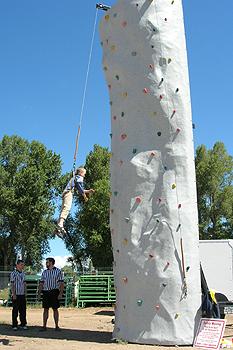 Kids had a climbing wall!!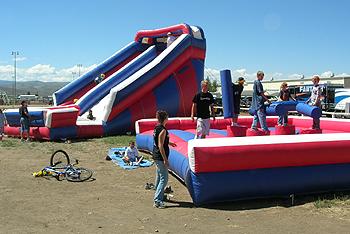 Or, an air slide or knock-em-off to play in...
At 5pm, the MHJC BBQ Committee served up another great meal of BBQ Chicken and beef sponsored by Fabtech!! The food was great! Choice of cole slaw, potato salad, beans, bread, roasted chicken, shredded beef, or pork smothered in BBQ sauce---YUMMY!! Along with soda and beer from Clemson 4Wheel Center.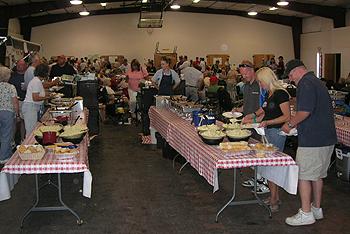 Yummy BBQ!!!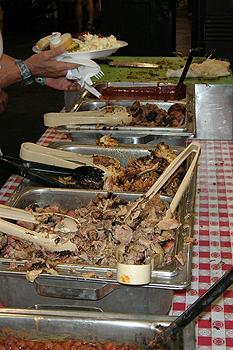 Some great BBQ at 5pm...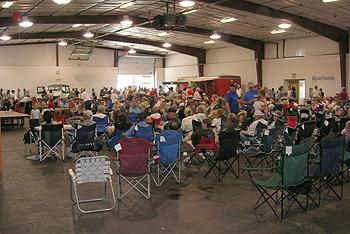 The crowd chows down and awaits Trophy Presentations......
At 7pm, the Kids Games and Show-N-Shine awards were handed out. The kids who did well won medals (like mini-Olympians) for their effort. All the kids got something if they participated. Then they had a raffle for all the kids for a chance to win something. Fun to see the little ones light up...nice job!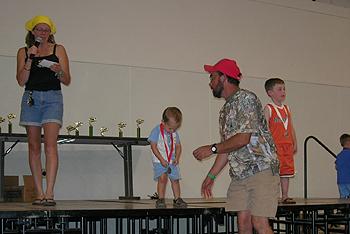 All ages of kids received a medal for their great work...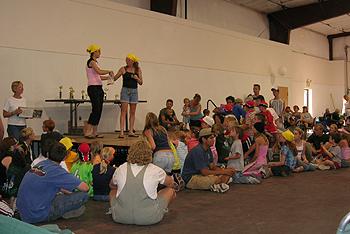 A raffle for the kids...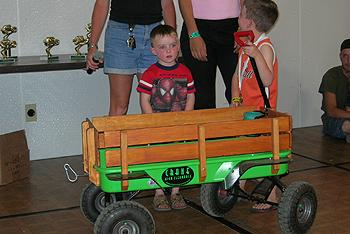 This little one won this...
Richard D. headed up the Show-N-Shine this year. He organized the committee, welcomed anyone who wanted to enter, and got some trophies for the winners. Each Judge then explained his category and announced the winners. I can't speak for the other judges, but the top 4 in the modified category were 4th-Chris S. (Rio Rancho, NM-86 Bronco), 3rd-Mike A. (Larkspur, Colo.-03TJ), 2nd-Allen H. (Logan, UT-98TJ), and the best of 18 in the Modified Class--1st place to Steve U. (Barnhart, MO-83CJ7). As I'm writing this, I will try to get the winners from the other classes from the judges and publish them.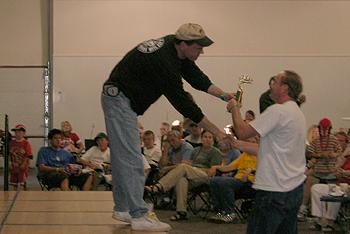 1st place in Modified Class...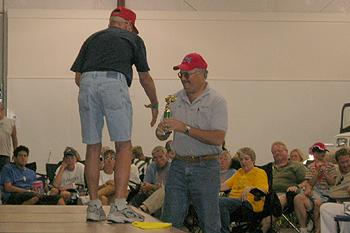 1st place in Super-Modified Class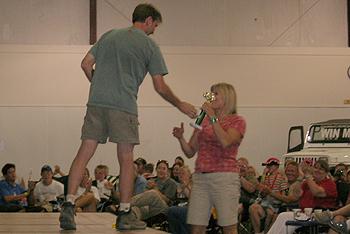 1st place in Extreme Class...
Another fun and relaxing day from the trail!! Or, meeting new and old friends, talking to manufactures about their products or new ones to fabricate, or??
Ahhhhhhhhhhhhhhhhhhhhhhhhhhhhh, Vendor's day 2005 was another great success!! Time to mingle and relax once more at night. Seemed I was camped near 'Pirate's Cove' , so Molly and I joined the Pirates in protecting it from invaders. A warning fire was set in the road, only one tried to venture thru but was turned away. Many kids passed, but only after some walked the plank, and were promised to be cabin boys and girls in the auction Thursday night to raise money for Children's Hospital.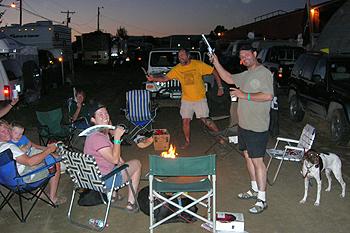 Pirates Cove...
Where kids 'walked the plank'...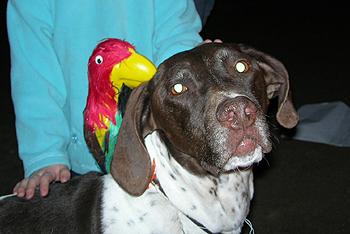 Molly's Parrot...
"See ya on the trail"
Bill Hallinan HoboJeepers
Here are some other All-4-Fun Family /Vendor Days from previous years:
(Links below will open a new page--Use X, or close the page after use, to return to this page)
2004 All-4-Fun Georgetown Family/Vendor Day
2003 All-4-Fun Leadville Family/Vendor Day
2002 All-4-Fun Silverton Family/Vendor Day
2001 All-4-Fun Salida Family/Vendor Day
2000 All-4-Fun Central City Family/Vendor Day
1999 All-4-Fun Fairplay Family/Vendor Day
Other All-4-Fun 2005 Trip Reports
Sat: Registration/Set-up Sun: Alpine Tunnel/Hancock Pass
Mon: San Juans-Engineer Pass/Animas Forks Tue: San Juans-Black Bear/Imogene Passes
Wed: Family/Vendor Day Thur: Italian Creek/American Flag Mtn.
Fri: Poverty Gulch/Devils Punchbowl/Crystal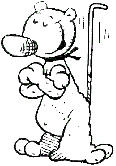 *To HOBOJEEPERS HOMEPAGE w/frames*
To HOBOJEEPERS HOMEPAGE without frames
(c) Copyright 2005 MHJC Patrol One
Jeep is a registered trademark of Daimler Chrysler Corporation