PATROL ONE OUTINGS
ALL-4-FUN 2005
Gunnison, Colorado
San Juans
ENGINEER PASS/
ANIMAS FORKS/
PLACER GULCH/
PISCAYNE GULCH TRAILS
Monday, July 25th
& 'Bingo' in Silverton...
Near Silverton, Colorado

While many of the trips offered at All-4-Fun in Gunnison have trailheads an average about 30 minutes away from Gunnison, the San Juans are not that much further. They are actually only about 1 hour further. I had an idea a few weeks before All-4-Fun to offer an overnight trip to do the 'BEST" of the San Juans on Monday and Tuesday. The trip was offered on Saturday and Sunday nights. Maybe because people were not able to plan on a camping overnight away from camp, only Dan and I headed out. This trip was the best and most beautiful I have seen the San Juans ever! This overnight trip was defiantly the highlight of my week in Gunnison!
At 8am on the morning of August 25th, we headed west on Hwy 50. A cool and cloudy morning was a sign of a soggy wet day in the San Juans. I should of switched to my full top like Dan, but I didn't want to miss out on any scenery, seems I didn't miss out on any rain. The weather forecasts mentioned some monsoon moisture from Tropical Storm Emily would dominate Monday's weather, well it did.
At Blue Mesa Reservoir, we took Hwy 149 and headed up the rolling hills to Lake City. Arriving at 9:30am, we aired down with as sprinkles showered down. At the start of the Alpine Loop, the County Road 3300 was an easy gravel road that became less maintained. As you pass Sherman and Capitol City Ghost Towns the road gets less mini-van and more SUV like. Speeds slowdown, and the trail becomes the Engineer Pass Trail. Most trails in the San Juans are easy to moderate, as the Engineer Pass Trail has some rocky spots , it's the scenery that wins over the road.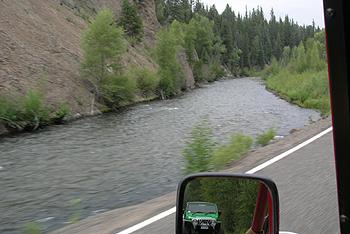 Lake Fork of The Gunnison River...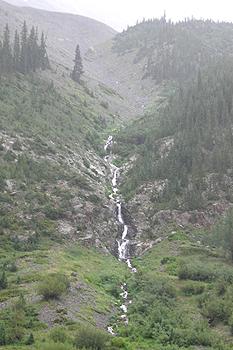 Waterfalls everywhere...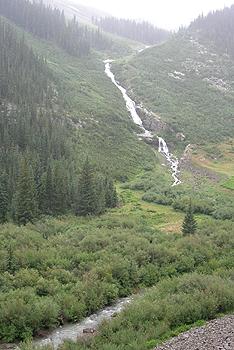 ...cascading down the canyon!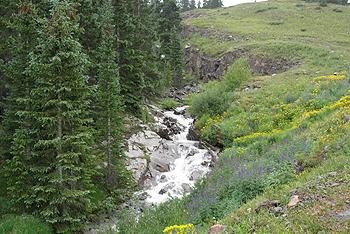 Even cascading creeks...
As we climbed towards Engineer Pass and into the clouds (literally), the rain began to fall again. Once again, I was wondering why I didn't bring my full top, but also enjoying a cool wet jeep experience which is part of owning one. Molly didn't like the rain, and she ended up in the back under the tonneau cover til it passed by (it was coming in on here side--only had half doors and bikini on). We passed many sunflower fields, what a sight!!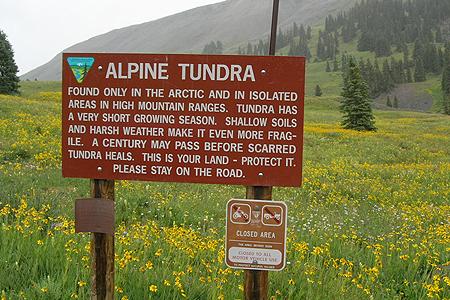 PLEASE respect the fragile tundra...
Sunflower meadows...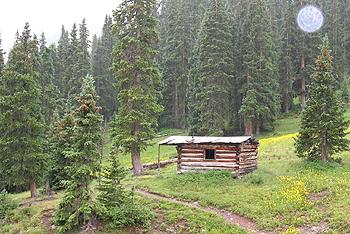 A lone cabin...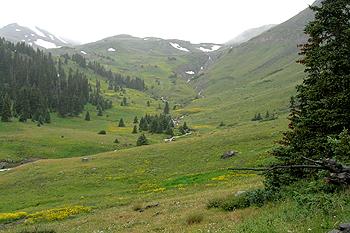 Green and wildflowers everywhere!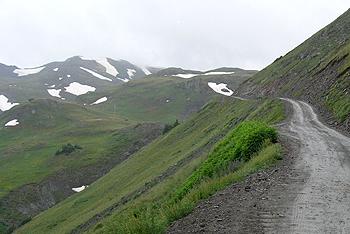 Last stretch up to Engineer Pass in the rain...
We reached the top of Engineer Pass (12,800'). The trail was muddy, and it was quite windy and rainy. After a quick Kodak moment, it was over to Oh Point for a 'view'. Well, kind of a view. This viewpoint is well known for it's 360 panorama of the San Juans. Today though, we shared the foggy view with a couple of rental jeepers. You could see down into the valleys below, that's about it. On down below he clouds, it was rainy, but you could see a lot more--on to Animas Forks Ghost Town.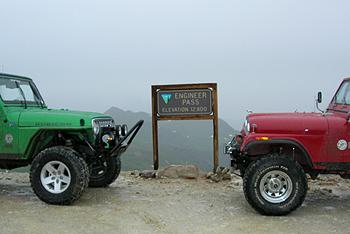 Engineer Pass--12.800'...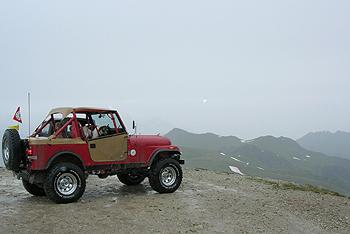 A rainy, foggy 'Oh Point'...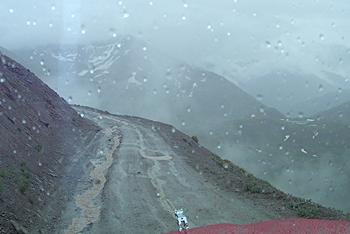 Down Engineer in the rain...
Making the slippery trek down Engineer Pass, a left takes us to Animas Forks. As the rain turned to drizzle, we encountered about 1,000 head of sheep, 2 herding dogs, a horse, and a Basque Sheepherder crossing the trail. I exchanged some High school Spanish with my new amigo, and proceeded to 'wade' thru the smelly 'baaaaaaa' sheep. They don't like engine noise, and there were a lot of little ones too. On the downside they do tear up the tundra. Finally thru it was on down to Animas Forks.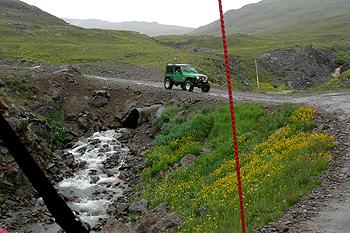 The upper meadows, green and beautiful (even in the rain)...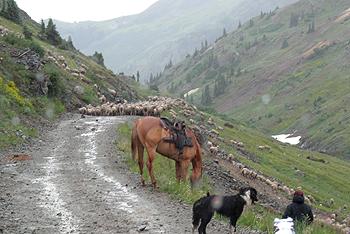 My amigo, his horse and dog (oh and 1,000++ sheep)...
Da Shheeeeeppppp, Baaaaaaaaaa...
Once a bustling town with a mills and activity, Animas Forks Ghost Town has been restored and is a tourist attraction now. We stopped and toured the many buildings, including the famous Big House. Back in our Jeeps we headed up California Gulch to check out the Bagley Mill. Built one piece at a time, it still stands the test of time. Hey, the SUN is peaking out! Yea! Wow! The landscape was beautiful with green everywhere! Wildflowers were still in full bloom as white snow banks clung to the highest hillsides. The San Juans got a lot of snow last winter, more then average.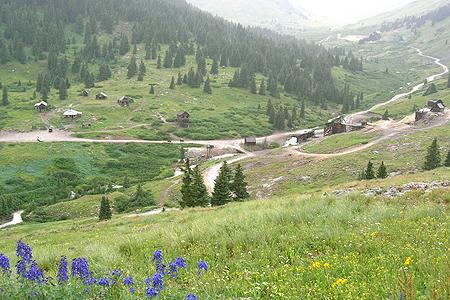 Animas Forks...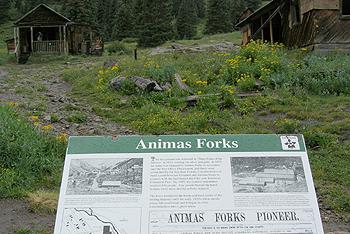 Well preserved for all...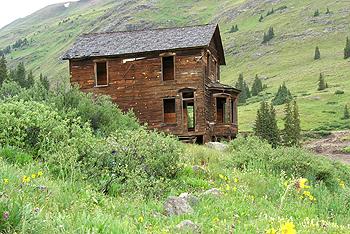 The famous main House...
| | |
| --- | --- |
| | |
| View out of the bay window looking NE... | ...and looking South. |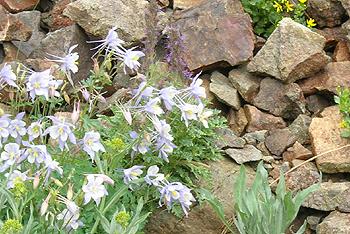 Columbines...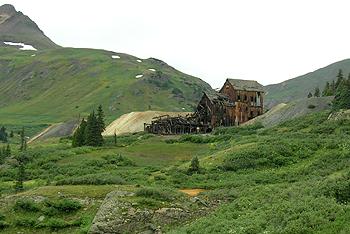 Bagley Mill up California Gulch...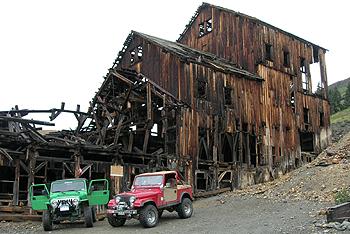 Lunch Break at the Mill...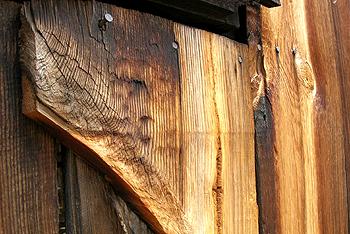 Time taking it's toll on the wood...
I had planned to go over California Gulch, and over to and down Corkscrew Gulch. After looking up the valley, it looked like a big snow bank was blocking the road. I should of went all the way up (come to find out later from a BLM guy it was open), but we turned around and went up Placer Gulch instead. Just as beautiful, Placer had many wildflowers and sunflower fields. The sun was out drying the Jeep out and warming us up! Not to mention the sharp green contrasts!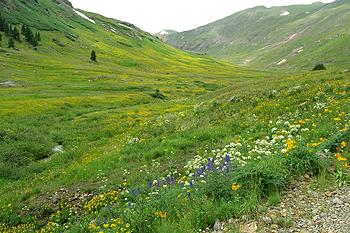 California Gulch--green, green, green!!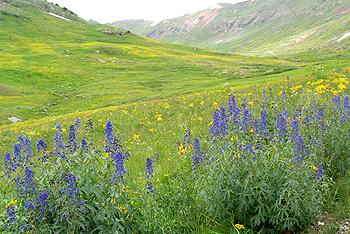 Wildflowers too!!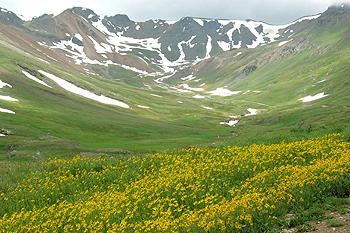 Upper California Gulch...
(thought trail was closed, but wasn't)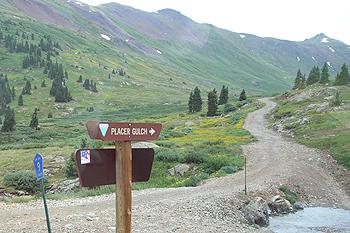 Heading up Placer Gulch...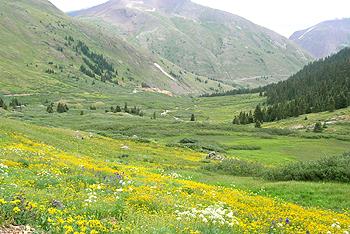 Looking back down California Gulch at Bagley Mill...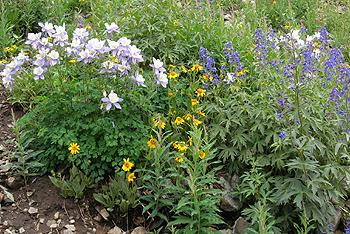 Did I mention the wildflowers??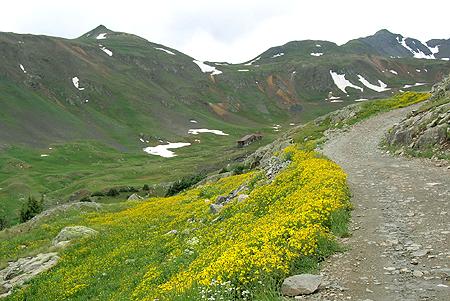 Favorite shot of the Gulch...with another Mill in the background.
We stopped at a mine and looked around. Nearby was a cascading waterfall of snowmelt! With the sun out, the whole area looked great. We made it up Placer Gulch to the ridgeline. Views opened up as the clouds disappeared! The San Juans were giving us some great scenery. Heading down Piscayne Gulch, the trail is very steep. It's a good 2000' down to the Animas Forks valley below. We stopped at another mine with some buildings that looked like the boarding house. Back down the steep trail, we reached the main Animas Forks road and headed down into Silverton.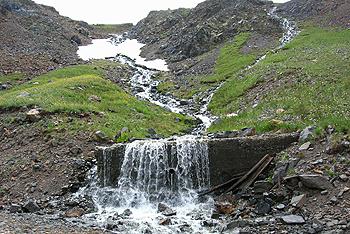 More cascading snow melt...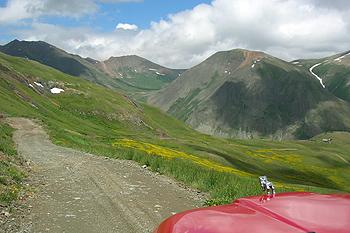 Ridgeline before the decent into Piscayne Gulch...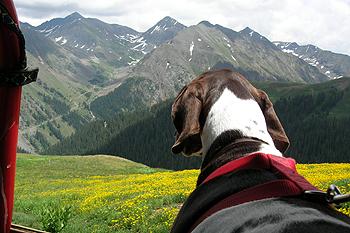 Molly enjoys the sunflowers and the view...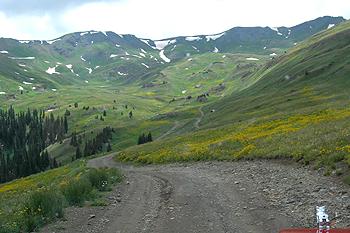 Did I mention it was green everywhere??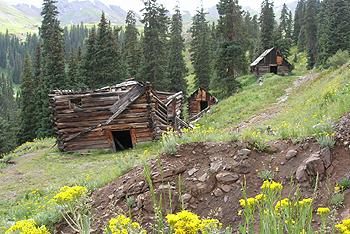 Cabins along the way...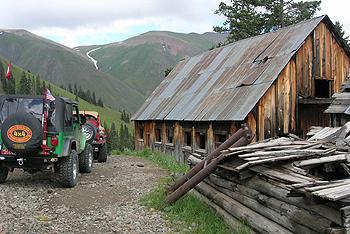 We stopped at this boarding house...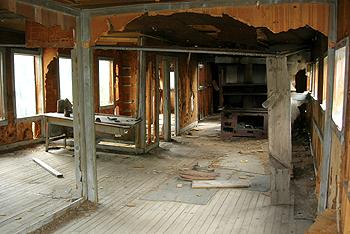 ...and looked around.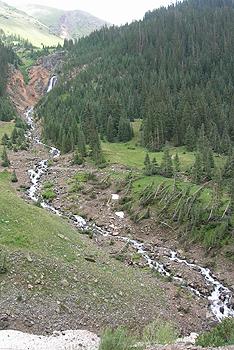 Waterfalls and cascading creeks along the Animas Forks Road down to Silverton...
We arrived in Silverton, and headed out of town to the West to the dispersed camping along Mineral Creek. After setting up tents, we headed back into Silverton for a shower and some tourist shopping. At about 9,000', Silverton is a great little town. Many tourist ride the Silverton Durango Railroad up and back.
We met back up at the Brown Bear for dinner at 6pm, and as we were leaving saw a flyer for 7:30pm bingo on Monday night at the American Legion 2 doors down. Nothing back at camp going on, so we played bingo with about 30 other locals til 9pm when it started to pour again. Since my Jeep was open, we decided to head back to camp (which was a good idea, as a huge storm passed), to crash for the night. Buckets of rain poured down at camp, as I wondered if my tent would be dry. I fell fast asleep with the rain, dreaming about Jeepin' the San Juan classic's Black Bear and Imogene Passes in the morning...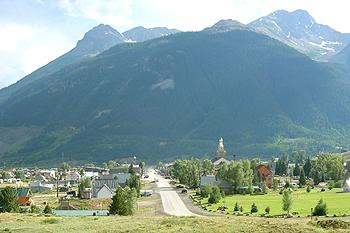 Silverton, Colorado...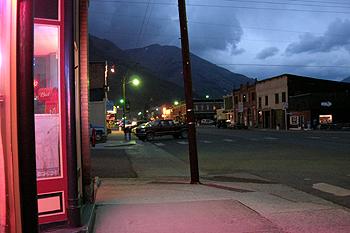 ...and at night.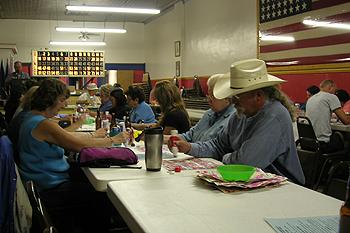 Bingo in Silverton!!

"B-7" (crack of lightning in background), ummm we gatta go!
"See ya on the trail"
Bill Hallinan HoboJeepers
Other Engineer/Animas Forks/Silverton websites/trip Reports:
HoboJeepers All-4-Fun Trip 2002:
https://members.tripod.com/HoboJeepers/AFF02SunPG.htm
HoboJeepers San Juans Trip 2000:
https://members.tripod.com/HoboJeepers/SJ7-2-00.htm
Sherman Ghost Town:
http://www.ghosttowns.com/states/co/sherman.html

Capitol City Ghost Town:
http://www.ghosttowns.com/states/co/capitalcity.html

The history of Lake City, Colorado:
http://www.hinsdale-county.com/story.html
Engineer Pass Report from 4x4trails.net:
http://www.4x4trails.net/db_view_trail.php?trailNum=44

Engineer Pass 4WD Trail by Logan Phillips:
http://users2.ev1.net/~chall2/Travel/Utah4wd/trcoep.htm

Engineer Pass by Flatlander:
http://www.4x4now.com/a4f98b.htm

Animas Forks:
http://members.aol.com/jka80122/westsan1.html
Animas Forks Ghost Town:
http://www.ghosttowns.com/states/co/animasforks.html

Animas Forks History:
http://www.animasforks.com/animas_page2.htm
California Gulch Trail by WeBeJeepin:
http://www.webejeepin.com/Trails/Colorado/California_Gulch.htm

Silverton, Colorado Chamber:
http://www.silvertoncolorado.com/

Silverton Ghost Town:
http://www.ghosttowns.com/states/co/silverton.html
Other All-4-Fun 2005 Trip Reports
Sat: Registration/Set-up Sun: Alpine Tunnel/Hancock Pass
Mon: San Juans-Engineer Pass/Animas Forks Tue: San Juans-Black Bear/Imogene Passes
Wed: Family/Vendor Day Thur: Italian Creek/American Flag Mtn.
Fri: Poverty Gulch/Devils Punchbowl/Crystal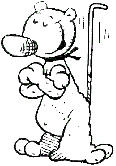 *To HOBOJEEPERS HOMEPAGE w/frames*
To HOBOJEEPERS HOMEPAGE without frames
(c) Copyright 2005 MHJC Patrol One
Jeep is a registered trademark of Daimler Chrysler Corporation