PATROL ONE OUTINGS
ALL-4-FUN 2005
Gunnison, Colorado
San Juans
BLACK BEAR PASS/
IMOGENE PASS TRAILS
Tuesday, July 26th
& Bestop's 'ICE CREAM SOCIAL Night' in Camp...
Silverton, thru Telluride, thru Ouray,
& back to Gunnison, Colorado

On Tuesday, July 26th, we got up about 7:30am to Colorado blue skies! We had to pack up our stuff all wet, but we were ready to go at 8am. It was a welcome site to see blue skies and morning sun. We headed up Hwy 550 to near the top of Red Mountain Pass. The trailhead was just before the Pass off the highway (I locked up for the hill climb to tread lightly). Black Bear Pass is not a rough difficult road, but it is rated 'difficult because of it's tight switchbacks and some rocky sections. Because of the switchbacks the trail is a one-way into Telluride.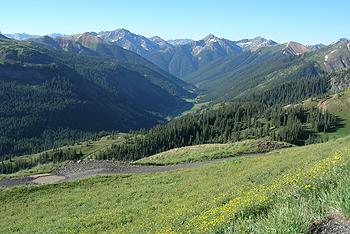 Looking back towards Hwy 550 in valley...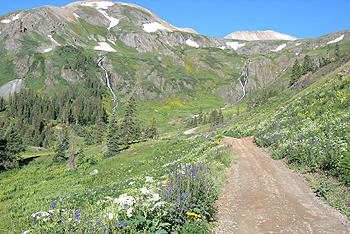 Looking West at the upper valley climbing towards Black Bear Pass...
This has to be by far the best Black Bear ride I've done!! The skies were clear, the tundra a deep green, the wildflowers in full bloom contrasting with the white of the snow, and waterfalls everywhere! I was happy to have my new Nikon Coolpix 5900 close by to take pic after pic! The 1st climbs above the trailhead the trail are quite easy but steep. Numerous switchbacks open up views below. We made our way up the switchbacks to a small ravine (part of the trail). A lingering snow bank with some cascading water was fun to climb up.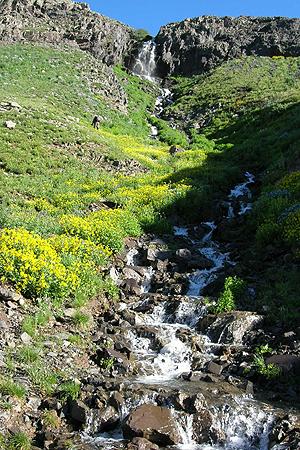 Beautiful cascading creeks...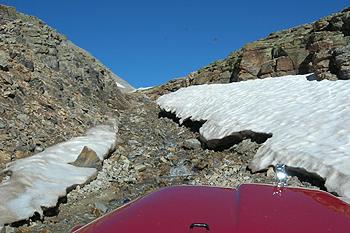 Side-trail thru a melting snow bank...
Looking back, Dan follows...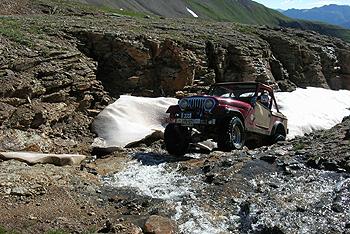 I reach the top, and a short ledge climb....
On the top of Black Bear Pass (12,840'), we stopped for some poser shots. The same rock where Ken Brubaker took a shot of Molly and I in 2002 (Silverton All-4-Fun) and published the photo in his Jeep 4x4 Calendar (we were July 2004) last year. We were one of the 1st Jeepers to do Black Bear, as it had just open the week before. We didn't see anyone til we reached the Bridal veil Falls area above Telluride. The trail descends rapidly into Ingram Basin and it gets a bit more rocky then the ascent. Passing by Ingram Lake, the views of the Telluride Valley start to open up.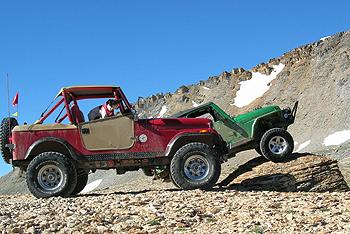 Top of Black Bear Pass...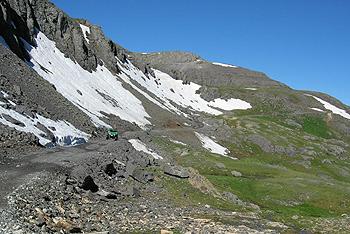 Heading down Upper Ingram Basin...
The snowmelt the weeks before in the upper Ingram Basin was the highest I've ever seen. Even the trail had some minor erosion as the snowmelt ran down everywhere. The waterfall below was also the highest I'd ever seen running. Working our way down Ingram Basin, we arrived at an intimidating corner of loose medium-sized rocks with a roaring cascade 30 feet below to your left, and a 200' drop just ahead! We each went thru and on down to the waterfall and mine site below. Water everywhere, as it was running down the trail, then off the cliff face. Over spray from the falls was everywhere. We stopped for a second, then headed down to the 1st set of tight switchbacks.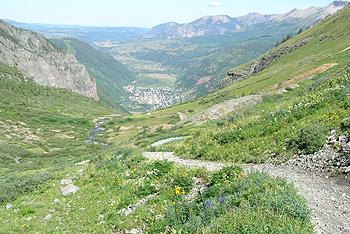 The trail leads down to Telluride (way) below)...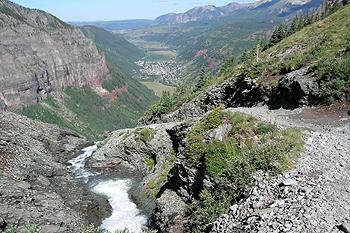 The last tricky section awaits...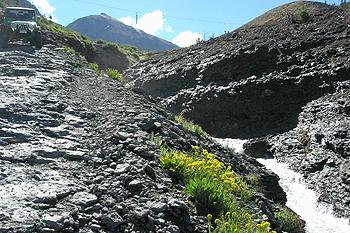 Looking back...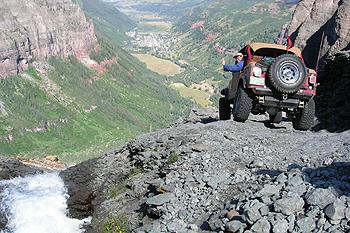 Thumbs up, as I head around the tight bend above the main falls!!
With a few tight turns and some uneasy clutch engaging, we made it down the tight switchbacks and to the Bridal veil Falls Power Station (Black Bear is one-way down only to the power station). I made my Detroit lockers work (well they made me back up more). We walked up to the Power House, but access was closed to visitors. Heading down, the road was SUV-like. We slowly passed hikers up the road as we headed down into Telluride.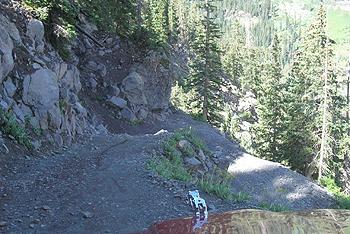 The 1st tight switchback...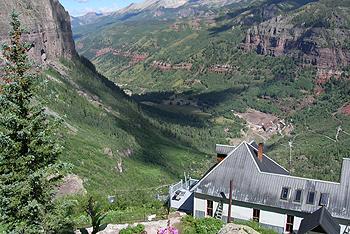 The Bridal Fail Falls Power Station...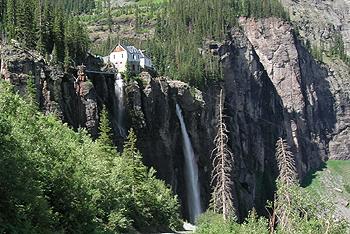 Bridal Fail Falls
...
With some gas station food in our bellies, and gas in our tank (the Jeeps that is), we headed back to Telluride (Telluride has no gas stations in town), and on up the Imogene Pass Trail off Oak Street (take Aspen off Main Street). This section of trail is fairly easy with some small rocky sections. The trail heads above the north-side of Telluride on up to the Tomboy Mine & Savage Basin. The main 'attention getter' is the shelf road below Savage Basin. The mill ruins don't seem to change much, though time does take a toll on wood. The Tomboy Ghost Town was also here in the late 1880's.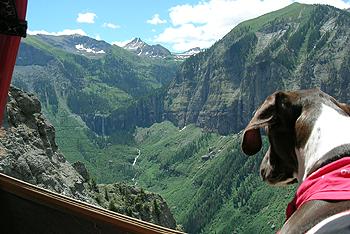 Above Telluride, a look back as we climbed into Savage Basin...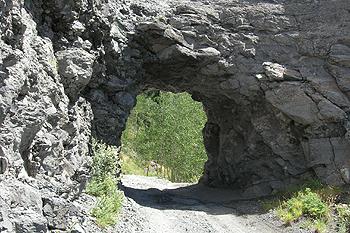 Same tunnel used by the miners...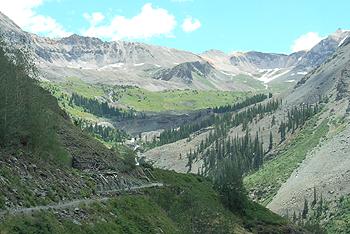 Trail up to Savage Basin,
Imogene Pass is upper center-right...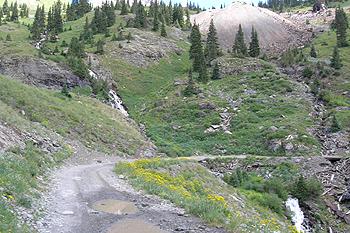 More cascading waterfalls...

Tomboy Mine and Mills...
We headed on towards Imogene Pass. One guy in a new Cherokee was letting me pass and almost rolled down the hill by trying to pull off into a bank. Wow! Told the guy he almost rolled, he laughed (I didn't). Humm, I would of stopped him from going down the mountainside (I was below him), it's just that some people should stick to pavement. At 13,114', Imogene Pass is the 2nd highest pass in North America (1st is Mosquito Pass). We stopped over at the eastern viewpoint (best in the San Juans), then it was down FS road 861 into Imogene Basin.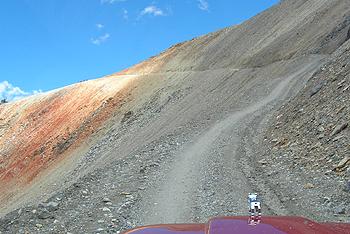 The last shelf road to the top Of Imogene Pass...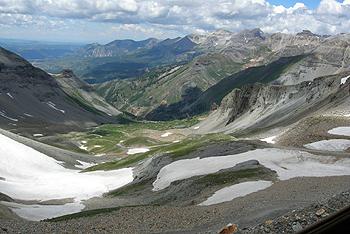 ...and looking left down at the Savage Basin
(which includes Tomboy).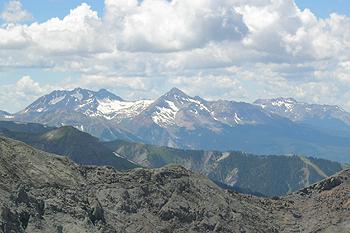 Looking SW from the top at Wilson Peak...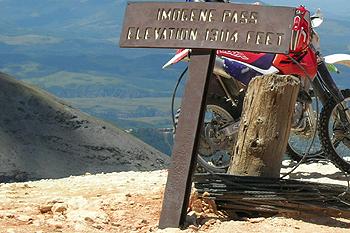 2nd Highest Mountain Pass
in North America at 13,114'...

Looking East over the heart of the San Juans and the Red Mountains...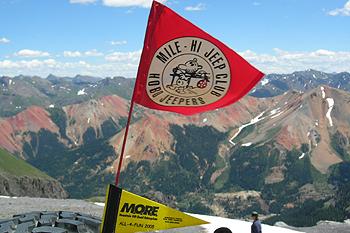 Best views!!
Back into the trees, the trail passes a mine and a side trail crosses a beautiful cascading waterfall. We both crossed it and headed back down the trail to the main County Road 361 (muddy) that takes us down to Hwy 550 and into Ouray. After a quick car (Jeep) wash (mud again), airing up, and some gas, we headed up Hwy 550 (at 4pm) to Montrose, then Hwy 50 East back to Gunnison and camp by 6pm. What a great Trip!!!!!!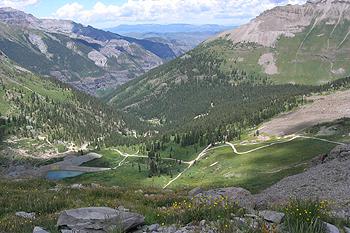 Looking NE, and down Imogene Basin towards Ouray...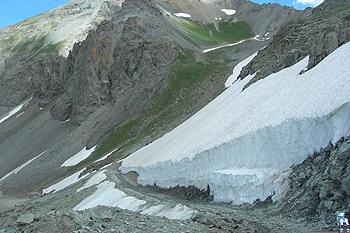 Enormous snow bank that was cleared to open the trail...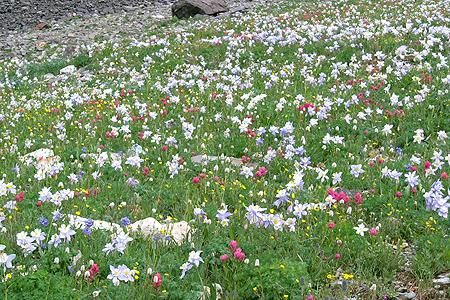 Wow, photo doesn't show magnitude of these Columbines everywhere!!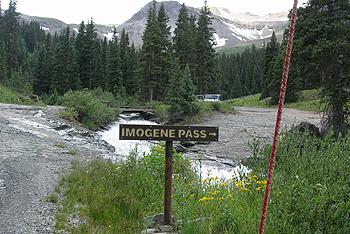 Trail looking back up...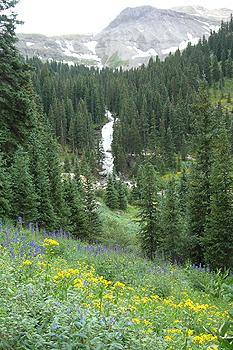 More cascading waterfalls...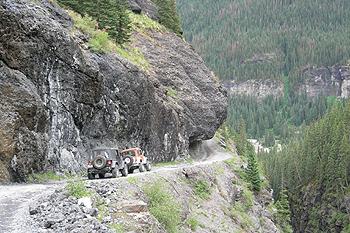 Outcrops hanging over the road...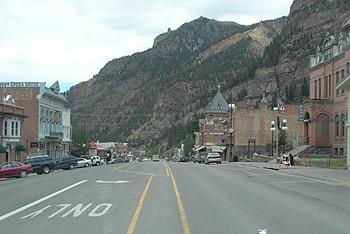 Ouray, Colorado...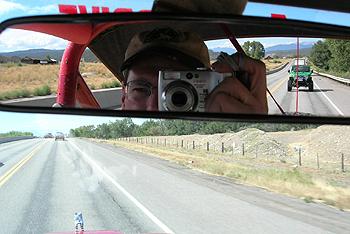 On our way back to Gunnison...
(Took this shot as we had the San Juans still in our rear view mirrors)
Back in camp by 6pm, we had some time before heading over o the Pavilion for Bestop's Tuesday Night Ice Cream Social. The entertainment was at 7pm. This year, the 'world famous' (well, I did see him on TV) pig trainer from last year was back with parrots this year. He put on a great show for the adults and the kids. Time to see friends around camp, as tomorrow brings a day of R&R, and mingling to the max! Yep---Family Vendor Day!!!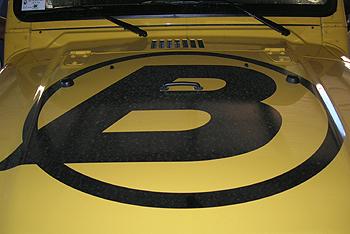 Thanks Bestop!!!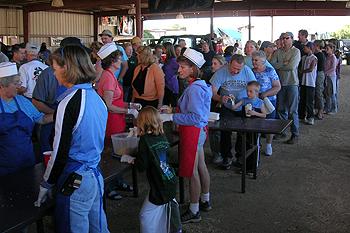 The line was long...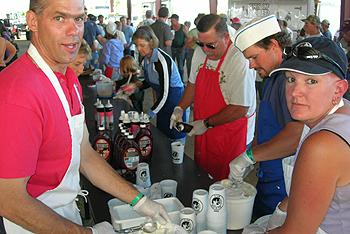 ...for some tasty ice cream,
as volunteer servers dished it out.


The crowd gathered for the 'Parrot' Show...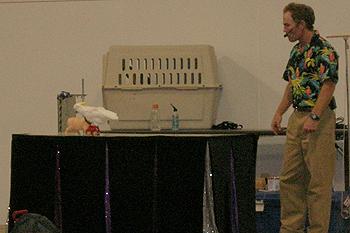 Ever seen a Parrot on roller skates
go thru an obstacle course?? Me neither!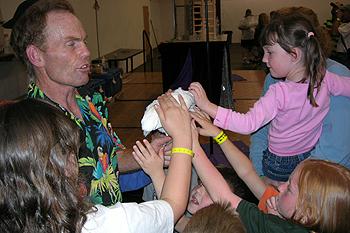 Kids got to pet the Parrots after the show...
"See ya on the trail"
Bill Hallinan HoboJeepers
Other Black Bear Pass/Imogene Pass websites/trip Reports:
Back Bear/Imogene Pass HoboJeepers All-4-Fun 2002 Report:
https://members.tripod.com/HoboJeepers/AFF02ThurBI.htm
Back Bear/Imogene Pass HoboJeepers 2000 Report:
https://members.tripod.com/HoboJeepers/SJ7-3-00.htm
Black Bear Pass Report from 4x4trails.net:
http://www.4x4trails.net/db_view_trail.php?trailNum=13

Back Bear Pass WeBeJeepin Trip report:
http://www.webejeepin.com/Trails/Colorado/Black_Bear.htm

Imogene Pass Report from 4x4trails.net:
http://www.4x4trails.net/db_view_trail.php?trailNum=64

Tomboy Ghost Town:
http://www.ghosttowns.com/states/co/tomboy.html
Other All-4-Fun 2005 Trip Reports
Sat: Registration/Set-up Sun: Alpine Tunnel/Hancock Pass
Mon: San Juans-Engineer Pass/Animas Forks Tue: San Juans-Black Bear/Imogene Passes
Wed: Family/Vendor Day Thur: Italian Creek/American Flag Mtn.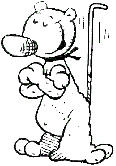 *To HOBOJEEPERS HOMEPAGE w/frames*
To HOBOJEEPERS HOMEPAGE without frames
(c) Copyright 2005 MHJC Patrol One
Jeep is a registered trademark of Daimler Chrysler Corporation