PATROL ONE OUTINGS
ALL-4-FUN 2005
Gunnison, Colorado
ITALIAN CREEK/
AMERICAN FLAG MTN./
RENO DIVIDE TRAILS
Thursday, July 28th
& MHJC's 'Door Prize Night' in Camp...
Near Taylor Park, Colorado

On Thursday, July 28th, I headed over to Staging Area B at 7:15am to lead the Italian Creek Trail. I and Molly led only 4 vehicles, but this afforded us an opportunity to do a side trip up American Flag Mtn., and to also finish earlier, as tonight was 'Door Prize' Night in camp. We left at 7:30am, and headed up Hwy 135 towards Almont. The 4 vehicles in my group were all from Arizona. They included: Craig E. (XJ), John G. (TJ), Jack A. (CJ), and Bernie S. (CJ). There were also wives and friends along with them for the ride.
We headed past Almont in the cool morning breeze, and started up Taylor Canyon towards Taylor Reservoir. The normal route is from Crested Butte (the way we came out), I wanted to head up Italian Creek, as Reno Divide Trail is easy to climb from the other side. We stopped just below the reservoir at the fishing bridge for a 10-100, and to watch some huge Brown and Rainbow Trout in some catch and release holes on the Taylor River. We then stopped at the overlook to the lake for a quick Kodak moment then and to air down. On thru Taylor Park, and up past some nice Pot Hole Ponds for fishing (along Taylor Park Road 742) to the turnoff to Italian Creek (FS Road 759). We headed up Italian Creek Trail, as the views of American Flag and Lambertson Peak were nice driving up into the upper Italian Creek basin.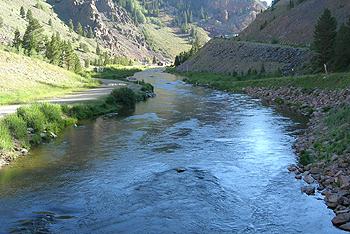 Taylor River at the fishing bridge...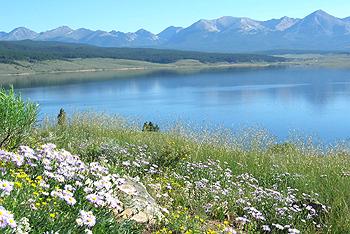 Taylor Reservoir and the Collegiate Range in the background...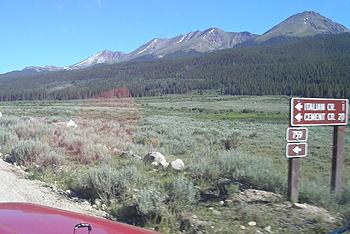 Turn off to Italian Creek (FS Road 759)...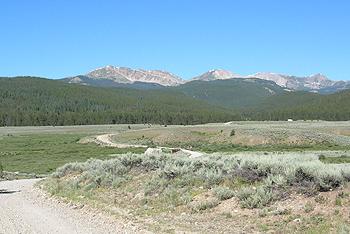 Looking West, American Flag Mtn shows of it's strips...
The trail passes some dispersed camp spots along Italian Creek. I have camped many time here before. The creek only has a few small Brook Trout, and has been fished out basically by pressure. The trail is easy here with only a few minor potholes to slow you down. It winds up a few climbs with small to med-sized rocks. A nice easy ride. As we climbed, views of the upper valley are apparent, and we reached the upper mine site and stopped at a few cabins for a break before climbing out of the basin up to the tundra.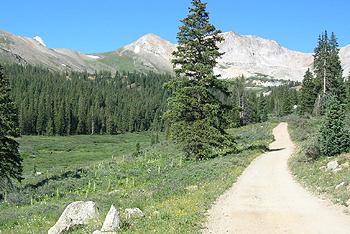 Upper part of the trail is fairly easy,
though we just went through some rocky sections below...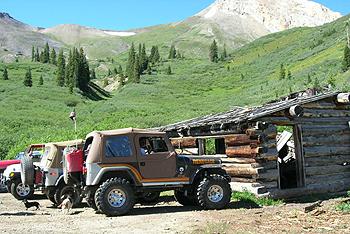 A break at the cabin....
After a nice break, we headed up to the ridgeline and into the fragile tundra. Apparently many people still need to be educated on why it's important to STAY OFF THE TUNDRA. We reached the turnoff to do a side trip up the steep climb to the top of American Flag Mountain. The climb up the long slope is steep but not too rocky. Low gears above timberline here prevent erosion, though you can see where many ATV users were making their own tracks, and tearing up the main trail as well. What can you do? Educate, and act responsibly yourself is all we can do. Tread Lightly above timberline, and stay on the main trail. Well, as we were climbing a group of motorcycles passed each of us (as we tried to let them by) on the TUNDRA and spinning wheels to boot. I got a photo of one kid passing me as I was trying to give him room on the road. I asked them why, and they said they need speed to climb the hill. One of the kids even flipped me off as we left. Real cool.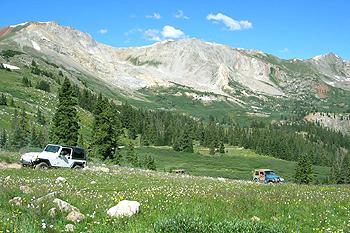 Heading up the upper valley...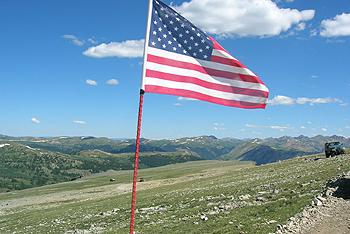 ...then climbing up American Flag.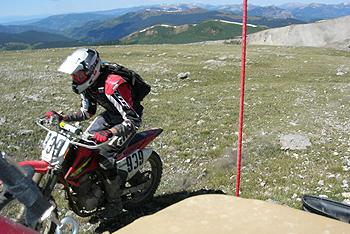 No narration needed...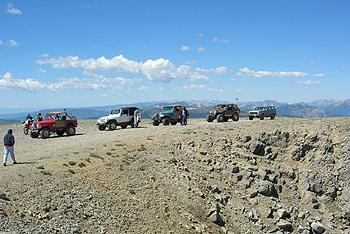 Parking in the dirt on top of the mountain...
An American flag was placed on the top of the mountain. The views off American Flag were spectacular! The mountain gets it's name because seen down from Taylor Park it has long dark gray, reddish, and white bands running thru it like the flag. We all got a nice group shot, then headed on down for some lunch at a mine dump below. We passed the Amarillo Jeep Club coming up as we parked ON THE side road OFF the tundra to let them climb up. To top off the whole Tread Lightly issue, at the bottom of the hill, about 12 ATV's were parked off the trail (on the tundra) to have lunch. I just sighed and moved on down 'on' the trail. What can you do???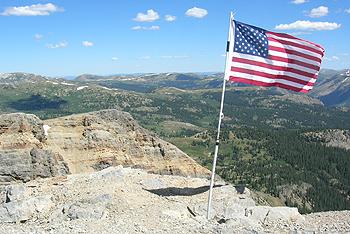 An appropriate location for our flag...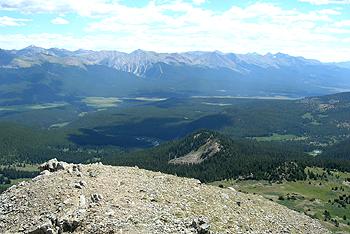 Looking back East over Taylor Park from the top
(opposite look from previous photo looking up at American Flag)...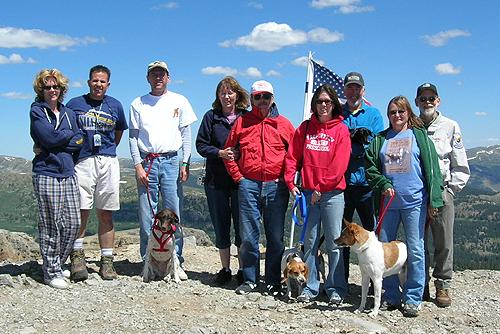 Group Photo...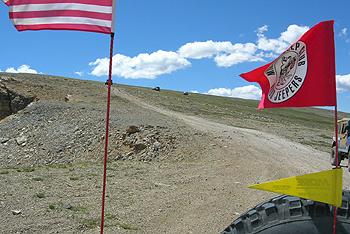 The bottom of the steep climb...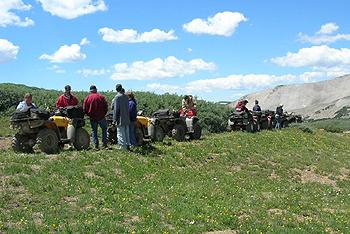 No narration needed (AGAIN)...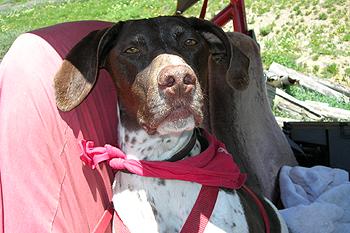 My Molly enjoying the day (really, that's a happy look)...
After lunch, we headed down to basically part of the Reno Divide Trail. There is a higher road which has a rocky shelf and a lower road which is easy and goes thru some muddy areas. I took the high road. The trail is tight with some willows bordering each side. Also, many wildflowers were lining the road. Even a nice cascading brook. There is an area (shown below in photo), where there is a talus slope with med to large rocks are along the trail. The last section had a series of larger rocks tipping a bit down slope. The whole thing is intimidating just because of the shear drop off on the driver's side. There is only one tricky section which we all managed thru with some spotting. A fun little section, which makes this trail moderate rated (upper section).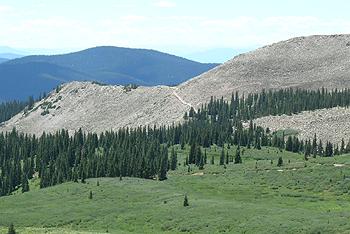 The talus section of Reno Divide...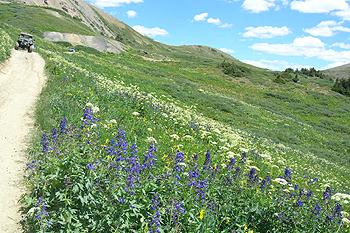 Lots of wildflowers...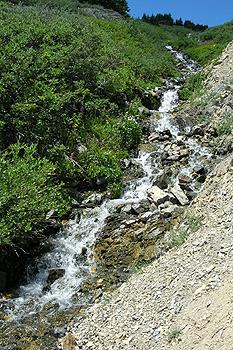 ...and a cascading brook.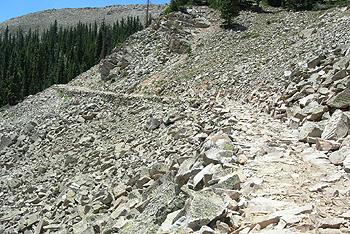 The 1st talus section...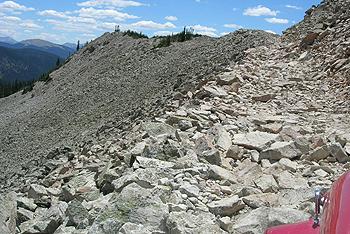 The second more intimidating section...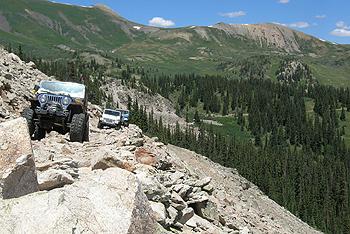 Not much room for error...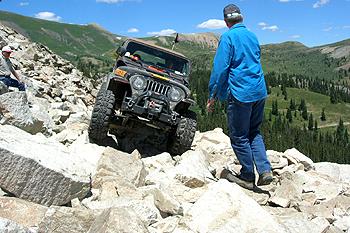 All guided thru safely...

The Reno Divide Trail has the upper and lower sections meet at a gate on the west side. Past the gate, the 'Trail' becomes graded and easy (we saw a mini-van!). It follows the ridge for awhile, then drops down into the Cement Creek Valley below. We made it down to Cement Creek (FR 740), and headed down the easy road towards HWY 135 and Gunnison. A great day! Back on the highway by 3pm to check out Crested Butte (Molly and I did), or head to camp to be ready for 'Door Prize' Night.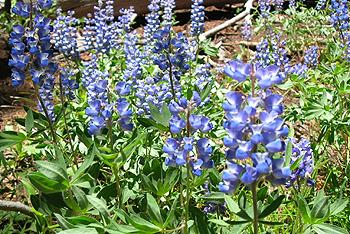 More wildflowers...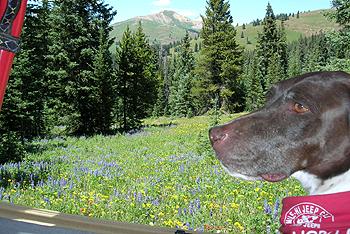 Nice meadow with flowers and a view...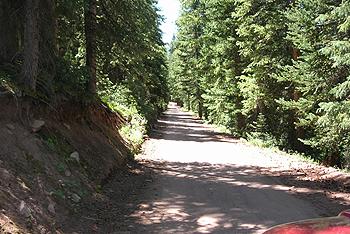 Typical easy road thru the trees down to Cement Creek...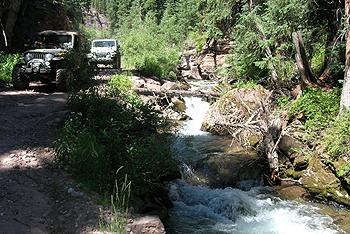 Cement Creek cascades thru a small canyon...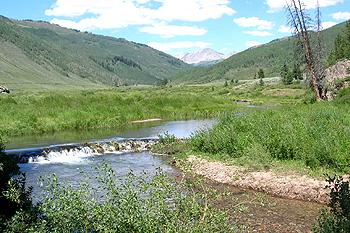 ...then thru a large meadow.
After Crested Butte, Molly and I headed back to Gunnison by 4:30pm. I stopped by the Forest Service office to see if Crystal Canyon was open, they said they didn't really know, though the avalanche was still there. Hummmm, maybe a scouting trip to the area is in order for Friday??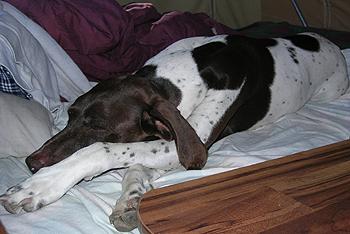 Down and out! Another long day of 'hunting'...
At 6pm, the sign-up sheets for the last day's trails was posted. At 7pm, Chevette and her Door Prize Committee started handing out door prizes to registered drivers. Everyone got something and some even 2, beer and soda was also provided.
'Pirate Frenchie' of Western Adventures stepped up and took the stage during breaks to raise some $$$ for Children's Hospital. He had people come up to be 'auctioned off' in pure fun. When it was all done, Frenchie raised over $400!!! I bought some Children's Hospital Raffle tickets (though none hit), as there were a lot of great prizes to win. Also in tradition, the 'Jeep' Toughest 4 Letters traveling plaques was auctioned off. Since 1988 All-4-Fun, money raised going to Children's Hospital, it comes back every year. This year, A bid of $1200 ($200 from Fred Perry) was the top bid. The plaque for 2005 will be in 'memory of Fred Ross'. Thanks to Chevette and the door prize committee for a fun night!!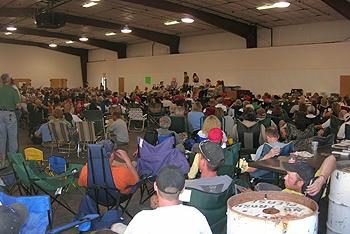 Door Prize Night!!!


The pavilion was packed...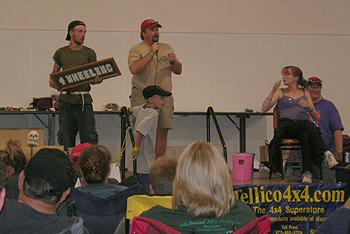 ...as prizes were handed out.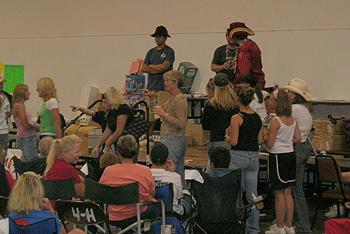 And Frenchie raises some $$ for Children's Hospital...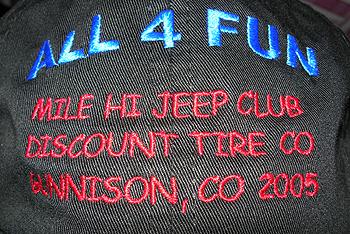 It's ALL-4-FUN!!!
"See ya on the trail"
Bill Hallinan HoboJeepers
Other Italian Creek Trip Reports:
Italian Creek/American Flag HoboJeepers Report:
https://members.tripod.com/HoboJeepers/TaylorPark01.htm
Italian Creek Road:
http://www.geocities.com/peteuga/Colorado.html

Italian Creek Road by Ken Womack:
http://www.southernhighrollers.com/trails/articles/colorado_backroads_2000.htm
Other All-4-Fun 2005 Trip Reports
Sat: Registration/Set-up Sun: Alpine Tunnel/Hancock Pass
Mon: San Juans-Engineer Pass/Animas Forks Tue: San Juans-Black Bear/Imogene Passes
Wed: Family/Vendor Day Thur: Italian Creek/American Flag Mtn.
Fri: Poverty Gulch/Devils Punchbowl/Crystal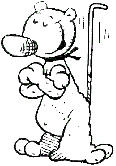 *To HOBOJEEPERS HOMEPAGE w/frames*
To HOBOJEEPERS HOMEPAGE without frames
(c) Copyright 2005 MHJC Patrol One
Jeep is a registered trademark of Daimler Chrysler Corporation