PATROL ONE OUTINGS
ALL-4-FUN 2003
Leadville/Twin Lakes, Colorado
VENDOR'S DAY
Wednesday, August 6th
& MHJC BBQ under the Big Top...
Under & around the 'Big Top' in camp...

On Wednesday August 6th, Ahhhhhhhhhhhhhhhhhhhhhh, time to relax, sleep in, sit back, eat and drink, met and mingle, sit back, eat and drink, met and mingle, and enjoy Vendor/Manufacture's Day! Every Wednesday of All-4-Fun's is set aside to do all the above mentioned. Some even took the opportunity to fish, do another trail, or take a mine tour, or??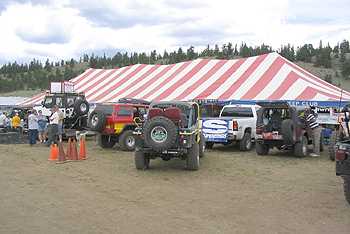 Vendors surround the big top...
The manufacture's set up under and around the 'big top' early for the day. By 10:30am, most were set up and chatting with participants already. It was a 'shopping mall' of who's who in the 4x4 aftermarket industry. Owners and reps from many big names were on hand to answer questions and give special show discounts.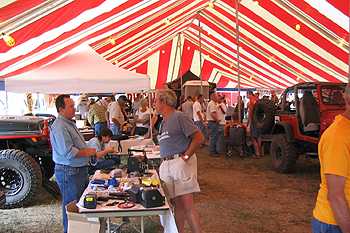 as participants ask them questions and make show deals...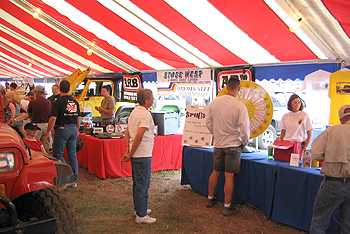 Many friendly vendors were on hand...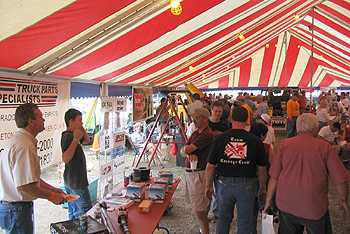 The tent was packed at times, inside and outside...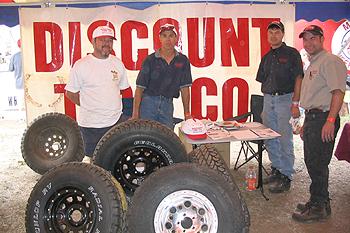 Discount Tire was once again under the tent...
Anyone who wanted to have his or her rig in the Show-N-Shine set up from 9:30am-11:00am. This year's Show-N-Shine had all kinds of rigs, and a new twist on category's. Norris M. created categories for everyone to participate.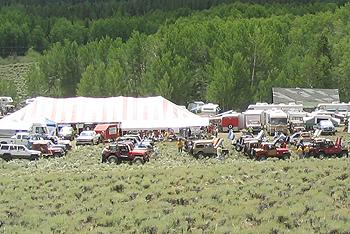 The Show-N-Shine next to the 'Big Top'...

Almost 60 entries participated...
The Kid's Games Committee entertained the kids from 10am to 3pm. All the kid's got to participate in many skill games in hope of a trophy that night, and it looked like they had a blast. Chevette L. and her team put together some fun games, and deserve a round of applause!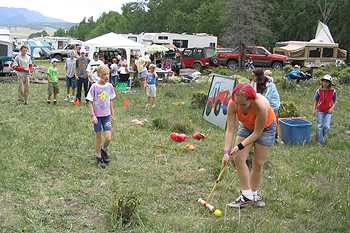 Kid's Games was a great hit!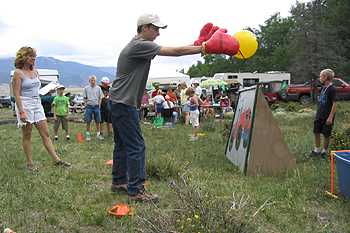 Chevette (left) and her team added fun to the day...
Hot dogs were served from 11:00am-2:00pm thanks to Tellico 4x4. Free beer (from Clemson 4Wheel Center) was close at hand most of the day, along with free soda. Numerous vendors were around from 10am to 4pm. Thanks to Melody Mesmer in Promotions for organizing the day. Vendors for the day included: Bestop, Avenger Superchargers, Off-Again, Discount Tire, Warn, M.O.R.E., Clemson 4Wheel Center, Pull-Pal, Tellico 4x4, Bits of Silver, Tomken Machine, Truck Parts Specialists, Tuffy Security Products, Superwinch, Swagman Publishing, High Country 4x4, Rockhard 4x4, Crane High Clearance, Stage West, 4Wheel Parts, Napier, and Western Adventures.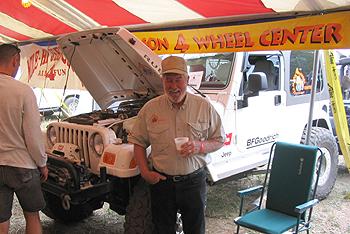 Fred from Clemson 4Wheel Center was once again under the tent...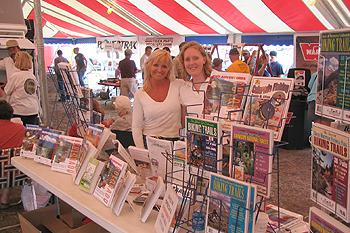 Along with newcomers (and sure to be back) Swagman Publishing, selling trail books...
After a full morning and early afternoon just around camp, one can get wore out! A relaxing afternoon with friends, and a chance to check out the area, or some even took a Jeep trip to explore the many mines in the area. Wednesday is a 'break' from the week to relax any way you want.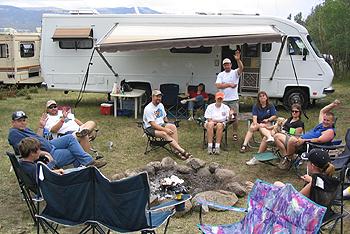 A relaxing day at camp with Patrol 14...
At 5pm, the MHJC BBQ Committee served up another great meal of BBQ Chicken and beef!! The rains came and went, just enough to keep the dust down, but they were also a welcome sight. Then around 7pm under the 'big top', all of the Kid's Games, and show and shine awards were handed out by Chevette L..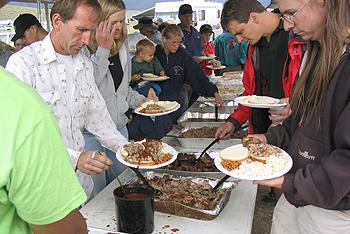 The food was great...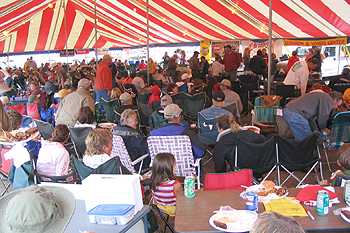 You sit outside the tent if you get there late,
after a yummy dinner, we wait for the Kid's Games Trophy Presentation...
Norris M. announced the winners of the Show-N-Shine, and they gladly accepted their trophy. Each winner received a trophy custom built by Alpine Trophies in Littleton, CO. We had close to 60 entries in this year's event, and raised $193 for Children's Hospital from the Peoples Choice votes.
SHOW-N-SHINE 2003 RESULTS:
Best Vintage Restoration - James B. from Big Bear City, CA with a 1948 Willys CJ2A

Best Mid Range Modifications - Mel P. from Arvada, CO with a 1970 Jeepster

Best Extreme Modifications - Willie & Jeanne W. from Evaro, MT. with a 1948 CJ2A

Best Vendor Sponsored Entry - Tellico with a 2000 TJ

Most Rock Rash - Ryan B. from Milliken, CO with a 1983 Toyota Hilux

Most Family Friendly - Chuck V. from Golden, CO with 2000 Jeep Grand Cherokee Ltd

Best "What was it born as?" - Matt N. from Firestone, CO with a 1971 Jeep Commando

Best Stock Entry - Richard & Karin H., from Longmont, CO with a 2000 Wrangler Sahara

Dirtiest - Melissa R. from Dodge City, KS with a 1982 Jeep Scrambler
Best Mini Rock Crawler - Kevin B.

Best of Show - Mel P. from Arvada, CO with a 1970 Jeepster

People's Choice - Han G. from Berthoud, CO with a 1979 CJ5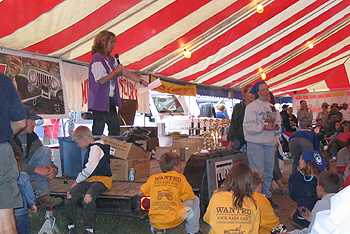 Chevette calls out names of the winners, all kids ended up receiving trophies!
A fun and relaxing day from the trail!! Or, meeting new and old friends, talking to manufactures about their products or new ones to fabricate, or?? Hump-day, only 2 more days of fun left!! Ahhhhhhhhhhhhhhhhhhhhhhhhhhhhh, Vendor's day 2003 was another great success!!
"See ya on the trail"
Bill Hallinan HoboJeepers
Other All-4-Fun 2003 Trip Reports
Sat: Leadville Boom Days Sun: Mt. Antero Trail Mon: Iron Mike Mine Trail Tue: Wheeler Lake Trail
Wed: Vendor's Day Thur: Lost Canyon Trail Fri: Mosquito Pass/Mt. Bross Trails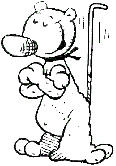 (c) Copyright 2003 MHJC Patrol One
Jeep is a registered trademark of Daimler Chrysler Corporation