PATROL ONE OUTINGS
ALL-4-FUN 2003
Leadville/Twin Lakes, Colorado
LOST CANYON TRAIL
Thursday, August 7th
& Door Prize Night under the Big Top...
Near Granite, Colorado

On Thursday August 7th, as trips resumed after a day off, visions of door prize night rang about as everyone headed off to their chosen trails. Have you put your chair under the tent yet?? I (along with my jeepin-side kick Molly), led 5 rigs out of the staging area at 8:30am sharp on channel 4. The trip takes us just above camp for a 3,000' climb. It's an easy trail, but very scenic with views of the Arkansas Valley. It will also almost guarantee you a spot under the tent, and not stuck out on the trail at 7pm (must be present to win!).
The 5 Jeepers for the day included: Bill & Roberta B. (Scout II-Thornton, CO), Mike D. (TJ-Bremen, IN), Ron B. (CJ7-Montana), Bono C (YJ-Montana), & Dois (TJ-Oregon).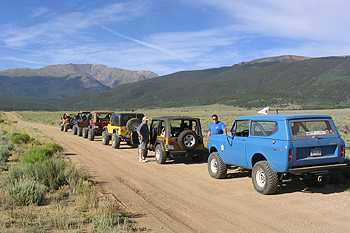 We re-grouped away from the staging area to air-down
(Lost Canyon is top right)...
We headed right out of the staging area and west where the end of the sagebrush meets trees at the base of the hill some 2 miles west of Granite off Hwy 24. Forest Road 398 is and easy road with meanders thru beautiful aspen groves (would be a nice drive in Fall). The road does get rocky in spots further up (too much for a car), but an SUV can handle it.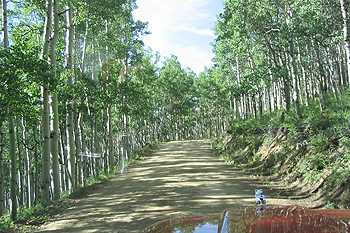 Aspen lined the lower trail...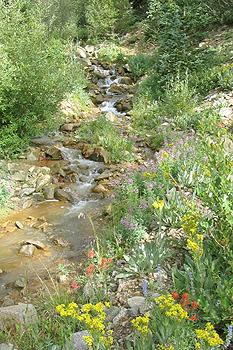 A small stream cascades down...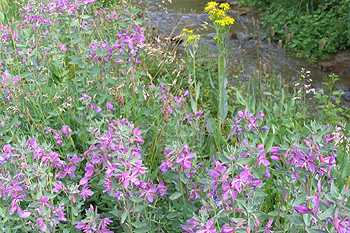 With numerous wildflowers...
Having a smaller group (25 max) enabled us to explore many spur roads not possible with 20 rigs. We took a small spur that ended up at a nice flower bed near Cache Creek. Up the road further, I took another spur road that veered off to a cabin. Looking inside, one can see newspaper lithographs (plastic sheets used to print) as insulation. On of the dates read August 11, 1949. Similar insulation was used in the outhouse.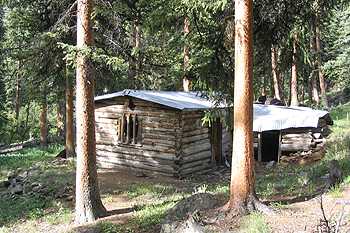 A circa 1930's cabin...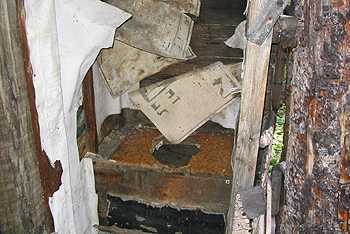 with some modern shag carpet for a seat in the outhouse...
Up the same spur, we came to the end of a tight trail at an old mine site. Views of the small valley we were in below, and just enough room for us to turn around, we headed back to the main Forest road. Up and up, we gained elevation and views. Coming up finally to a great view near 11,000' looking down into the Arkansas Valley and Leadville to the north. We stopped for a break and a group photo with the views in the background.

Looking north over the Arkansas River Valley from our 1st saddle...
Great people visit All-4-Fun...
We pressed on higher and higher, reaching the NW saddle above timberline and a great view of the northern Collegiate Range to the north which included Mt. Elbert and Mt. Massive 14,000+ peaks. Stopping at a cabin along a ridgeline in the windblown tundra, one wonders what life was like 110 years ago. A few hundred yards east, we stopped for a nice wind-free lunch watching the puffy clouds wiz by, and the 360 views.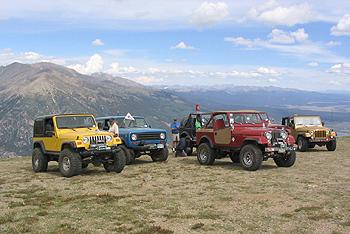 Another higher saddle looking north...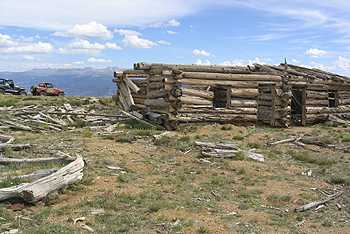 Circa 1890's cabin on the high saddle, hard life here...
After lunch, I took the group (possible with 5 max), to the top of a small hill to the west. The climb was rocky and steep. 'Treading Lightly' was key to keeping the trail 'clean' as it was before we arrived. All made it to the top (@ some 13,100'), and were greeted with views of Clear Creek Canyon to the south, and some 3000' below. 14,000' peaks of Mt. Oxford, Mt. Belford, and Missouri Mountain were all to the south towering over us another 1000'. Pika were seen everywhere, with the occasional marmot running along the saddle in the distance.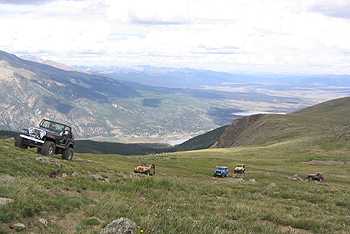 Our final ascent to the top (please, always stay on the trail and off the tundra)...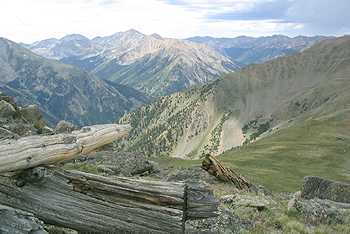 Looking SW up Clear Creek Canyon...
Someone with an eye for wildlife spotted a small herd of Elk nearby, then a huge herd across the valley to the NW. With binoculars, you could see some hefty bulls, quite the sight. To round out the wildlife show, we also saw a herd of Mountain Goats along the same ridgeline some 400 yards away as we ventured back down the mountain.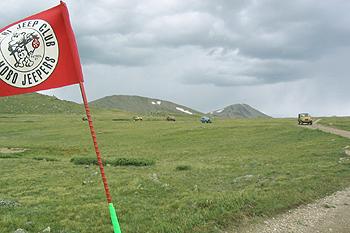 Heading back down before the storm reaches us...
We headed down the mountain and back on the switchbacks o the Lost Canyon Road. Arriving near camp about 2:30pm, we split off and took care of business or back to camp. Another fun day with some great wheelin' folks at All-4-Fun 2003!
At 7pm sharp, the popular Door Prize night was run by Troy & Melody Mesmer's committee (great job!). Everyone was ready to receive over 400 door prizes to registered jeepers who were present (some even took home 2!). How long does that take you ask? Well, (at 11:30pmish?) we had the raffle (after the last prize was given away). I got my $20 worth of Children's Hospital raffle tickets, and not a one even came close. Who cares, it's all for the kids.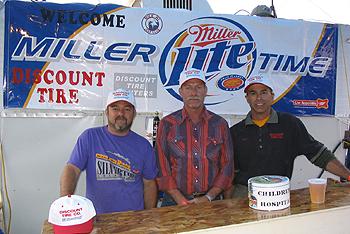 Discount Tire sponsors the adult refreshments...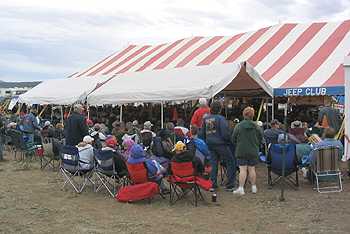 Room was tight as those who didn't put their chairs up BEFORE their trail sat outside...
Names are called, must be present to win!
A big 'Thanks' to Fred Perry of Clemson 4Wheel Center, and Harold Ogden of Warn, who bid the highest ($800!--matching bids!) for the "JEEP"-Toughest 4 letters plaque for 2003, with all the money going to Children's Hospital. Jeff Fish proclaimed that this year's participants raised $10,000 (to go to the Burn Camp for Children's Hospital)!!. Another fun night under the All-4-Fun big top!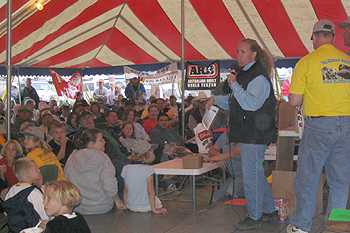 Melody Mesmer calls another name...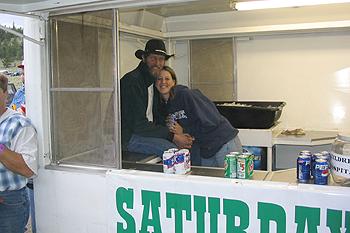 The Hoag's of MHJC Patrol 12 helped disperse the sodas,
sponsored by Saturday's Gas Station in Leadville...
"See ya on the trail"
Bill Hallinan HoboJeepers
Other All-4-Fun 2003 Trip Reports
Sat: Leadville Boom Days Sun: Mt. Antero Trail Mon: Iron Mike Mine Trail Tue: Wheeler Lake Trail
Wed: Vendor's Day Thur: Lost Canyon Trail Fri: Mosquito Pass/Mt. Bross Trails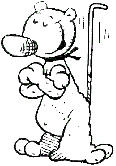 *To HOBOJEEPERS HOMEPAGE w/frames*
To HOBOJEEPERS HOMEPAGE without frames
(c) Copyright 2003 MHJC Patrol One
Jeep is a registered trademark of Daimler Chrysler Corporation