PATROL ONE OUTINGS
ALL-4-FUN 2003
Leadville/Twin Lakes, Colorado
MT. ANTERO TRAIL
Sunday, August 3rd
& Leadville Appreciation Night under the Big Top...
Near St. Elmo, Colorado

On Sunday August 3rd, begins a fun week of jeepin'!!!! I (along with passenger Mardi B, and her dog Charlie, and my jeepin-side kick Molly), led 15 rigs out of the staging area at 9:30am sharp on channel 12. I was scheduled for and early 8:00am trip, but took the later one from Frank E. The trip headed up Chalk Creek off Hwy 285 south of camp, and on up a good 5000' climb to right below Mt. Antero at 13,800'. This is the 3rd highest trail of the week, and it's the most scenic with it's many switchbacks and views.
The 15 Jeepers for the day included: Harold O. (CJ7-Warn), Dennis C. (CJ7), Vernon B. (TJ), Lynn H. ('Rental' Durango), Greg H. (TJ), Sharon P. (TJ-Rubicon), George P. (CJ-7), Roy P. (TJ), Ed W. (CJ7), Bob G. (MHJC Patrol 5-CJ5), Grant G. (MHJC Patrol 5-Early Bronco), Ashlie G. (MHJC Patrol 5-CJ7), Brandon W. (YJ), & finally Growske (TJ).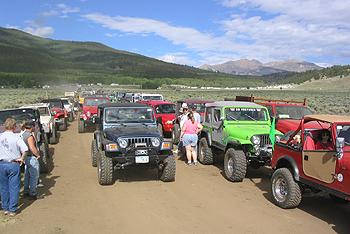 The staging area was a busy place...
We headed up Hwy 285 north out of camp a few miles to the St. Elmo turnoff (Chaffee County road 162), which leads west up the long incline to the mouth of Chalk Creek and the white Chalk Cliffs. We stopped and aired down, and took care of business at the trailhead. Ready, we headed up FR 277 on our way to a saddle at 13,800', just west of Mt. Antero.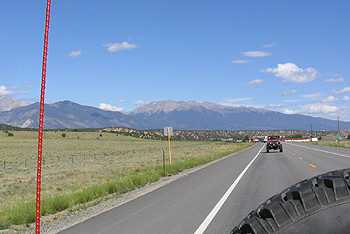 Some 14 rigs heading south on Hwy 24...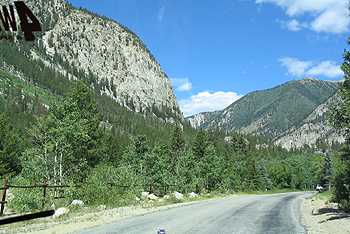 then up steep Chalk Creek canyon...
The trail is a bit rocky as you climb steadily in the trees. Rounding the corner we reached clear Baldwin Creek as it cascades down the steep slope to our left. Remember we need to climb 5,000', so sitting back in your seat was an easy thing to do. Just like sitting in a tour jeep, but you have control...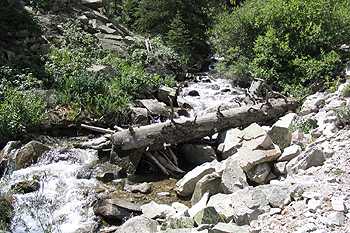 A refreshing sound...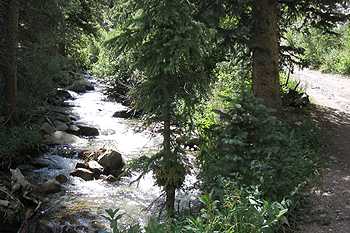 as Baldwin Creek tickled the trail...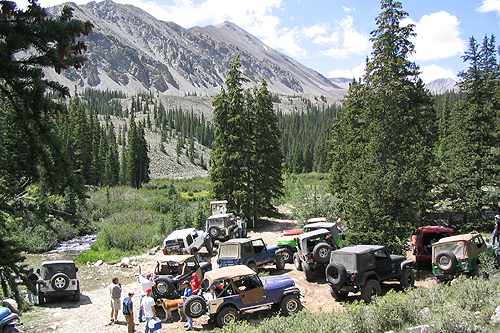 Lunch along Baldwin Creek, before the ascent to Mt. Antero...
We reached the intersection with Baldwin Lakes trail (to the right), and Mt. Antero (to our left). It was getting lunchtime, so we opted for lunch down by the creek. Here is a Topo of the area from Topozone: http://topozone.com/map.asp?z=13&n=4282013&e=389473&s=50&size=m. After lunch, we forged Baldwin Creek as tree line around 11,000' approached us. Bob G's CJ5 didn't want to start. As we climbed he finally changed every fuse until he found the right one. He met up with us on Mount White.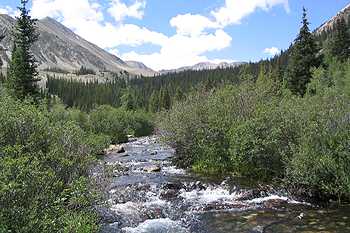 Baldwin Creek...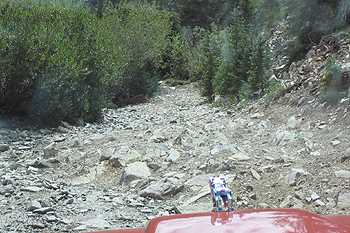 Enough rocks keep your attention on this trail...
Reaching the base of the switchbacks, the trail isn't as rocky, but the tight switchbacks get your attention. Up and up, we gained elevation and views. Coming up out of the Baldwin valley in the tundra, the surrounding Collegiate Range starts to surround us.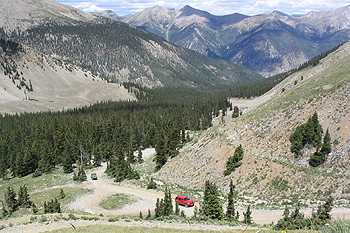 Starting up the 1st switchbacks...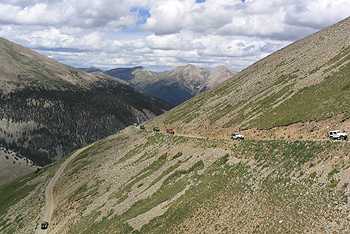 ...provide views of Baldwin Valley...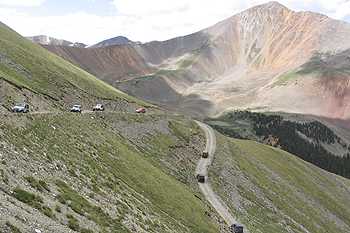 ...and take you higher and higher.
Passing other vehicles becomes a challenge with 15 rigs. There are a few pull outs, as everyone made it by. There was one vapor lock, but they were able to continue on. Finally, we reached the ridgeline below our final accent and headed up FR 278 1a to the saddle. The switchbacks up the saddle were a little intimidating, as there were some loose rocks in places.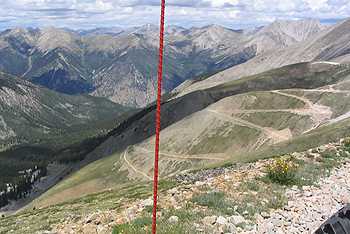 The switchbacks are easy and scenic...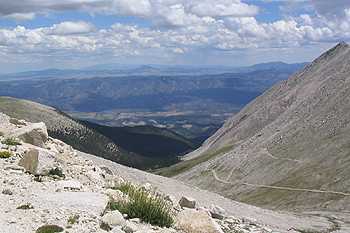 Looking off to the east and the Arkansas River valley some 5000' below...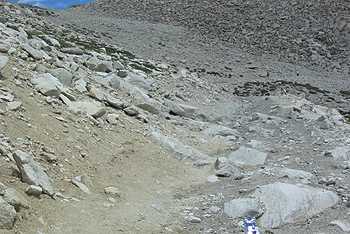 These last few switchbacks get tricky and loose...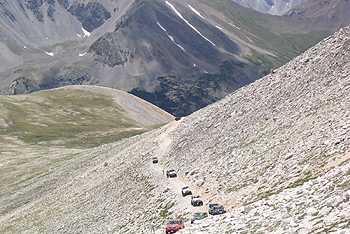 The back of the group ascends the last switchbacks...
Ahhhhhh What a view! We took in the sights of the surrounding peaks and valleys as puffy white clouds whizzed by. Our break was timed just enough, as a nasty big dark cloud headed away from us. We split up as some stopped in the meadow below, while I took a few over the valley to Mt. White. The rain looked ominous off to the west, as we started off the mountain.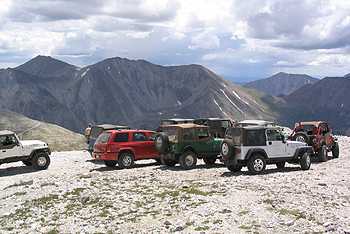 The 13, 800' saddle of Mt. Antero...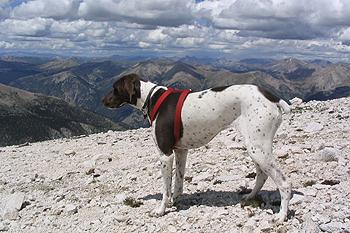 Molly is always on the lookout for pika...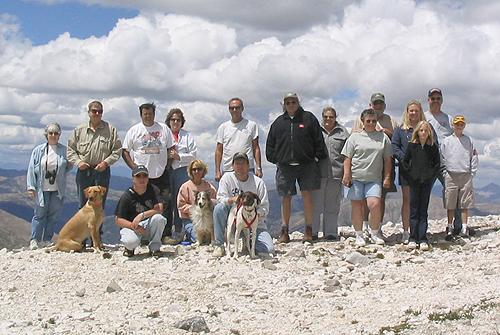 Great wheelers and good folks at 13,760'...

From Mt. White, looking north at the switchbacks up to the saddle...
Once back down to treeline, we stopped to re-group and take a 10-100. Mardi helped me put the spare top up on the Jeep since it looked like rain. Well, seemed it never rained, oh well. Heading down, we encountered many drivers coming up. It made for some interesting maneuvers. One guy in a Cherokee stopped on a slope and gas was pouring from his full tank as we drove by.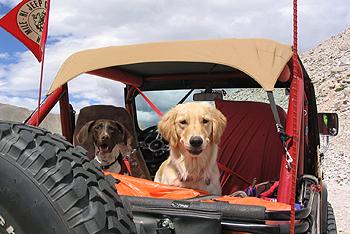 Molly and her friend Charlie enjoy the views too...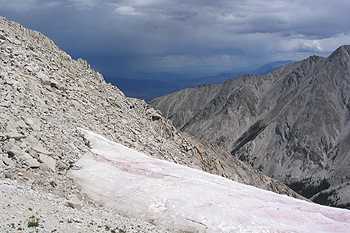 Snow bank off Mt. White as a shower heads east
(the red on the snow is a bacteria that only grows on high elevation snows) ...
After we got down off the trail, some of us took a side trip over to the ghost town of St. Elmo to feed some chipmunks and take in some scenery before calling it a week and back to camp. There actually is a general store there now in St. Elmo, right where an old store used to be 100 years ago. Hummingbirds fly all around you as you enter. Another great day at All-4-Fun---time for some grub, then the Leadville Appreciation door prize night at 7pm!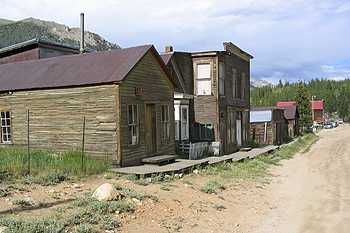 St. Elmo, a preserved ghost town...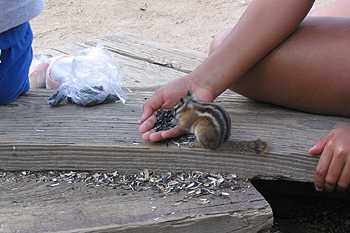 Where chipmunks
are tame, and WELL feed by the tourists...
"See ya on the trail"
Bill Hallinan HoboJeepers
Other All-4-Fun 2003 Trip Reports
Sat: Leadville Boom Days Sun: Mt. Antero Trail Mon: Iron Mike Mine Trail Tue: Wheeler Lake Trail
Wed: Vendor's Day Thur: Lost Canyon Trail Fri: Mosquito Pass/Mt. Bross Trails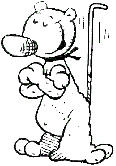 *To HOBOJEEPERS HOMEPAGE w/frames*
To HOBOJEEPERS HOMEPAGE without frames
(c) Copyright 2003 MHJC Patrol One
Jeep is a registered trademark of Daimler Chrysler Corporation