PATROL ONE OUTINGS
ALL-4-FUN 2003
Leadville/Twin Lakes, Colorado
IRON MIKE TRAIL
Monday, August 4th
& Land Use Conference Night under the Big Top...
Near Leadville, Colorado

On Monday August 4th, the morning sun shined bright, and the air cool from last night's rain. I (along with my jeepin-side kick Molly), led 19 rigs out of the staging area at 8:30am sharp on channel 7. The trip would head north on Hwy 24 towards Leadville, and on up the Halfmoon Creek valley. This trail had scenery, and nice fun steep rocky climbs.
The 19 Jeepers for the day included: Heather B. (MHJC Patrol 8, CJ7-Tailgunner-Longmont, CO), Gary & Julie G. (TJ-Plano, Tx), Brent P (Blazer-Phoenix, AZ), Bernie S. (CJ7-Phoenix, AZ), Ed C. (4-Runner Phoenix, AZ), Chari Ainsworte (XJ-Phoenix, AZ), Jack A. (CJ7-Reseda, CA), Griz G. (Suzuki-Phoenix, AZ), Toby W. (XJ-Oregon), Ollie R. (CJ7-Oregon), Greg S. (03 Ram-Phoenix, AZ), Tom E. (TJ-Baltimore, MD), Mike Dennin (TJ-Bremen, IN), Tom K. (YJ-AZ), Harold B. (TJ-AZ), Jerry W. (TJ-AZ), Jim T. (YJ)-Moab UT), David N. (Bronco), and finally Nathan S. (XJ-Enid, OK).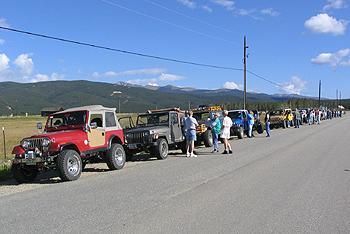 We re-organized just off Hwy 24...
After some confusion at the staging area (lots of people leaving), I regrouped everyone just off Hwy 24 to air down. We headed up the dusty and wash-boarded Halfmoon road (FR 110), and stopped for a quick 10-100 in the trees. For about 4 miles the road is 2wd, as it passed nice campsites along the creek, and trailheads for Mt. Elbert and Mt. Massive hiking trails. Just past them, the trail becomes less car-driven, and more for SUV's for another 2 miles. The Mount Massive Wilderness is just north of the trail.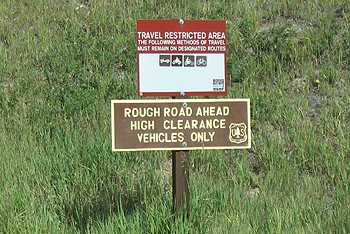 Most cars dared to go any further, most SUV's can do the lower section...
The trail gets less maintained, the further you venture up the valley passing beaver ponds. The Halfmoon creek winds it's way down the valley in meandering style. Further up, it cascades down the steeper inclines. We reached the turnoff to Iron Mike Mine and Forest Road 110J (for some real wheelin!).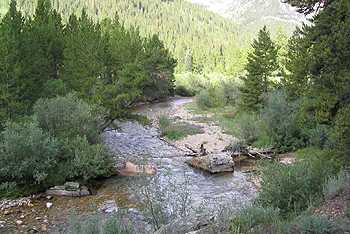 Meandering Halfmoon Creek...
Here is what we drove to, a fun tight Jeep trail! The fun starts out with a nice creek crossing over Halfmoon Creek. All 20 of us forged up the tight and steep rocky trail. There were even a few stock vehicles on the trip who did well here and further up. Climbing and climbing the S. Halfmoon Creek drainage, we reached a crossing and an obstacle to pay attention too.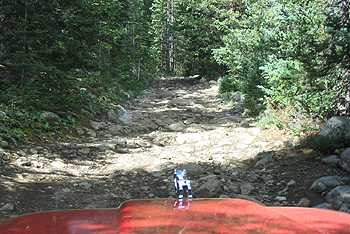 The trail becomes rocky and tight...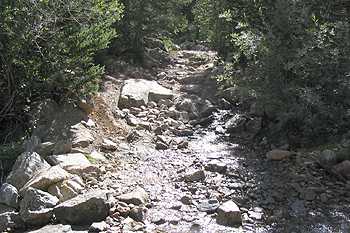 As we encountered this obstacle...
After I made it up, one by one followed. Some took different lines then others. I stopped up above about 100 yards for a break and to wait to re-group. As we waited, word got up to us that Brent P and his modified Blazer dropped his rim down on a rock and bent the rim and popped the bead. Once down to the scene, the Arizona crew (Honeywell 4Wheelers out of Phoenix) were working as a team to pop the 37" tire on the rim. Brent had to pound the rim a bit, but he had onboard air and help from friends. In no time, the tire was holding air and Brent moved up as others came thru the obstacle.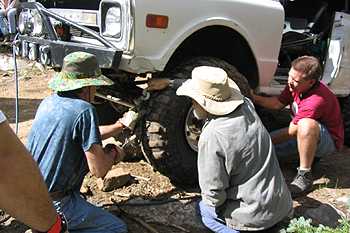 Teamwork gets this tire filled with air...
Greg S. Had just bought his 2003 full-size Dodge Ram (with 4 doors!) before All-4-Fun. He had a chance to park it in a pullout and ride with friends, but chose to 'try it'. After a few tries, he decided to take a strap up and see the only damage done was to the side bars (better them then the body). Greg was nominated for the 'Rookie/Stock ATTA-BOY Award' at the end of the trail, for his fine driving skills. Others in the pack made it thru and we we moving on up thru the trees towards the upper basin.
Greg tries the obstacle, then takes a strap up...
For another 2 miles of fun tight Jeep trail, we finally broke out of the trees into willows and eventually tundra. Driving past some old cabins on the barren hillside, and the mine site, we headed to the end of the trail over 12,000' and had lunch. While parking, Bernie S. got his CJ7 hung on a rock, and poked a small hole in his oil pan. As we had lunch, he and his buddies repaired the leak (and cleaned up the area). He received the 'Best Trail Fix' award at the end of the trail.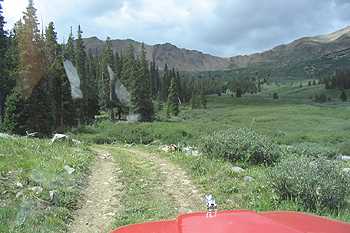 The upper trail is lined with willows, as the basin opens up...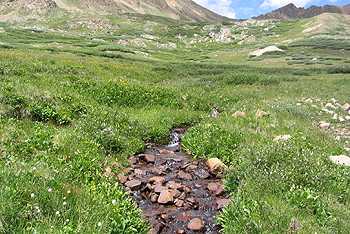 Small brooks come from the high valleys...
After lunch, the Arizona group (Honeywell) stayed with Brent a little longer to let the JB Weld set, as I started the rest of the group back downhill. Retracing our tracks, we made our way back down to the obstacle at the creek crossing, and all did well to maneuver thru it again.

Lunchtime at the end of the trail...
We all reached the 1st creek crossing over Half moon again and back on the easier FR110 to the Mt. Elbert trailhead. Some stopped at Emerald Lake, while others headed back out to the Arkansas River Valley and Hwy 24. A fun little Jeep trail Iron Mike is. It has a nice steep climb combined with football to basketball sized rocks to get your attention. The views in the valley are great, as 14,433' Mt. Elbert watches over you the whole way. Thanks to my Tail gunner for the day Heather B! If in the area, a must do for your list. Always travel with a buddy. Under the tent at 7pm was a Land Use Conference with COVCHO.
After we got down off the trail and back to the highway, I headed towards Leadville at 4pm for some gas and air-up for a trip back to Denver. Steely Dan was playing at Fiddler's Green at 7pm, and I was determined to get there to see it. I was amazed at how fast my 82 CJ7 was doing down Georgetown Hill without falling apart. I never thought it could do 80mph! That was top speed for a short few minutes, I'm sure break-up would occur at 86mph! I reached Denver in 1.5 hours to sit in rush hour traffic on C-470, but made it with time for a shower and shave! Good concert! Back to All-4-Fun on Tuesday after mowing the yard. Bob Daniel (no relation to Jack), submitted a trip report of his adventures at Wheeler Lake for Tuesday, so check it out (coming soon).
"See ya on the trail"
Bill Hallinan HoboJeepers
Other All-4-Fun 2003 Trip Reports
Sat: Leadville Boom Days Sun: Mt. Antero Trail Mon: Iron Mike Mine Trail Tue: Wheeler Lake Trail
Wed: Vendor's Day Thur: Lost Canyon Trail Fri: Mosquito Pass/Mt. Bross Trails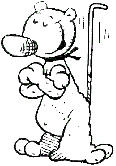 *To HOBOJEEPERS HOMEPAGE w/frames*
To HOBOJEEPERS HOMEPAGE without frames
(c) Copyright 2003 MHJC Patrol One
Jeep is a registered trademark of Daimler Chrysler Corporation