PATROL ONE 2007 OUTINGS
WHEELER LAKE TRAIL
August 12th, 2007
South of Breckenridge, Colorado

Well, being it was almost smack dab in the middle of the Summer, it was time to hit a couple of trails! We planned on staying at a condo just west of Breckenridge as a base. The drive was nice (in a Jeep), and we arrived in time to organize our stuff and have a brewski. Off to dreamland around 11pm with dreams of a fun day at Wheeler.

180 degree view looking West from the condo deck...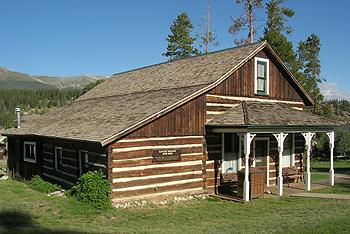 Another of the many 1880's historic cabins in Breckenridge...
On Sunday, August 12th 2007, after a great warm sleep in a Breck Condo, we headed down to town and had a nice Breakfast, then stopped for gas/food before we headed down Hwy 9 towards Hoosier for a drive up to the Wheeler Lake trailhead just off Hoosier Pass around 9:15am. We also had some great guests Bob D and Virve (TJ).

Check out this awesome trailhead map of the Wheeler Lake Trail,
and zoom in, click hybrid, and follow up the trail, PRETTY COOL!!
Map provided by Traildamage.com

We met up with Bob and Virve at about 9:50am on the West side of Montgomery Res. and aired down and did the 'disco'. Already to go, we started up the trail. Being it was Sunday, I suspected we would see some traffic on Wheeler. All we met were very nice and cordial as we passed. Heck, were on Wheeler Lake trail on a Sunday--Who wouldn't be happy?? We pasted under the Magnolia Mill, with a lot of history inside and out (we stopped for a closer look at the end of the day). There is also a nice cascading waterfall just to the south you need to stop and see (see end of report). Right away, we had some nice rocky sections (filters out the Subaru's) that were steep and fun to climb (did I mention the smiles?).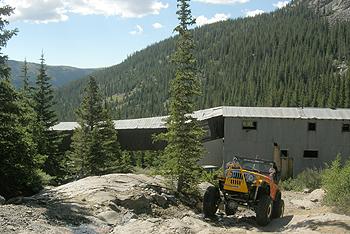 Magnolia Mill at the 1st rocky section.
We ventured on past the Adopt-A-Trail sign by the South Park 4x4 Club (you gatta have 4x4 clubs support trails, so please support them by staying on the main trail), we encountered our 1st real obstacle on Wheeler. I took the easier obstacle on the left. His right rear tire dropped in a hole and he almost laid it down on it's left side. He was able to save it, but stalled. He had had problems before (like at air down) starting, and he backed down to a flat spot to check it out. He eventually got it started (electrical issues), and took the left line up. One by one, the rest follow, as Bob tried the harder left side and had no trouble looking good. Onward to and thru more rocks! We passed by a small meadow to the left closed to vehicles with signs (please obey them).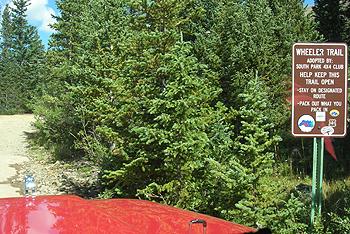 Thanks South Park 4x4 Club...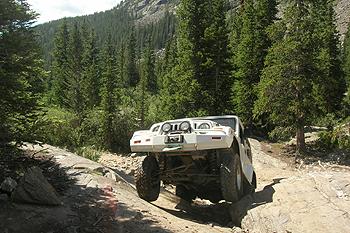 Bob takes a nice line up the left side...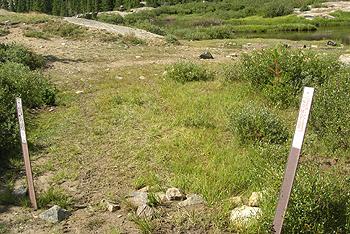 Please obey 'closed' signs...
After some rocks and stream crossings, we soon reached a 2nd obstacle that some tried the far right line and others like myself tried the easier far left line. Everyone was spotted up safely, with smiles and high-5's.

After the second obstacle (V), there were more rocks, willows, rocks, water crossings, willows, rocks, water crossings, and did I mention the rocks? The willows were quite friendly though, most of them were just leaves which did not leave to many Rocky Mountain Pinstripes. As part of the challenge to this trail, one can maneuver in a Jeep thru with minor to no scratches, which keeps the driver on their toes. Soon, after a much needed 10-100, and after some more rocks and water crossings, we reached the bottom of 'Bowling Ball Hill'. A nice cascading side stream makes you stop to take a Kodak Moment, then MUSH up the hill (as the coast was clear--for now) we must!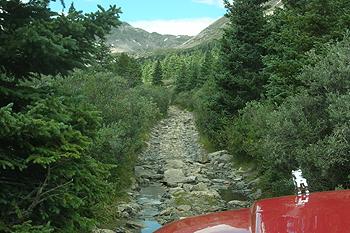 Willows, rocks, and water...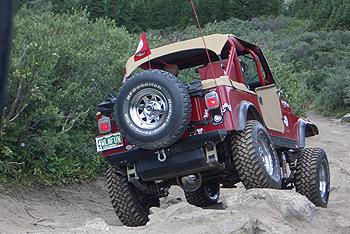 I run over some bigger rocks...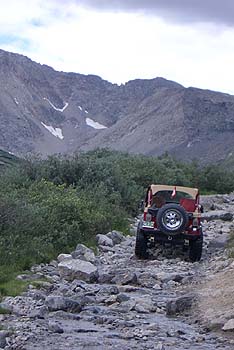 ...and also manage to find more rocks on the trail I have to run over.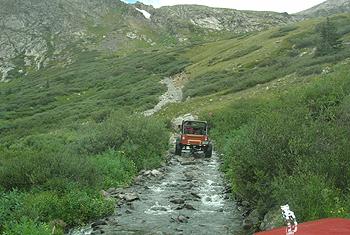 The last water crossing before the Bowling Ball Hill ahead...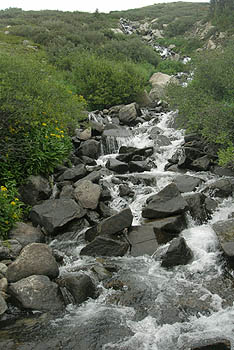 A Kodak Moment wouldn't you agree??.
Up at the corner obstacle, it's much easier then in the past (1999). The area near the water was never filled with rocks before, and it was much harder then it is today. Time and rocks have filled in the hole. So, without stopping, we all lumbered thru the corner obstacle up into the fragile tundra. We met 2 XJ's coming down and nicely pulled off for us to climb on pass to the lake. We then also passed 2 nice TJ's a few hundred yards later, then as if we had reservations, we had the lake to ourselves (briefly). We carefully parked on the dirt area only, being sure to say off any tundra (though others that arrived after us didn't). It was time for lunch at about 12:30pm.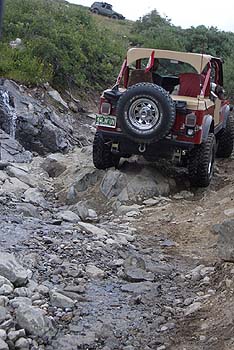 I maneuver thru the corner obstacle...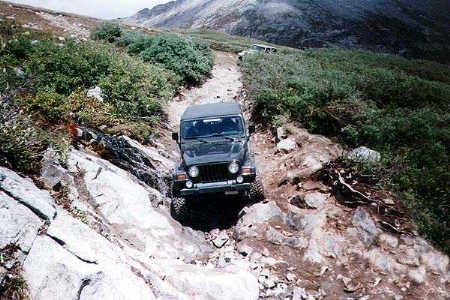 Here is a shot of the same spot in 1999
(note stream, and hole not filled with rocks)...
With as much traffic and infiltration that Wheeler Lake sees all Summer (being a dead end road too), I'm surprised it's not much more trampled. Remember, if you see someone off the trail, or doing something they not allowed too. Take photos, and get their license plate number and notify the local FS Ranger Station. They really do follow-up, and at least it's recorded. Thank You. A testament to the responsible wheelers who take pride in bending over and picking up someone else's trash and taking it down with them. Now, the next person won't have to see it, and enjoy the area. If you see any trash, please pick up some of it if up if you can--Thanks.
Flowers! Just West of the parking area, there are fields of many types of awesome flowers in bloom just below the cascading waterfall that works it's way down to the lake.

Wheeler Lake...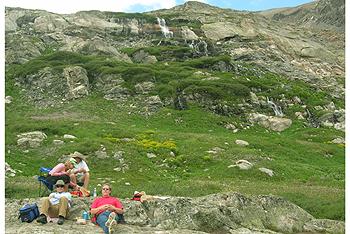 Ahhhh, this is the life...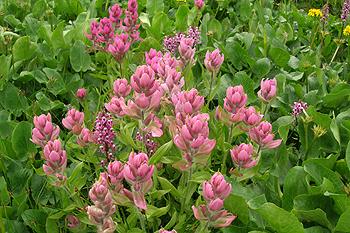 An assortment of flowers adorned the meadow below the falls...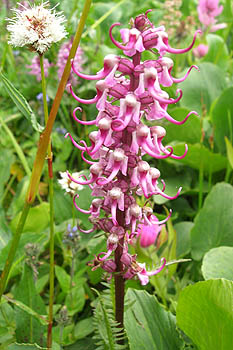 My favorite...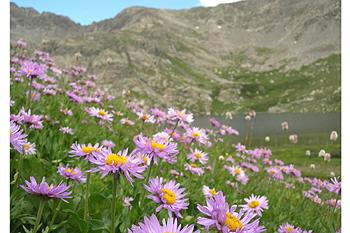 A sea of purple sunflowers...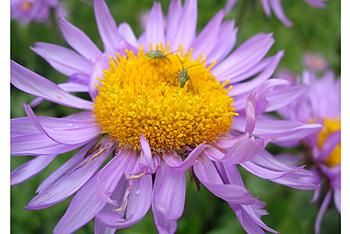 ...with many small friends.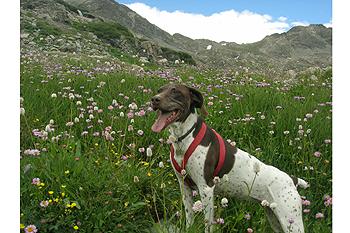 Molly enjoyed just looking for whatever was squeaking (Pika),
but posed briefly for me for this nice shot...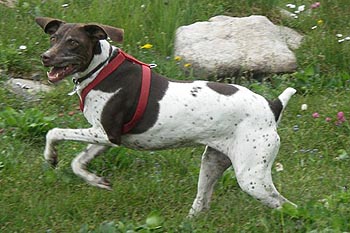 ...but she doesn't stay still for too long.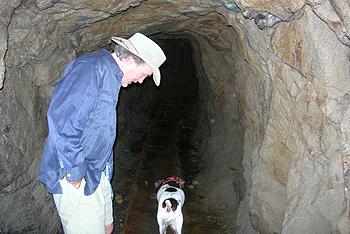 Molly leads the way, and I light the way with my flash
(I would take a flash shot, then we would look at it to see how much farther)...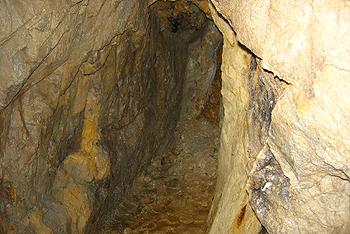 Well, here is the end (not very far)...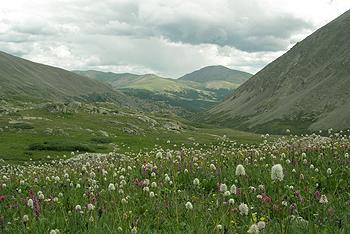 More flowers in the foreground looking off to the East, and down the valley...
After a nice lunch break, it was time to retrace every rock, willow, and stream crossing to get back to Montgomery Res. and the trailhead. Paul led the way, as we encountered more friendly wheelers out enjoying Wheeler late on a Sunday afternoon. Back down after 'Bowling Ball Hill', we stopped for a quick 10-100. Heading East now, after more rocks, willows, and water, we reached the 2nd obstacle, but only had to traverse it down. Still challenging, because it contained many marble like granite you can easily slide down and not stick a perfect landing (scrap age). We all made it down and had some guys behind us with some nice articulation on the V-Obstacle.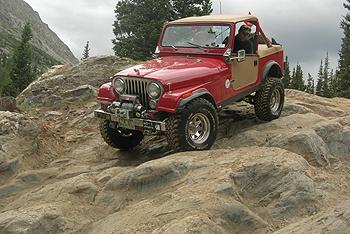 I (Bill) take the right line down...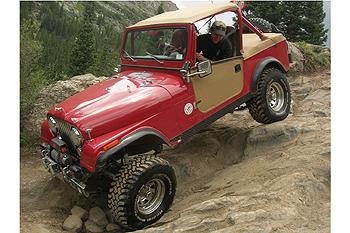 ...with a little breaks make it down.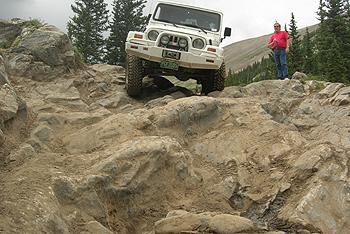 Bob finishes our group down safely...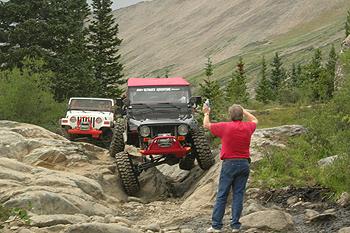 Nice TJ behind us, looking nice...
Retracing our tracks down the trail, we were pushed by a storm to our backs. We finally reach the 1st obstacle. All made it down, and on to our beginning at around 3pm at the Magnolia Mill. We stopped and checked out the waterfalls, and the Mill. Careful to avoid the bride part, which will be falling soon without a middle support.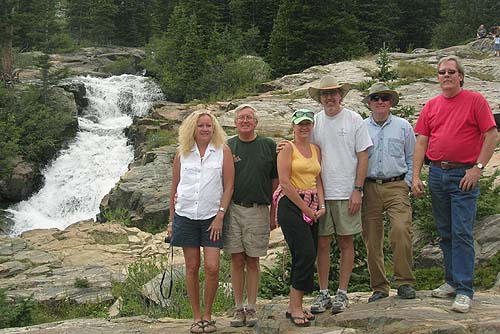 Group shot at the falls...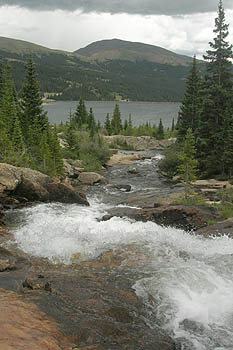 Looking East towards the reservoir...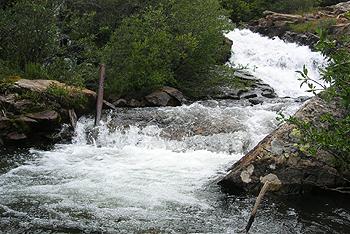 Refreshing water...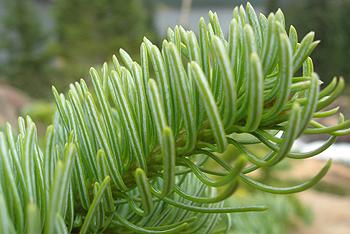 Engleman Spruce needles...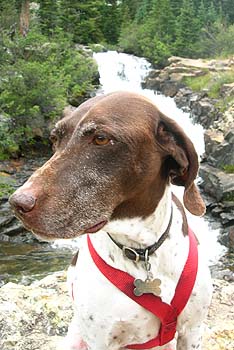 Molly poses for my camera...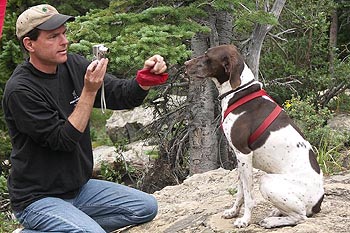 Ok, who is posing for who???...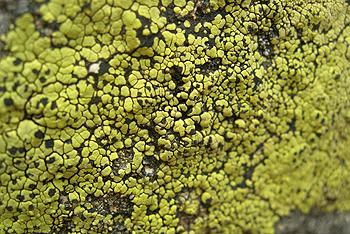 Close-up of lichen on the rocks...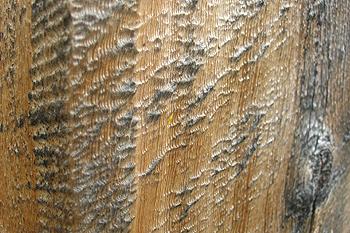 ...along with a close-up of Magnolia's Mill ageing wood grain.
Wheeler is a fun 'up and back' trail, and a definite 7 out of 10. It used to be rated 'Extreme' because of the last obstacle, and now it's just 'Difficult'. Remember, if you see someone off the trail, or doing something they not allowed too. Take photos, and get their license plate number and notify the local FS Ranger Station. They really do follow-up, and at least it's recorded. It was time to air up, and head back to Breckenridge for a fun Saturday night out. Some like to hike, to ride atv's, to mountain bike, to moto cross, or on horseback, all are seeking that special experience to share and remember. Good day.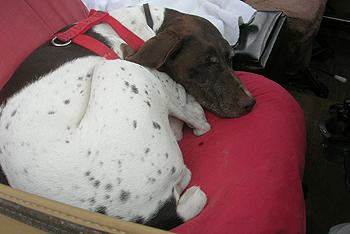 Molly's all done for the day...
Wheeler has all that and more...AHHHHH, now a good night's sleep, and then it's on to Holy Cross Trail in the morning!!!
"Jeep, Jeep"
See ya on the trail!!
Bill Hallinan HOBOJEEPERS
Other Wheeler Lake Trip Reports:
Wheeler Lake Trip Report by Traildamage.com (On same day)
Wheeler Lake Trip Report by On the Rocks Jeep Club 2005
Wheeler Lake Trip Report by Skidplate4x4
Wheeler Lake Trip Report by PikesPeakRovers
Wheeler Lake Trip Report by Traildamage.com
Wheeler Lake Trip Report by the HoboJeepers 2001
Wheeler Lake Trail during ALL-4-FUN 99' by Flatlander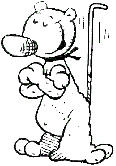 "Jeep, Jeep"

(c) Copyright 1999/2000/2001/2002/2003/2004/2005/2006/2007/2008/2009/2010 MHJC Patrol One
Jeep is a registered trademark of Daimler Chrysler Corporation