PATROL ONE 2007 OUTINGS
HOLY CROSS TRAIL
August 13th, 2007
Near Camp Hale, Colorado

Driving directions: Take I-70 to exit 171 West of Vail that is marked U.S. Highway 24 south and drive thru SLOWLY the small town of Minturn. Drive south past Gilman and Redcliff, and just after the Hornsilver Campground turn right on FS Road 703. You will see a sign to Blodgett Campground and Homestake Reservoir. The trailhead is about 9 miles down 703 on the right marked FS 759 (can't miss it). It is just past the Gold Park Forest Service Campground. Many campsites dot the way to stay for the weekend. Please remember to leave the campsite cleaner then when you arrived.
Check out this awesome trailhead map of the Holy Cross Trail,
and zoom in, click hybrid, zoom in more,
and follow up the trail by panning your mouse, PRETTY COOL!!
Map provided by Traildamage.com


180 degree view off Ken's Condo deck looking West towards Breckenridge...

All righty fellow wheelers, let me set the stage for this report. After a fine Sunday of 'wheeling' at Wheeler, and a night in Breckenridge with great friends having Mexican dinner, and the Nitty Gritty Dirt Band live concert for some, and also while staying in a warm (no sleeping bags) condo, what more could you ask for??? Well, how about Holy Cross Trail on a weekday?? Yep, so that was the plan. After a fun day at Wheeler Lake on Sunday, we were up early to make the drive over to south of Minturn and hit the Holy Cross Trail when the crowds were slim to none—on Monday, August 13th.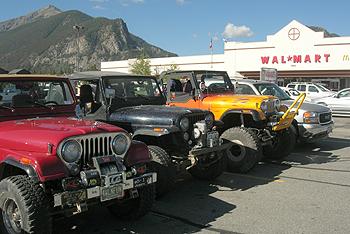 Gas and MaKyD's in Frisco...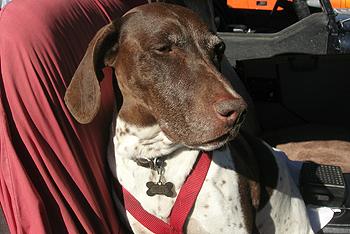 My Molly's ready for another Jeepin' trip...
With plans to leave Breck at 8:00am, it was more like 9:45am when we left Frisco, with a drive to the trailhead of over an hour. Once over Vail Pass, we headed south past Minturn, and turned on FS 703 and aired down/disconnected. As with the day before, Paul's electrical problem was back. It did finally start, and we headed to the trailhead some 9 dusty washboard miles West.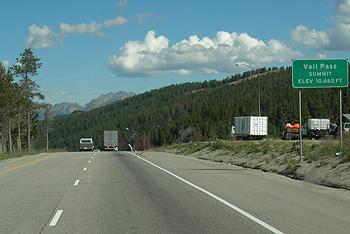 Holy Cross or Bust!! Over Vail Pass...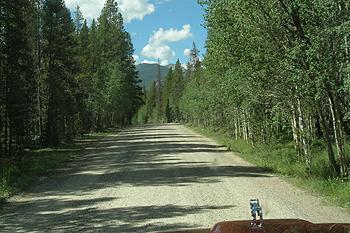 ...and along the dusty Forest Road to the trailhead...
When we arrived at the trailhead, and it was about 11:00am before we headed up the trail. At the entrance (trailhead), there is a sign that notes the equipment your vehicle will need to complete the trail without some damage. It should be taken seriously, though you should note that there are some areas to get by, but a lift and tires with gears and locked would make you a happier wheeler. If it's a weekend, others will also appreciate you having the right equipment for the trail. There are also signs throughout the trail noting each time the trail gets more difficult. They also note how much it costs to get your vehicle towed from that spot on, say like $500++. Thanks to the Big Horn Jeep Club for adopting this trail and keeping it regulated. Please obey all signs, and always tread lightly.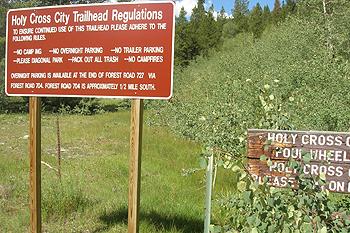 Please adhere to the regulations
(please pack out your trash and others too)...
The trail started with some rocks and smaller obstacles as you climbed thru the aspens. We decided to press on, even though it was 12:30pm by now. Did you know French creek has a waterfall? Me neither until we had some time to walk around were we stopped. It's some 12-15' tall, quite nice.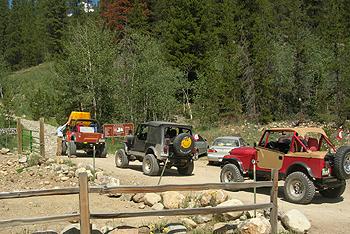 Hanging out at the trailhead (oh, my red jeep on the right)...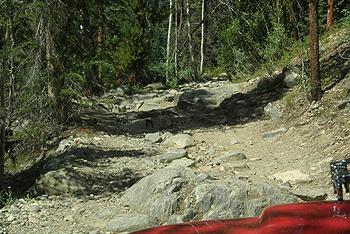 1st rocky sections along the switchback...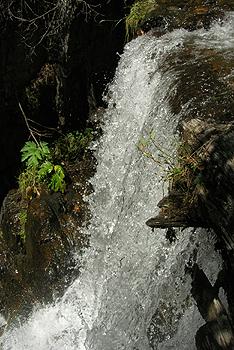 French Creek Falls
(well, it doesn't have a name, so that sounds good)...
We were wheeling' again, up thru the 1st half of the one-way up trail (before the exit), in some fun and always challenging moderate rocky sections to navigate your way by. Finally reaching the exit area, we headed up (still no traffic--ok it is a Monday). There is a large slab of rock stairs that you must cross that has a couple different lines to it. The far right line is probably the easiest, though it is the steepest. If you take the line to the left, it's a little tippy, and has a tree next to it. One by one we made it up ok up the far right.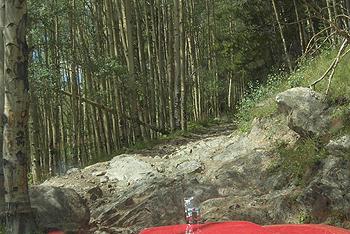 More fun rocky sections...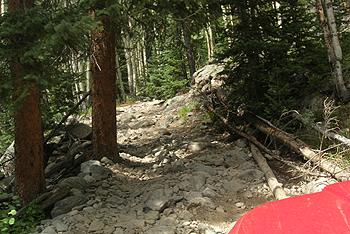 ...along with some trees, etc.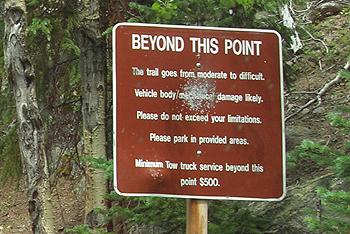 'Vehicle body/mechanical damage likely'...

The first real obstacle is fun and you can take different lines through it to make it extremely difficult in the middle. If you stay to the right it is steep and sandy but not nearly as difficult as lines in the middle or the left. The far left is a little dangerous and off camber. We all took the far right line with grins, and pressed on up towards French Creek.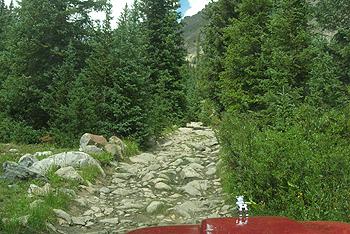 More rocky terrain to navigate...

We continued on and finally make it to French Creek. The French Creek Obstacle sure has changed over the years. Not as many small rocks to help you over the bigger ones. I can see how this would be a bottleneck on a weekend,,,yikes! Maybe that's why you see another sign noting probable difficulty and body damage possible. The line on the left is easiest, but it's still hard to do without scraping or denting anything. So, after looking at it with the many different lines (most with scrap age, etc.), it was getting late, & my carburator was acting up (had a cold), we opted to have lunch by the creek and then head back down. If we had more time, and our rigs were running better we would of headed thru. I also had to drive back to Denver afterwards.
While having lunch, we heard a vehicle, and it was a stock Rubicon unlimited with a guy and his family by himself. Yikes, what if he breaks down? He didn't try French Creek (and parked). When we head down and they were the only ones up there except for a few hikers who hiked down already. Please always ride in groups, especially Holy Cross.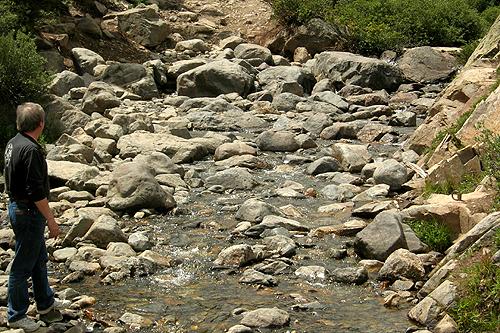 The French Creek Obstacle...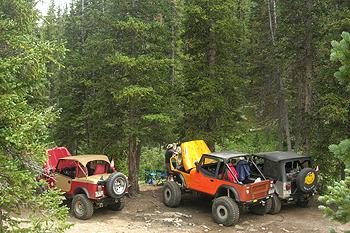 Lunch spot (hey look my Jeep made this report again!--the red one!
Strange how you never get any photos of your own rig...)...
The trip down was mainly navigating the two obstacles just in reverse. With no real troubles, we finally reached the exit point and 2WD. We followed the 2WD road past the water pipes and back down the dusty road to air back up for the trip home. I hit some traffic near Frisco in the pouring rain, a big rig laid it down on the curve. I headed back to Denver via I-70, then the scenic Clear Creek Canyon Hwy 6. A fun day all in all.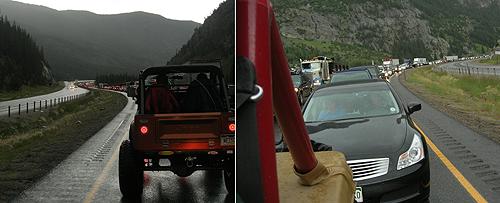 Yikes, quite the crowd in the pouring rain...
"Jeep, Jeep"
See ya on the trail!!
Bill Hallinan HOBOJEEPERS
Here are some other Holy Cross Trip Reports:
Holy Cross City Trail by Traildamage.com
Holy Cross City Trail 2002 by The HoboJeepers
Holy Cross City Trail 2001 by The HoboJeepers
Holy Cross City Trail by The Flatlander and http://www.4x4now.com/hcc.htm
Holy Cross City Trail by Jeepin.Com
Holy Cross City Trail by Cindy Beaudean
Holy Cross City Trail by Mile-Hi Jeep Rebuilders
Holy Cross City Trail by Unknown Source
Holy Cross City Trail by Terry Howe
Holy Cross City Trail by The Rocky Mountain Moggers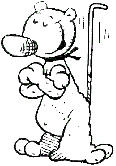 (c) Copyright 1999/2000/2001/2002/2003/2004/2005/2006/2007,2008,2009,2010 MHJC Patrol One
Jeep is a registered trademark of Daimler Chrysler Corporation