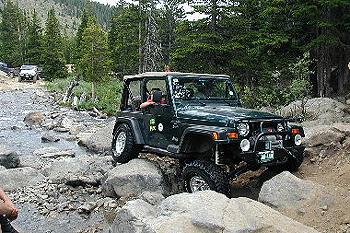 Mad Max starts out of French Creek...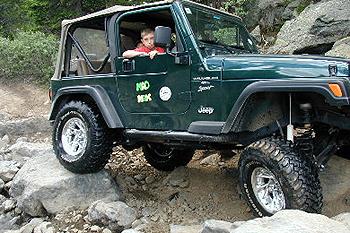 and gets some great articulation as he crawls on...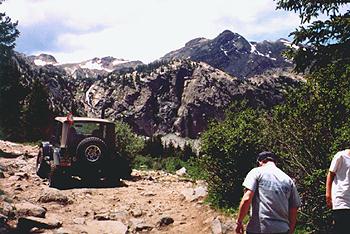 Next stop Holy Cross City...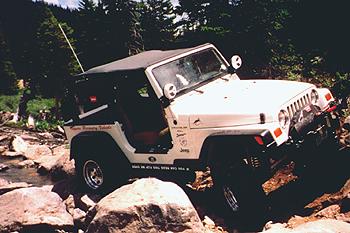 Sean "Joker" Tallant navigates the creek's boulders...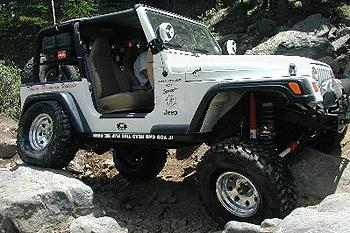 Nice flex Joker!!.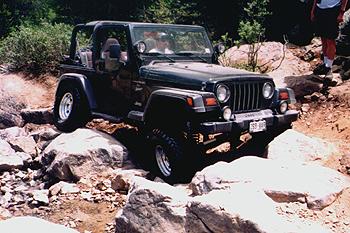 Drewby picks his line & flexes thru...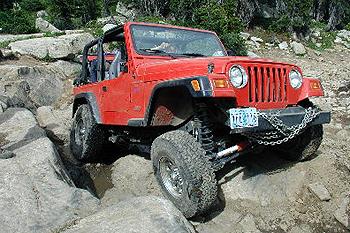 Heather takes the TJ thru French Creek...
On up to the trail and taking the right fork past Holy Cross to some great obstacles. The first is a big off camber rock with nothing but open meadow waiting below. The angle of the rock sends the front end skyward and makes the spotter scramble for higher ground so you can see his hands over top of your hood. Meanwhile your mind is thinking about that downward slant and slick granite that will send you sliding sideways toward the edge with any misplaced tire. Needless to say the sphincter got more exercise on one obstacle than a vegetarian choir member gets in a month.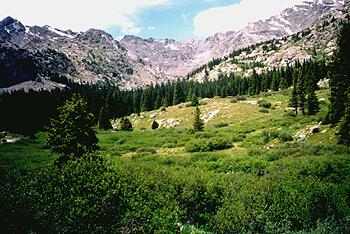 View above French Creek Crossing...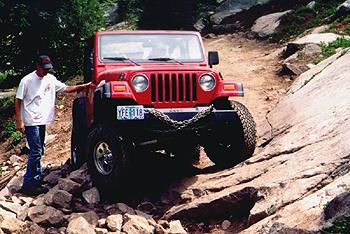 Bob puckers up above Holy Cross City...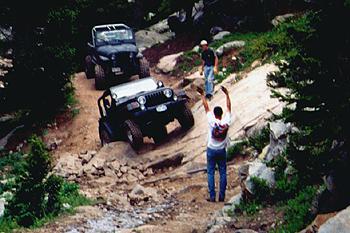 "Yes, it's as bad (and fun) as it looks"...
All safely across we proceeded to the wall (I'm sure there's a official name for this, but I don't know what it is). This is a great obstacle with slippery granite and multiple ledges to work your way up. Again, with some good lines and spotting Mad Max and Sean were eventually able to navigate up the face after several attempts and some carefully placed rocks. Drew and Bob gave valiant attempts, but with open diffs and limited lift on Bob's rig, decided a little winch help wasn't such a bad thing after all.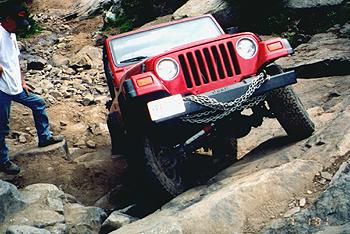 Bob says "Steep and slippery"...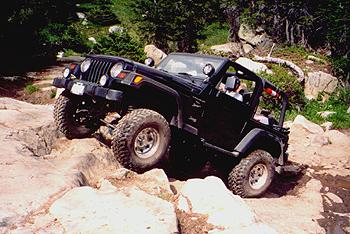 Looking good Drew on the last obstacle...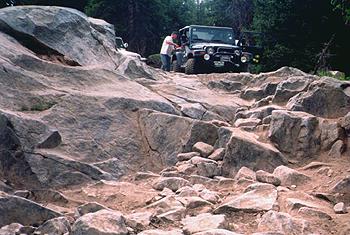 Going back down is much easier,
but a good line is still important...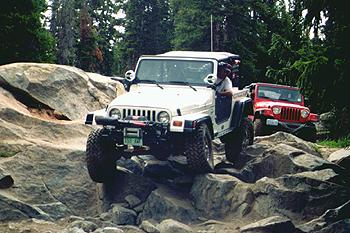 Sean "Yea, I've got skid plates"...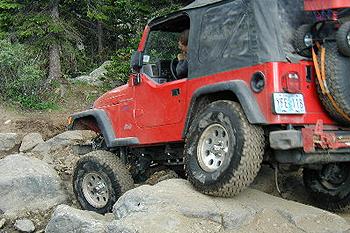 Bob coming down thru French Creek looking good...
We then headed to the top of the trail for a quick look at the beautiful scenery and to take advantage of the line of site for a couple of quick cell phone calls home letting folks know we'd be running a little late. This was a long day up and back, but what a great trail, great scenery, and best of all, great Jeepin' company.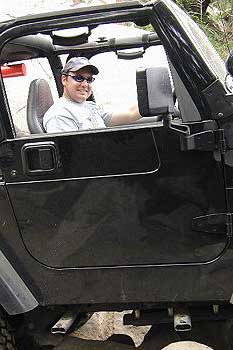 Drewby stills smiles after a fun day, and he finally got rid of his stock steps!
He now has some Tomken sidesteps for next time...
Thanks to all for a great run.
"Jeep, Jeep,"
Scott "Mad Max Maxwell HoboJeepers

Here are some other Holy Cross Trip Reports:
Holy Cross City Trail by The Flatlander: http://www.off-road.com/4x4web/travels/hcctrail.html and http://www.4x4now.com/hcc.htm
Holy Cross City Trail by Jeepin.Com: http://jeepin.com/campjeep1998/holycross/holycross.html
Holy Cross City Trail by Cindy Beaudean: http://www.jeeptech.com/~txh3202/trail/hc9808.html
Holy Cross City Trail by Mile-Hi Jeep Rebuilders: http://www.milehijeeprebuilders.com/Holy%20Cross.htm
Holy Cross City Ghost Town: http://www.ghosttowns.com/states/co/holycrosscity.html
Holy Cross City Trail by Unknown Source: http://www.info2000.net/~cjnut/arb.htm
Holy Cross City Trail by Terry Howe: http://www.jeeptech.com/~txh3202/trail/hc.html
Holy Cross City Trail by The Rocky Mountain Moggers: http://home.att.net/~rldp/20000907rmm01.htm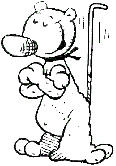 (c) Copyright 2001 MHJC Patrol One
Jeep is a registered trademark of DaimlerChrysler Corporation