Everyone was eager to go. We headed out of camp and south towards Moab and City Market. Ready to go, we set off thru town and south to the golf course area (see air photo above), and the trailhead of Steel Bender (Flat Pass) Trail. Just off the Westwater road, we arrived at the trail entrance and aired down.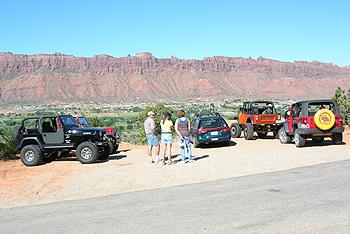 Airing down for a great day...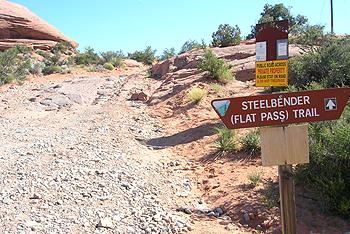 Let us begin, 'wagons ho'...
Once in the small canyon hosting Mill Creek, Cottonwoods and Willows provide some nice shade for an already toasty morning. The cool air off Mill Creek felt nice too. We crossed Mill Creek a few times. Back at camp, the Cottonwood trees were weeping sap everywhere, so we stopped to do a quick Jeep Wash along the creek. Moving along, many nice wildflowers were popping up along the trail dues to the recent rains in Moab before our arrival. Our 1st stop 'obstacle we ran thru and got some shots. We then climbed out of the canyon thru a series of slick rock ledges that we fun to climb. Jed in his rental did just fine.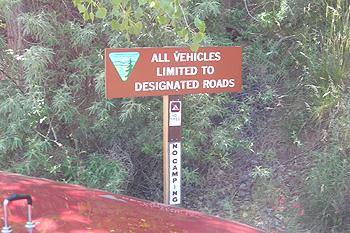 Please stay on the trail...
Cool-canyon and Mill Creek...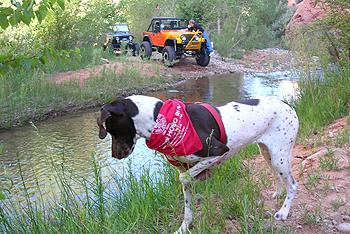 Molly-my GSP points another bug, while some go for a quick wash...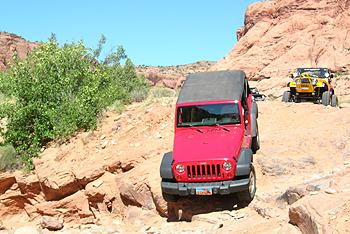 A new KJ coming off this ledge...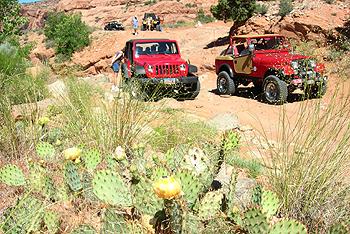 With recent rains, even the Prickly Pear Cactus were blooming...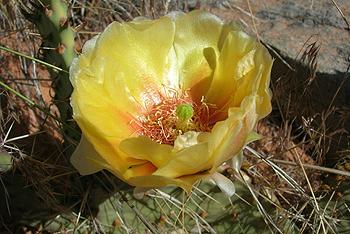 ...a nice yellow flower.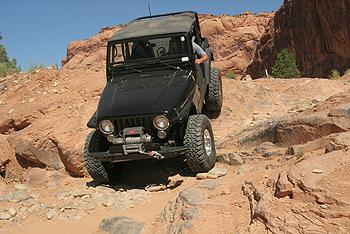 Bringing up the rear...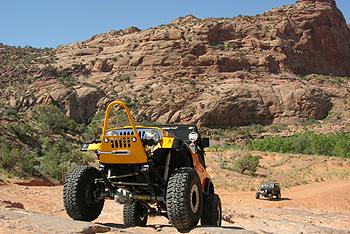 Coming out of the canyon and back thru some slickrock...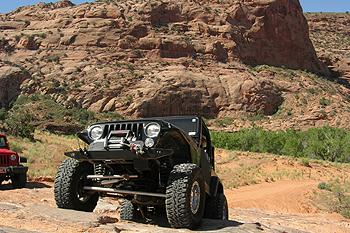 Some takes a little harder line...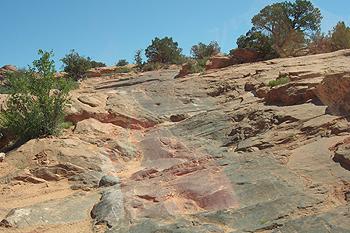 AHHH yea, more fun ahead, a lot of this makes this trail fun...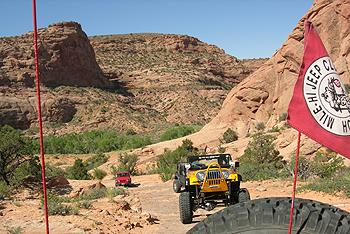 Looking back at the group, as we climb up to the mesa...
Once on a small mesa above the canyon, the road forks to the left or right. During Easter Jeep Safari, they added a small loop that goes north to an obstacle and returns in a loop of less then a mile. Instead of looping back it actually heads NE away from the cliff and takes you on around some nice wheeling. Definitely a back breaker and breaks needed, as we can attest in 05'. So, this year we took the easier way along the mesa and headed SE. This probably saved us a good 2 hours. It wasn't long before we found more obstacles and fun.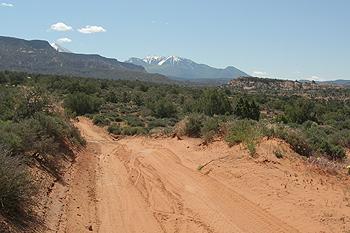 A short sandy section on the mesa looking SE towards the familiar La Sal Mountains...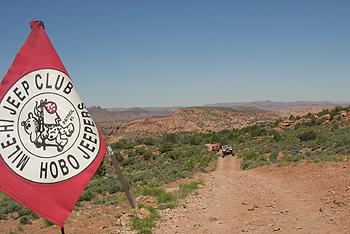 ...while looking back to the NE.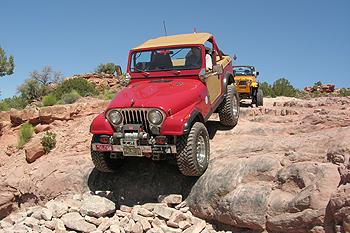 I take on the 1st big obstacle...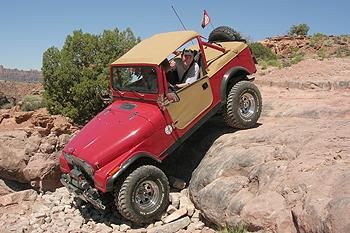 ...and have fun doing it (note smile).
Fun steep hill climbs then down into tight drainages follow the trail up to a nice obstacle of ledges. We all went thru very clean, and with much 'finesse'. After a break and lunch is some priceless shade (remember it was easily mid 90's) and a view off to the NE, we headed towards the cliffs to the South East. We stopped at some major obstacles, then headed SE along the cliffs to many more obstacles.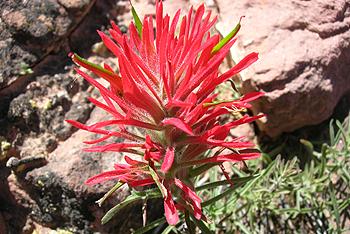 We also saw Indian Paintbrush...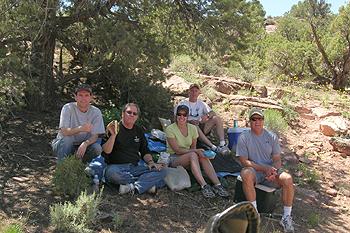 Nice spot for lunch...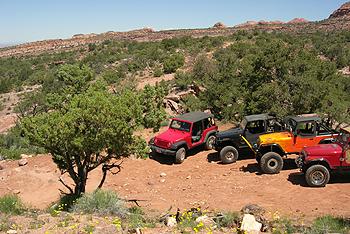 ...with a view.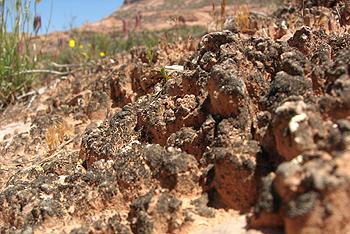 Close-up of Crypto soil, very unique to the area as this is a Cyan bacterial organism
that clings to sand grains, please don't drive or walk on the Crypto soil.
Education is key--please tell others what you know...
Please learn more about this fascinating bio colony by clicking HERE...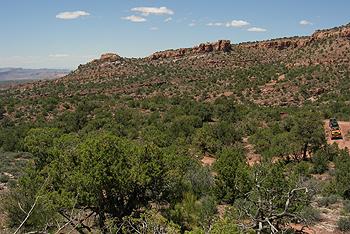 It's good to be in Moab! Just cruising along...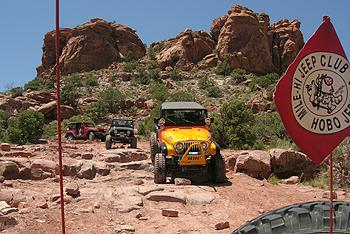 Moving around a small butte...
more ledges challenge oneself to avoid and 'scrapin'...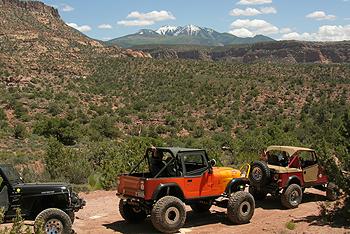 View spot stop we all know, with the La Sals now just up the hill...
After the scenic view stop of the La Sals, the trail ends as we descended back into and crosses Mill Creek. The cool creek was too inviting after a fun hot day. We cooled off a bit, then headed down to the man-made waterfalls just before Ken's Lake. I never knew they were there did you? We walked up to them, then headed back to Moab, fueled up with food, Ice, showers, and gas, and then met back at camp to swap trail stories. The mosquitoes and gnats (though not abundant) were there to greet us and join us in conversation. Everyone had a great day on Steel Bender!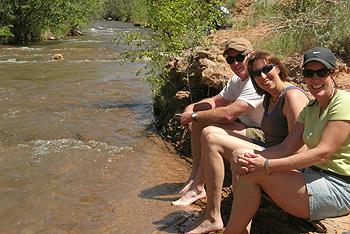 Cooling off...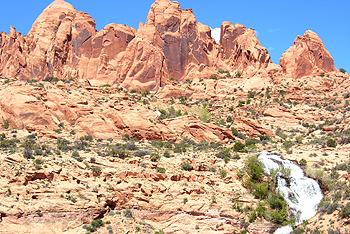 Waterfall in Moab??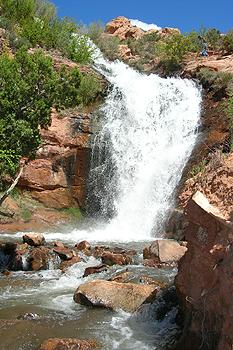 Nice and refreshing in the desert...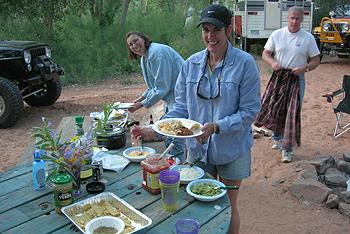 A Mexican feast awaits!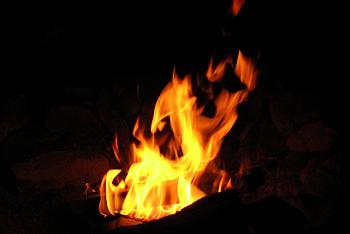 Along with a nice fire...
"Jeep, Jeep"!!!!!
Storyline, web design, and captions by:
Bill Hallinan HoboJeepers

Here are some other Steel Bender Trip reports:

Steel Bender Trail 2005 by the HoboJeepers

Steel Bender Trail 2001 by the HoboJeepers
Steel Bender Trail by Traildamage.Com: http://www.traildamage.com/trails/index.php?id=58
Moab Jeep Jamboree 2000 Steel Bender Trail Report: http://www.4wdriver.com/tripreports/moabjj.html
Steel Bender Trail by Dan Mick's Guided Tours: http://www.moab.net/jeeptour/mtsb.htm
Steel Bender Trail by Amazingoutdoors.com: http://www.amazingoutdoors.com/0,2010,S329-P1283-A9730-TA,00.html
Steel Bender Trail by Vintage Broncos: http://www.vintagebronco.com/colobronco/direction/moab00/steel/steelbender00.htm
Steel Bender Trail GPS Map by 4lo.com:
http://www.4lo.com/GPS/gps-steelben.htm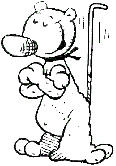 (c) Copyright 1999,2000, 2001,2002,2003,2004,2005,2006,2007 MHJC Patrol One
Jeep is a registered trademark of Daimler Chrysler Corporation