Everyone was eager to go. Ready were: Scott "Mad Max" and son Tom, Paul 'WeiszGuy' Weisz and son Brett-'WeiszDude' (CJ), & Mark Jensen (TJ), and myself "Hobo Willy" (CJ) with my jeepin-sidekick Molly leading. We headed out of camp and south towards Moab and City Market. Ready to go, we set off thru town and south to the golf course area (see air photo above), and the trailhead of Steel Bender (Flat Pass) Trail. I remember in 01' having done this trail, but come to find out we never did the new section of trail added in the NorthEast section.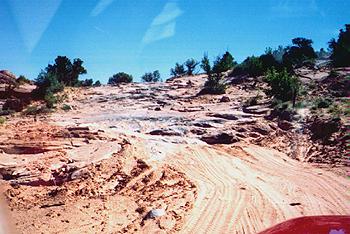 This small ledge was the tip of the slickrock 'iceberg' today (photo from 2001)...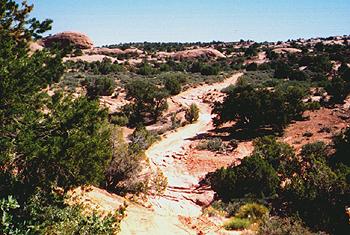 Steel Bender has many small and large ledges to climb over (photo from 2001)...
Once on a small mesa above the canyon, the road forks to the left or right. During Easter Jeep Safari, they added a small loop that goes north to an obstacle and returns in a loop of less then a mile. Instead of looping back it actually heads NE away from the cliff and takes you on around some nice wheeling. Definitely a back breaker and breaks needed, but hey we are in MOAB right??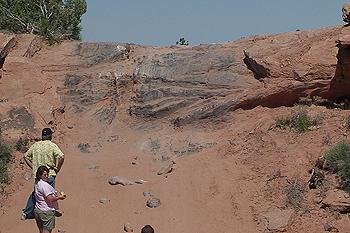 One of the 1st nice obstacles looked pretty big from below...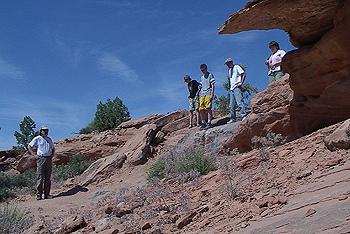 We all take a good look at this one, then most conquer it...
Fun steep hill climbs then down into tight drainages follow the trail up to a nice obstacle of ledges. We all went thru very clean, and with much 'finesse'. After a break and lunch is some priceless shade (remember it was easily mid 90's), we headed towards the cliffs to the South East and reaching the original Steel Bender trail where Kim and Pete were somewhere ahead of us. We stopped at some major obstacles and helped some other vehicles thru, then headed SE along the cliffs to many more obstacles.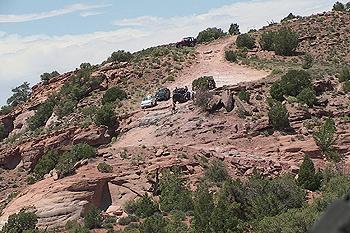 This obstacle proved tricky for a lot of people!
With a grin on our faces, and wondering if there should be a separate driver license for off-roader, we were off for some more fun. We worked our way around the base of the mesa thru many smaller obstacles to great views of the La Sal Mountains. Following the main trail, we eventually ended up back down into a canyon, and out past Ken's Lake in the southern end of Spanish Valley.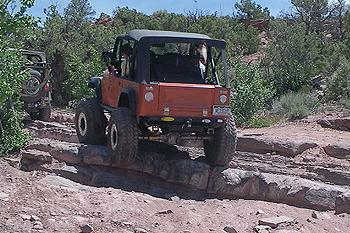 Paul negotiates the many ledges of Steel Bender!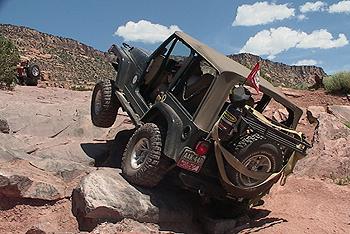 As Scott catches some nice air here!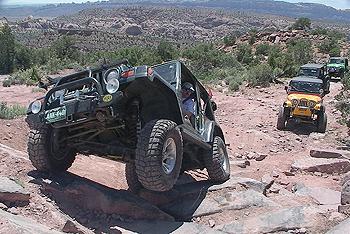 A look the other way...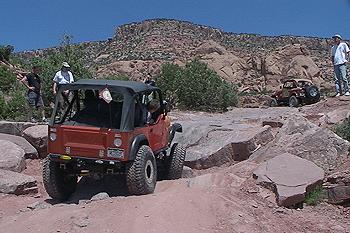 As Paul gets lots of flex...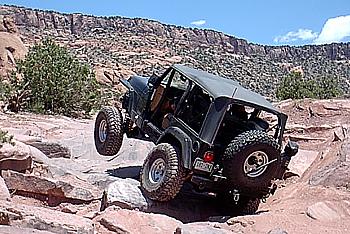 So does Pete...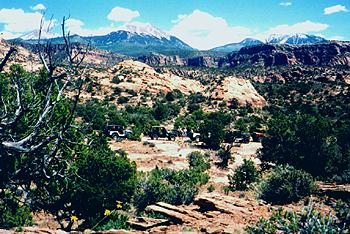 View of La Sals off to the East (Photo from 2001)...
We headed back to Moab, fueled up with food, Ice, showers, and gas, and then met back at camp to swap trail stories. The mosquitoes (though not abundant) were there to greet us and join us in conversation. Everyone had a great day!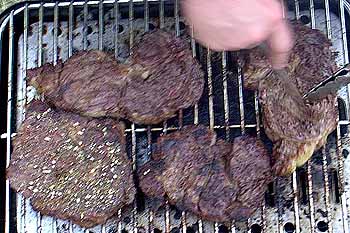 Oh Yea--We all had steak for dinner!!!
"Jeep, Jeep"!!!!!
Storyline, web design, and captions by:
Bill Hallinan HoboJeepers

Here are some other Steel Bender Trip reports:

Steel Bender Trail 2001 by the HoboJeepers
Moab Jeep Jamboree 2000 Steel Bender Trail Report: http://www.4wdriver.com/tripreports/moabjj.html
Steel Bender Trail by Dan Mick's Guided Tours: http://www.moab.net/jeeptour/mtsb.htm
Steel Bender Trail by Amazingoutdoors.com: http://www.amazingoutdoors.com/0,2010,S329-P1283-A9730-TA,00.html
Steel Bender Trail by Vintage Broncos: http://www.vintagebronco.com/colobronco/direction/moab00/steel/steelbender00.htm
Steel Bender Trail GPS Map by 4lo.com:
http://www.4lo.com/GPS/gps-steelben.htm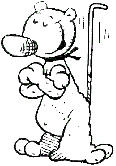 (c) Copyright 1999,2000, 2001,2002,2003,2004,2005,2006,2007 MHJC Patrol One
Jeep is a registered trademark of Daimler Chrysler Corporation