PATROL ONE OUTINGS
MEMORIAL MOAB 2005
Dalton Mesa/ Fins & Things/
Porcupine Rim Trails
NW of Moab, Utah

Trip Leader--Hobo Willy
On Sunday May 28th, the game plan for the Hobos included running a variety of different trails (most we haven't done before). Mark ended up leading us near Dalton Mesa, while I led parts of Fin's & Things and Porcupine Rim Trails. Let's see, you are in Moab, you have your Jeep with ya, and your looking for some hours to kill. Well, you've come to the right trail (trails)! In previous Memorial Moabs, we always finish off a great weekend with a the marathon of trails and jeeping. This day was a little easier.
Hobos along for the day included Scott "Mad Max" and son Tom, Paul 'WeiszGuy' Weisz and son Brett-'WeiszDude' (CJ), & Mark Jensen (TJ),, and myself Bill Hallinan and my jeepin sidekick Molly (CJ7).
We left camp early and headed up Hwy 191, then headed East. The trail was easy, but the scenery and country was different and beautiful. We ended up just NW of Arches National Park on a white slickrock. We followed it for a few miles, then headed back to Hwy 191 via a gas pipeline trail. Brett and Tom rode their bikes along a bike trail in the area.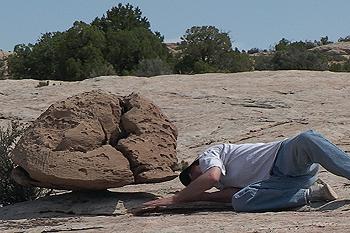 This rock was balancing on a space the size of a Frisbee!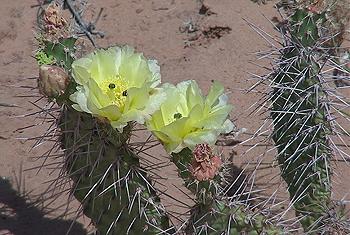 Cactus flowers in bloom everywhere...
Back on Hwy 191, we were close to camp, so we stopped back for lunch and to regroup. Then we headed back south into Moab and checked out Lion's Back. On to some fun sections of Fin's and Things, then over to the Porcupine Rim Trailhead to the East.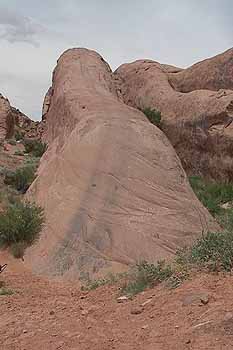 The famous Lion's Back...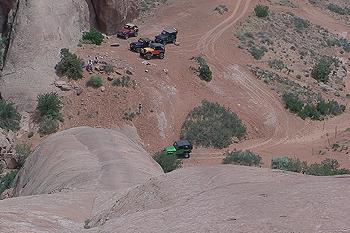 With a view from halfway up...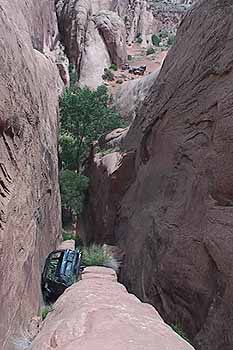 This guy didn't make it too well...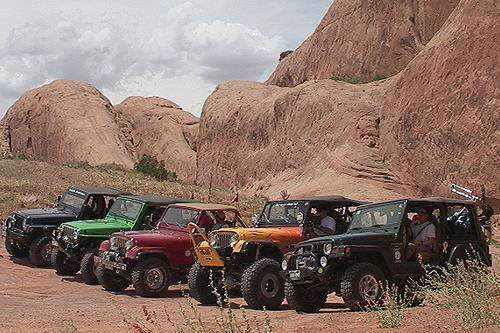 The Hobos at Lion's...
It was about 2pm, so it was off to the Porcupine Rim Trail. I liked it. It had a lot of challenging spots you needed to pay attention to. It took us a few hours to reach the Rim. What a view! With Spanish Valley below, and the La Sal Mountains, the cool breeze was welcoming. As it was getting late (5pm), we still had to back track thru everything we did back to the Sand Flats Road and Moab...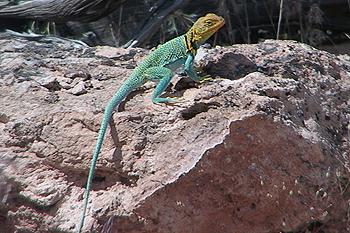 Cool funky-colored Chameleon...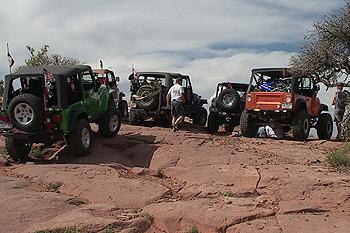 Finally, at the Rim!!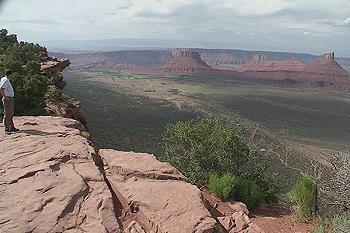 View to the North of Spanish Valley...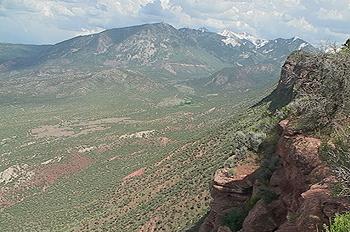 and to the south of the La Sals...
Yea-----Finally, back to Moab! The 'kids' Brett and Tom biked down most of Porcupine RIm and the main road all the way to the Sand Flats gate! Soon, time to head home, another fun Memorial Moab!!
We saw some separate people running alone on this trail again this year, not a good idea. DO NOT RUN ALONE on this long trail! Too many things can happen, and you are to far in to hike out. Don't rely on other people to bail you out. Also, don't rely on your cell phone either, as we sometimes couldn't get out there. If you breakdown here, you are a few hours by jeep going out either way with many numerous obstacles to still limp over. Prepare for the worst and bring spare parts, water, fluids, sleeping bag, food, etc…
Once back at camp, no night runs were planned. We all sat back and relished the day, while trying to remember the many obstacles and challenges throughout the day! Another great trail with great friends! Moab-it's all that and MORE--aaaaahhh, Moab!!
"The end of the trail, and the end to a 'Memorable' Memorial weekend in Moab with great friends and fun trails!!! "
"Got Moab???"
Storyline, web design, and captions by:
Bill Hallinan HoboJeepers

Dalton Mesa/ Fin's & Things/ Porcupine Rim Trails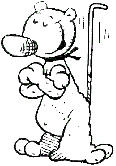 (c) Copyright 1999,2000, 2001,2002,2003,2004,2005,2006,2007 MHJC Patrol One
Jeep is a registered trademark of Daimler Chrysler Corporation