PATROL ONE 2006 OUTINGS
44th Annual
St. Patrick's Day Parade
Thru Denver's 'Lo-Do'...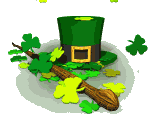 Saturday March 11, 2006

Denver, Colorado
Click on an Irish tune while you browse this report.

We all met up at the Park Ave Café near Park Ave and I-25 for some coffee and a quick bite to eat. After settling up our tabs, we headed over to the 33rd and Blake entrance of Coors field parking for our 8:30am staging time. The parade didn't start until 10:00 am, so this gave us plenty of time to decorate and visit with people in our group and those around us. The weather was not as warm as it was last year and could not make up its mind if it was going to stay cold and windy, or start to heat up.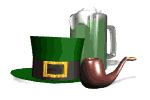 The group included: MHJC Patrol 6 Leader Frank Eichenlaub with his wife Debbie & 2 daughters Micheala & Kailey (our banner holders--THANKS!); CJ-7, Tim with his Mom and Sister; TJ-Rubicon, & Barry Smith; Land Rover, Sam Marcus with his daughter & son; 1952 MB3A, Clint Mclure with his girlfriend Lea, & their dog Koda; Cherokee, Val and Teron Douglas with Reno the wonder dog; YJ "The Valtastrophe", and Austin Wilson; CJ-7.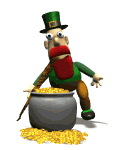 Little by little the staging area filled up with everything from Bag-Pipes to giant stuffed cows. I don't know the exact # of those participating but it was well above 2000 people, all were applying their finishing touches to there floats, banners, and routines. There were floats filled with clowns, dogs pulling wagons, Irish dancers, bag pipes and much more. As time grew closer to start of the parade, the parking lot became more and more filled.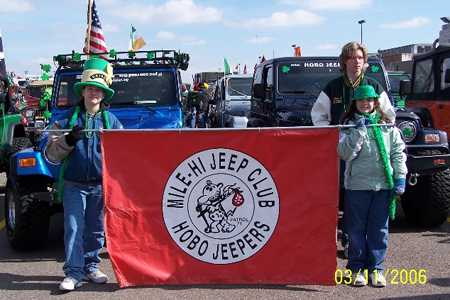 Ready to go!
Micheala & Kailey (our banner holders)…
Val and Teron Douglas's rig…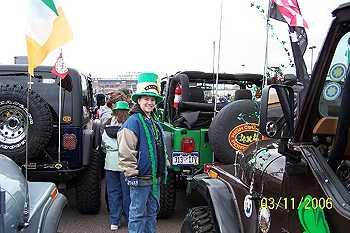 Everyone's decorating and stayin warm…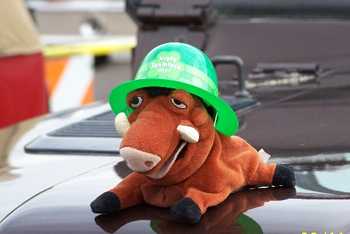 Frank's mascot…
Got milk??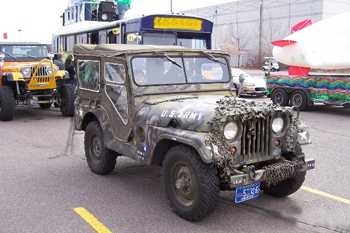 Sam's old military Jeep...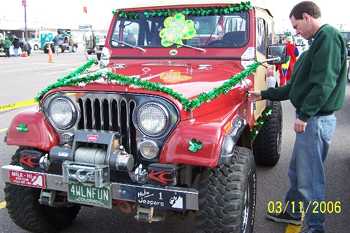 Bill all decked out…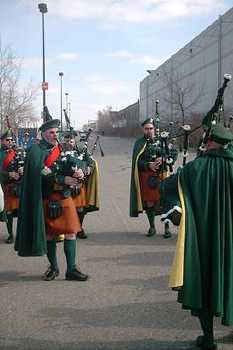 With bagpipes in the background…
Finally the parade line started to move. First out were the honorary floats and members, followed by the rest of the parade group. Led by Micheala and Kailey Eichenlaub carrying the Hobo Banner we headed out to the parade route. We turned on Blake Street out of the staging area and started non-stop smiling and waving! Once again we were placed ahead of the herd of steers (which is much better that being behind) so we were able to move at an easy pace.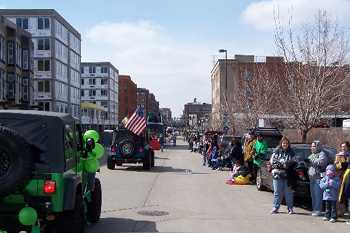 We start down Blake street honking and waving…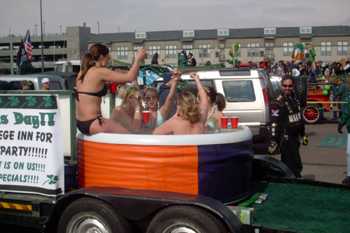 ...as these girls were just cold and drunk :)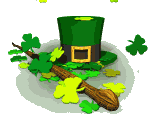 Due to the not so warm weather, the number of spectators was not as great as in years past, but the crowd was full of cheering dedicated fans who rain or shine wanted to see the parade. There were tens of thousands of people along the way, sitting on the curb, outside of restaurants, standing on their balconies. Kids cheered as we crawled along, hearing the roar of the engines, and seeing us demonstrate some of the capabilities of our rigs. Stopping every so often, some would show of the flexing ability of his trail ready Jeep by crawling up onto a tire also getting a good reaction out of the crowd.
We made our way to the viewing area at the SE corner of Coors Field. Channel 2 (WB2) had planned on televising the parade in a delay at 2pm. This year, we came by the cameras just as they cut away, and we didn't get on. The crowds were thicker on Wynkoop to Union Station As much anticipation was built up for the parade to start, it was already over as me made the final turn.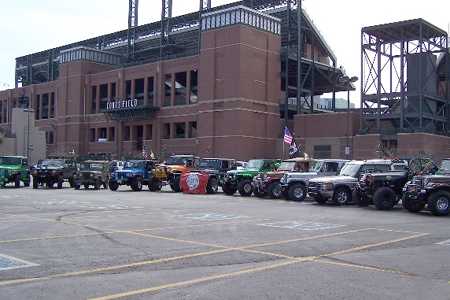 Group park photo at Coors Field…
We all joined up on the north side of Coors field in the parking lot to get one last group photo and clean up before we headed on our way. Once again, this was a great experience being in the parade, and we hope to do for years to come!!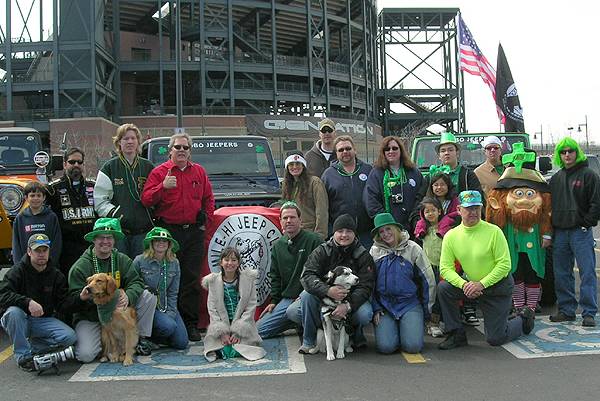 Group photo after the parade...
"Jeep, Jeep,"
Here are some other links on the Parade:
*Here are some 2006 photos on the MHJC website
*Official 2006 St. Patrick's Day Parade Website
*Another 2006 St. Patrick's Day Parade Website
*2005 HoboJeepers St. Patrick's Day Parade
*2004 HoboJeepers St. Patrick's Day Parade
*2003 HoboJeepers St. Patrick's Day Parade

*To HOBOJEEPERS HOMEPAGE w/frames*
To HOBOJEEPERS HOMEPAGE without frames
c) Copyright 1999,2000,2001,2002,2003,2004,2005,2006,2007 MHJC Patrol One
Jeep is a registered trademark of Daimler Chrysler Corporation