PATROL ONE OUTINGS
MHJC's
ASPENCADES 2005
TWIN CONE PEAK TRAIL
& Pig Roast

September 23rd to 25th
Timberline Campground
Near Webster, Colorado

When one thinks of Fall and the changing of seasons, one thinks of "Aspencades". Thanks to Frank E. of Patrol 6, he kept this MHJC tradition alive this year. It's a lot of work, so some don't take it on, but he (and his help) stepped up. The weather was perfect! If you in MHJC and you didn't make it up,,,,,, you should of---because you missed a fun time, either on the trail Saturday or in camp with the 'Pig Roast', or around the cozy campfire with wheelin' friends.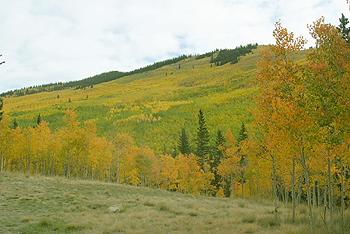 The timing was peeerrrrfect!
The aspens were beautiful everywhere!
On Friday September 23rd, Molly-my Jeepin-sidekick and I, headed up Hwy 285 past Conifer and Webster, to the Timberline Campground just below Kenosha Pass. MHJC rented the group campground for the weekend. It was a nicer place then Pickle Gulch, as it had many more aspens and more private camping spots. There was plenty of room to RV or tent camp. The winds were breezy at dusk, but fell silent with a chill in the air in darkness. Though we had no rain, the chilly temps (~40's) were enough to keep us dressed cozy.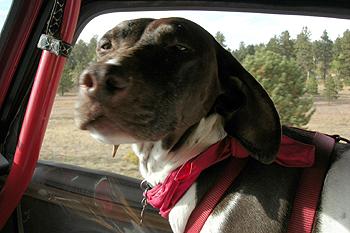 Molly on our way up to camp on Friday...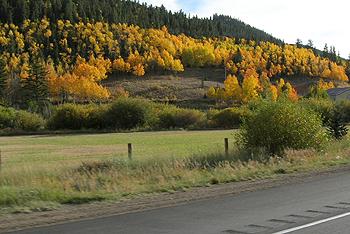 Aspens along Hwy 285 near Webster...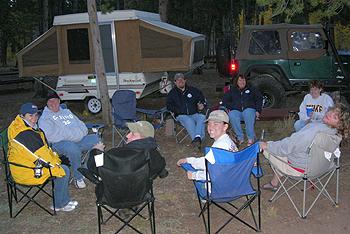 Friday night hangout...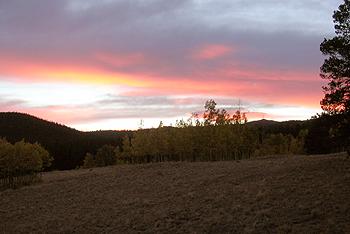 Along with a nice sunset...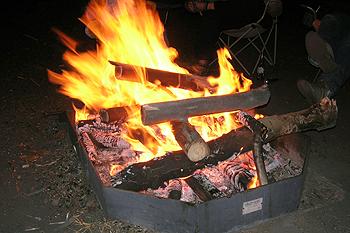 ...and a warm campfire!
On the 'cold' crisp morning of Saturday September 24th, everyone was up about 8am to get ready for a 9am departure to hit the trails. Though I heard the pig guy roll in about 6am. Some said that Denver was socked in with fog and drizzle (low 60's temp) all day Saturday, while we enjoyed warmth and sunshine! As part of MHJC's Aspencades 2005, 2 trips were led out of camp on Saturday. Larry B. (Patrol 6), lead a trip to Red Cone, while Frank E. (Patrol 6) would lead a trip up Twin Cone Peak Trail. The camp was alive with hissing sounds and chatter, as everyone disconnected for Twin Cone (the trailhead was nearby), or readied themselves to leave for their trip. At about 9:10am, Frank E. organized everyone along the road for a fun day of JEEPIN' (& back by 5pm for some pig!).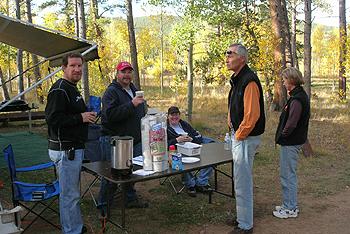 Frank and Deb have coffee for driver in the morning as they register...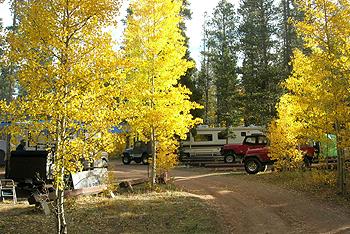 Timberline Campground...

Who's up for Twin Cone Trail?? Me-Me!!
At 9:15am, I along with my jeepin'-sidekick Molly, headed out of the Timberline Campground with a fun group of Jeepers that was lead by Frank E.& Deb (CJ7-P6) and included (19 total rigs-who signed list at group photo): Bill H.-me (Hobo-P1, CJ7), Michael & Emily & Vincent B. (92 YJ, P2), Dee & Gary B. (99 TJ, P2), JoAnn R. & Phil (04 TJ, P2), Kyle R. (89 YJ, P2), Richard & Sherry D. (99 Pickup, P2), Steve A. (80 CJ7, P11), Todd F. (82 CJ8, P11), Doug H. (YJ, P12), Norris M. (86 CJ7, P12), Bob & Sandy F. 03 Rubi, P12), Eric L. (00 TJ, P14), Bill D. & Cheryl M. (92 YJ , P14), Tom H. & Nancy (01 TJ, P14), Gary and Dee P. (94 YJ), & Laura T. (02 TJ).
The trail head for Twin Cone was up at the top of Kenosha Pass on Hwy 285. As we paraded up the last mile to the pass, we took a left thru the area congested with cars and suv's everywhere. At the restrooms, a right got us away and on the trail to Twin Cone. Right away, the aspens jumped out at you showing off their Fall glory. Grove after grove had many shades of color, including some reds. We passed thru the gate and some mud puddles thru private property (stay on the trail and respect private property thru there). Now heading East, we drove thru a sea of yellow and green along the trail. The trail is easy here, but that's ok---it's not the trail I was looking at. This was the best time to go, as another week and a windy storm would knock out most if not all this color.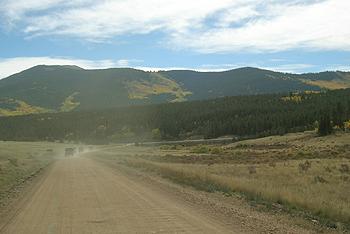 Heading out of camp looking East towards Twin Cone Peak...
Start of the trail, and into the aspens...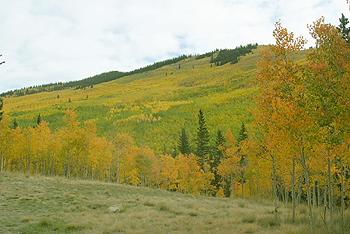 The hillside full of color...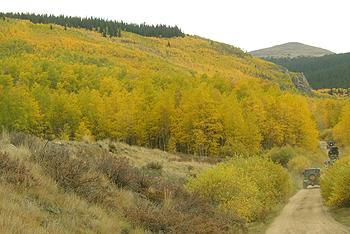 as is the trail...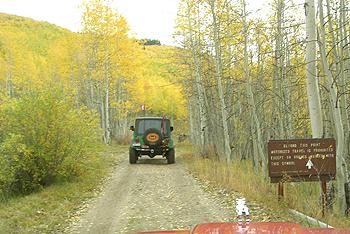 The trail is easy along the valley...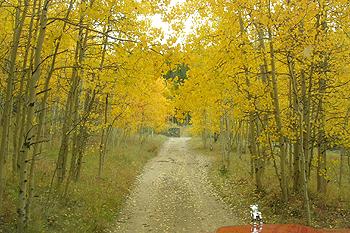 ...but very scenic, especially in the Fall.
The Twin Cone Trail is adopted by the Colorado Go-4-ers. They maintain it, and notify the Forest Service of any issues. At issue, is the last drive to the towers on Twin Cone. Many drive on the tundra during the climb and avoid the harder climb thru the rocks. This is creating a braided road, which in turn erodes (like at Kingston Peak Trail). Please respect the fragile tundra, and stay on the dirt trail. If you can't climb it without Trading Lightly, then do not attempt it. Education is KEY to our access in public access to public lands.
After many switchback thru the colorful aspens, we reached a harder section (which makes it classified as a 'moderate' trail) that had some large rocks to get thru, an optional rocky ledge and a steep hill climb up to the lunch spot by the big rocks. Here, my vent tube on my axle kept coming out (it started on the Crescent trip), so I duct taped it to my axle as a 'quick fix' for the day.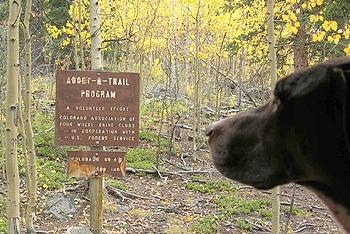 Colorado Go-4-er's Adopt-A-Trail...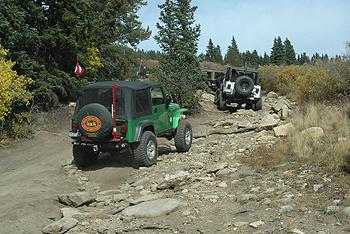 The 1st sign of some rocks...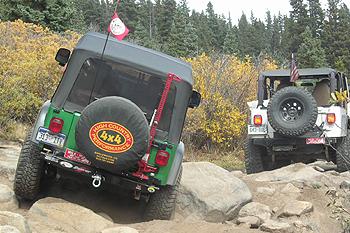 ...with some good sized climbs if ones chooses.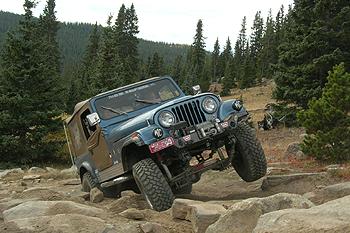 Norris M. gets some air!!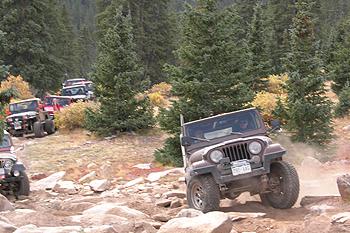 While Todd F. makes his way thru...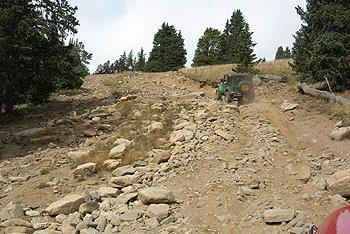 A look at the steep hill with loose dirt...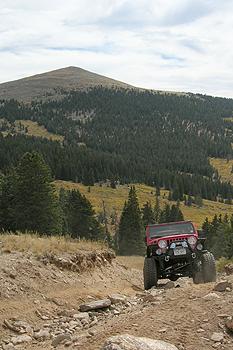 ...as Bob F. climbs up in his Ruby.
At the lunch spot (timberline--entrance to the fragile tundra), we split up into 2 groups. One set of 10 headed up to the tower (top of Twin Cone), while the others had lunch at the rock. I didn't go up, but I heard it was very windy at the top, and parking only for about 8 max rigs (4 easily).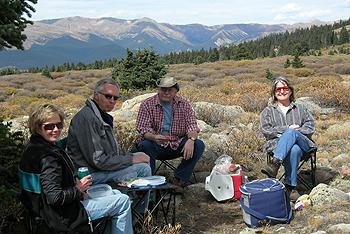 Lunch Break near the rock with Doug H. & friends...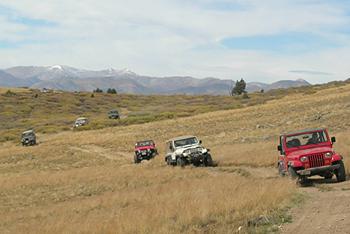 1st group heads up to the top...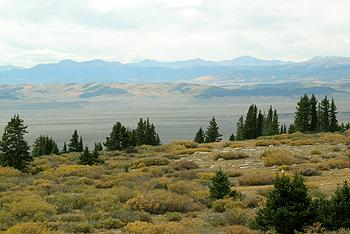 View of South Park off to the SE...
After the 1st group came down, the second headed up. After everyone who wanted up and back, then had lunch, Frank led us back down about 1pm. The trail was pretty light on traffic considering the aspens were awesome and it was a Saturday. Maybe people thought it was also foggy and drizzly in the mountains and stayed in Denver. We all headed back down the same obstacles and back into the switchbacks of the aspens. After a quick 10-100, we headed down.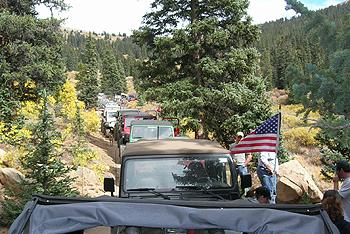 a 10-100 back down in the trees...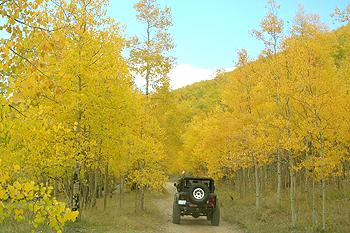 WOW, it actually looked like that!!
Now this is ASPENCADES!!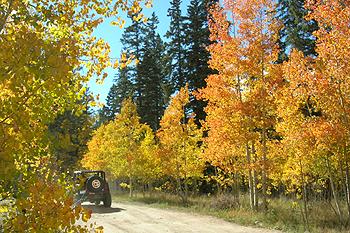 Last section of trail before the parking lot...
these aspens had some nice reds.
Once back to camp, the whole group stopped in a parking lot for a group photo. All signed in, and I got a rig and a group photo. At about 4pm, I got some air from Frank (thanks), and all drove into camp for a well-deserved rest/and or beer. Soon,,,,,at 5pm it was 'piggy time'!


Twin Cone Trip's rig group shot...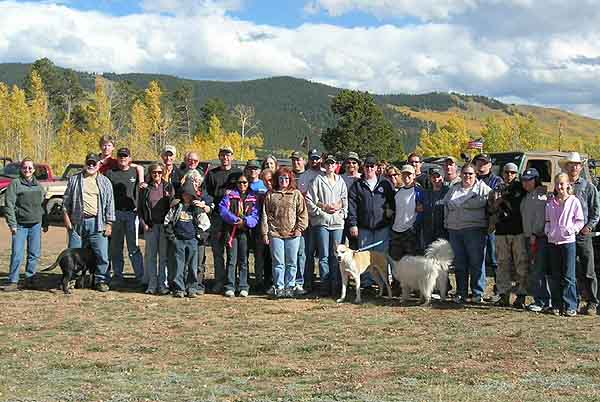 & the Twin Cone Wheelers...


Did someone say 'Here Piggy, Piggy!'
Yes! After a fun day on the trail, our catered pig was ready for consumption at 5pm!! The pig was to feed 100 people, but about 60ish showed up for the free food. We partook in bbq'ed pork, beans, potato salad, fruit salad, and refreshments (with or without alcohol). Some enjoyed the trails, or just came up for the aspens and pig roast on Saturday. Over 30 vehicles, and around 70 people made this a fun event! After a great meal around 6pm, Frank thanked everyone for coming and supporting an 'inter patrol' MHJC event like Aspencades. He then gave away from FREE stuff to registered drivers, along with the dash plaques made up nice by Sports Custom Trophies. It was then time for more refreshment and a warm cozy fire among friends.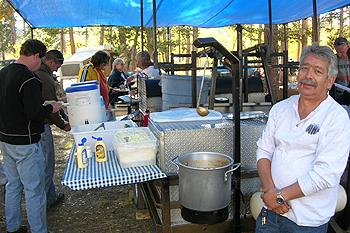 Beans & Corn sir? Why yes, thanks...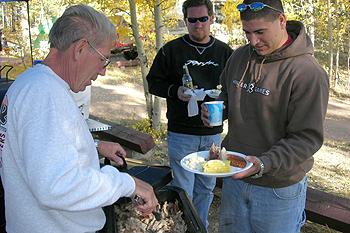 Here's the pork!!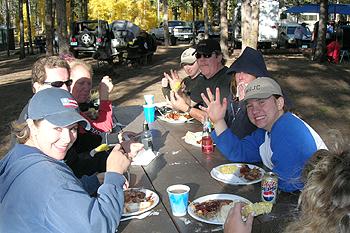 Chowin' down...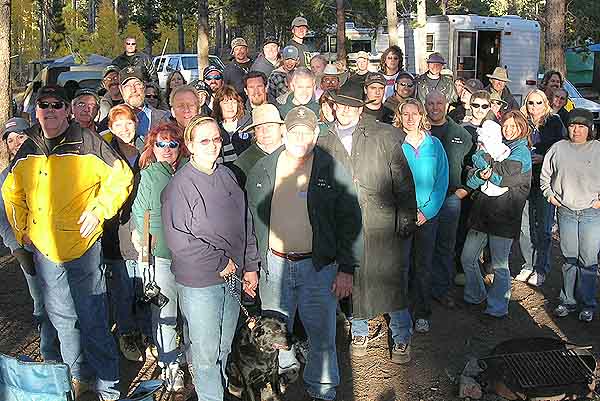 Aspencades pig roast participants...

Thanks Frank!!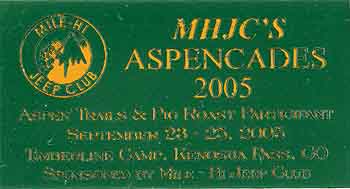 Aspencades 2005 dash plaques to every driver...
(scan came out bad, oh well)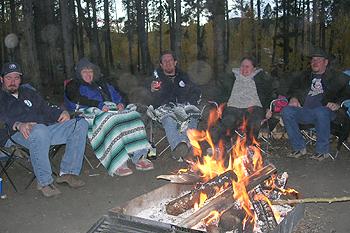 A warm and cozy fire with fellow wheelers...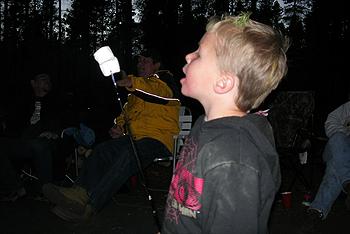 ...along with marsh mellows!!
Up with the sun on Sunday September 25th, everyone was greeted to a continental breakfast put together by Frank and Deb. Muffins, coffee, OJ, and extra food from the pig roast were all up for the consuming. One by one all packed up, and by 10:30am.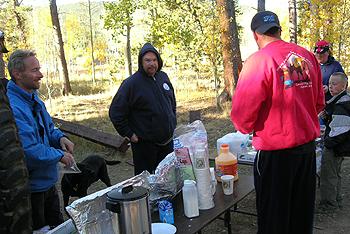 Continental Breakfast is served...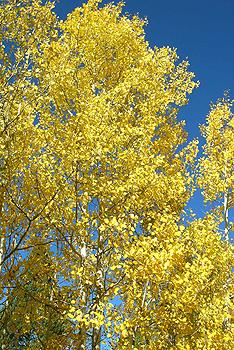 Aspens around camp...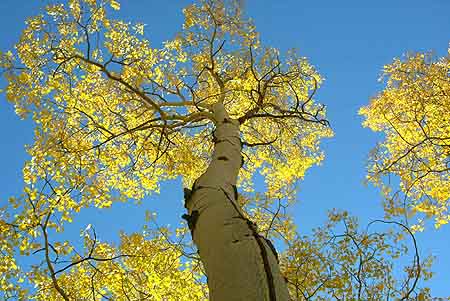 Like this one I took a shot off...gatta love the Nike Coolpix 5900!!
Thanks again to Frank E. (and others who helped) for a fun Aspencades 2005!
As we bid farewell to the golden aspens, and welcome in the winter snows!!!
"Jeep,Jeep"
'See ya on the trail'!!!!!
Bill Hallinan MHJC Patrol 1 HOBOJEEPERS
Other HoboJeeper Aspencades/Twin Cone Trip Reports:

ASPENCADES 2003-HoboJeepers

ASPENCADES 2001-HoboJeepers

ASPENCADES 2000-HoboJeepers

Twin Cone Trail 2001-HoboJeepers

Twin Cone Trail 2000-HoboJeepers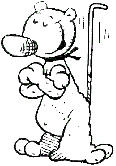 "Jeep, Jeep"
*To HOBOJEEPERS HOMEPAGE w/frames*
To HOBOJEEPERS HOMEPAGE without frames

(c) Copyright 2001,2002,2003,2004,2005,2006,2007,2008,2009,2010 MHJC Patrol One HoboJeeprs
Jeep is a registered trademark of Daimler Chrysler Corporation