PATROL ONE OUTINGS
MHJC's
ASPENCADES 2003
Pickle/Miner's Gulch Trails
& Pig Roast

September 26th to 28th
Pickle Gulch Campground
Near Blackhawk, Colorado

*Photos provided by JMiller (jm), Mark Greve (mg), and myself w/Mardi B. (no listing)*...
When one thinks of Fall and the changing of seasons, one thinks of "Aspencades". At All-4-Fun this year, Frank E. mentioned we should have an Aspencades again. Thanks to Frank (& Patrol 14), for keeping this MHJC tradition alive this year. It's a lot of work, so some don't take it on, but they stepped up. If you didn't make it up,,,,,, you should of, because you missed a fun time, either on the trail Saturday or in camp with the 'Pig Roast' and cozy campfire. It's also the only MHJC sponsored event other then All-4-Fun & the Hobo Run to attend as a club. There should be more Patrol inter-action.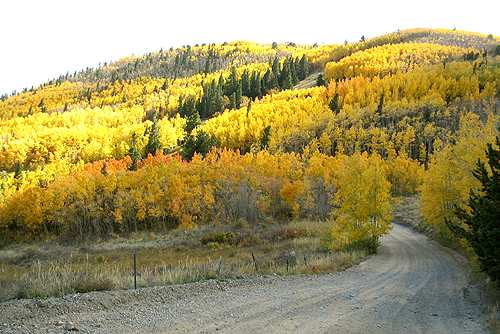 The timing was peeerrrrfect! The aspens were beautiful everywhere!
On Friday September 27th, myself (with my sidekick Molly), headed up past the gambling town of Blackhawk to Pickle Gulch Campground. We had the whole campground basically to ourselves. There was plenty of room to RV or tent camp. The winds were silent, but the chill in the air was real. Though we had no rain, the chilly temps (~26-32) were enough to keep cozy. Mardi and I went down to Blackhawk and I had a great steak (tasty and juicy!) at the Canyon Grill (inside Canyon Casino). I couldn't resist adding a little tax to the bill by stuffing the slots with and extra $28!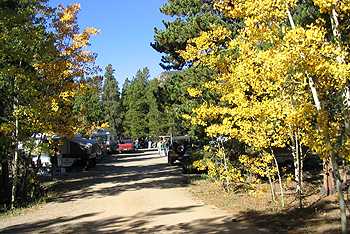 Pickle Gulch Campground was base camp for the trails and pig roast,
many braved the chill camping...
On the 'cold' crisp morning of Saturday September 27th, everyone was up about 9am to get ready for a 10am departure to hit the trails. As part of MHJC's Aspencades 2003, 3 trips were led out of camp on Saturday. Paul Taft (Patrol 14), was leading a trip to Coney Flats, Bryan Hamilton (P14) was leading Jenny Creek, while I would lead a trip up Pickle Gulch & Miner's Gulch Trails. The camp was alive with hissing sounds and chatter, as everyone disconnected for Pickle Gulch (the trailhead was nearby), or readied themselves to leave for their trip. At 9:30am, Frank E. organized a 'driver meeting' at the amphitheater so we were all on the same page (& back by 5pm for some pig!).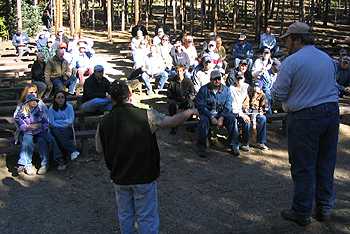 Driver meeting for trails and introduction by Frank E...
Let's go wheelin'!! Aspencades 2003 trail group photo...

Pickle/Miner's Gulch Trails
At 10am, I along with Mardi B (& my jeepin'-sidekick Molly, and her dog Charlie-both strapped in) headed out of the campground with a fun group of Jeepers that included (16 total): Tom A. & passenger Dawn (P12, Toy), Tom Z. (YJ), Robert & Jill S. (P12, YJ), Jeff & Laura M., (03' Rubby), Mark & Sherry, Todd F. (P11, CJ8), Dennis & Marci E. (P11, Toy), Bryon & Kristin M. (P14), Jerry Z. (P11), George H. (P3), Kirk Z. & Garth (P3), Richard & Sherry (P2), Travis C. & Don (P14), Henry P. (XJ), and Heather B. (P8, CJ7) as Tailgunner.
The trail head for the Pickle Gulch Trail was just a hundred yards from camp so the wheelin' started right away. It's a fairly easy trail, but tight enough to warrant your attention. The willows and trees reach out for your vehicle, as they let you pass with a light rub. Wider vehicles got the full rub. Up a few hundred yards is the one obstacle Pick Gulch has. It's a granite rock with 2 small ledges to climb up and over. There is an easier line to the left and a harder one to the right. We all took turns going up and over it, and gave an applause for each.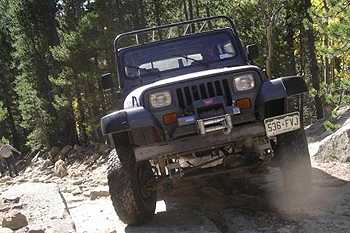 Robert S. had his wife Jill along for the 1st trip, parts of his 'wish list' may come true...jm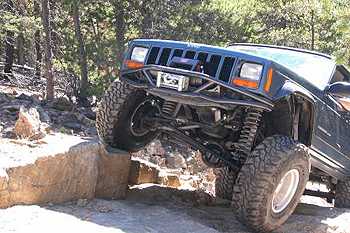 The far right line has a small rock climb...mg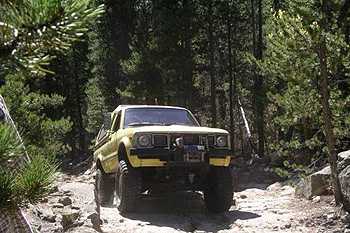 Dennis & Marci chug right up...jm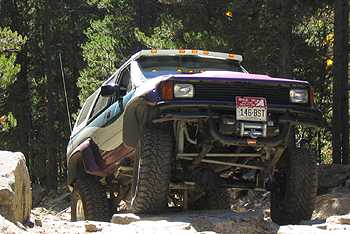 as does Tom A. in his 'Toy'...
Climbing up Pickle Gulch, we passed many beautiful groves of aspens that were just at their peak! We hit this trail at the right time this year! Many times the aspen are gone by the end of September. We reached the ridgeline, and back into the evergreens. Staying left (other rights take you down to the Tolland road), we circled to the south end of Oregon Hill. Just past the saddle the Front Range opened up and we headed down to Apex. Once in Apex, the county road becomes quite rough and wide for a county road as we wide on up to Elk Park. For a second there I thought I was in Arkansas, as a couple of 'yahoos' were doing long range 'shooting' practice with what sounded like ozzzies right near the road. We stopped to regroup and have lunch (since the winds were friendly) at the intersection of the Tolland road.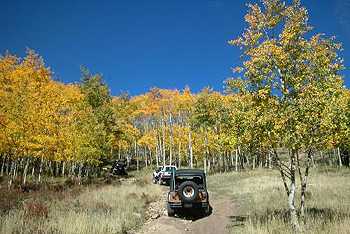 Aspen groves with a canvas of colors and a dark blue Colorado sky!...mg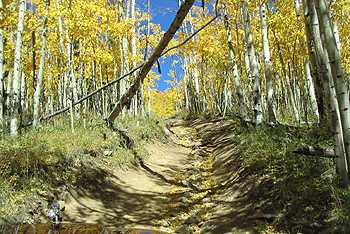 The trail winds thru groves of color, while still climbing...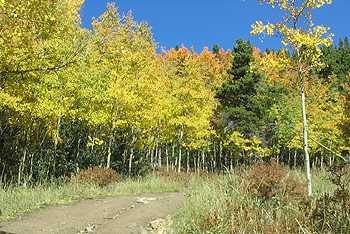 Orange completes the spectrum of colors, what a great day!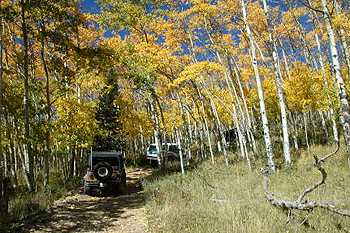 A drive thru golden aspens is what Aspencades is all about...mg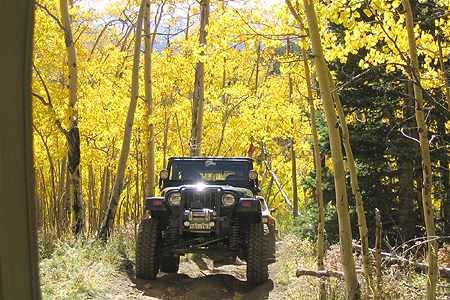 Pete R. climbs thru a golden grove of aspens...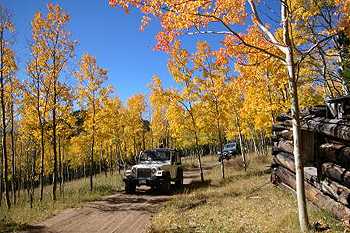 An old cabin rests is a sea of color...mg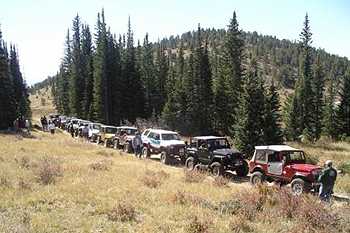 A break for 10-100 and to re-group..jm.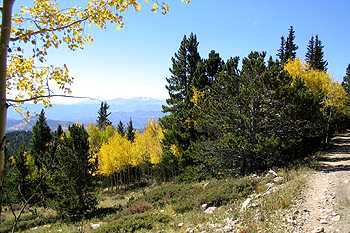 Mt. Evans off in the distance as we rounded Oregon Hill...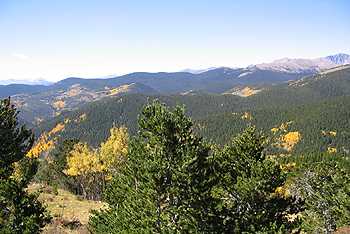 Looking SW off Oregon Hill towards Kingston and James Peak (far right)...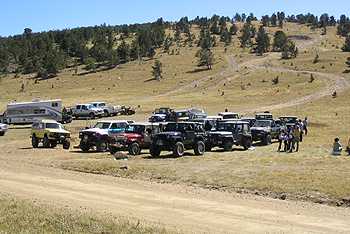 Lunch Break near Elk Park...
With our tummies full, and visions a of fun steep rocky tight jeep trail, we headed down (FR505) towards the Miner's Gulch trailhead (FR709.1). Miner's Gulch is a trail I stumbled on at All-4-Fun in Central City, and ended up leading 3 trips up and down it. I named it Miner's Gulch, for the gulch has the same name on a topo map. Please, if you do this trail---PLEASE TAKE CARE OF IT. As always in the past as Trip Leader up Miner's, I guaranteed a 'fun ride' up the gulch, by refunding your gas thru it if you were not satisfied. I don't remember anyone asking for one, just smiling when we finished...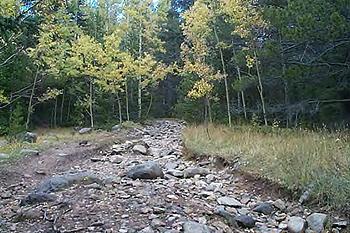 The Miner's Gulch trailhead...2000 photo
Ok kiddeeees---------Get in, strap down the cooler, kids and dogs, and have them get ready for some real fun! Miner's is a short section that takes you all the way up to the ridgeline road (FR175.3) that then goes on to Yankee Hill to the west or Central City to the east. It's steep, tight, and not maintained. Good-sized rocks and boulders along with water and logs tickle your jeeping senses all they way up.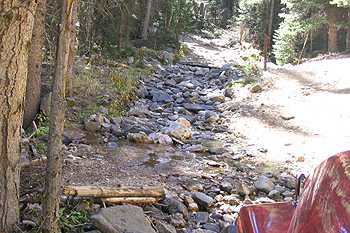 Tight, steep, and rocky...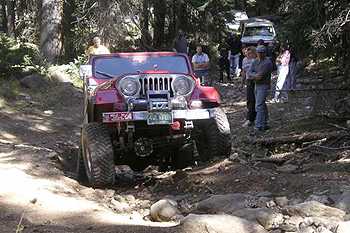 I climb this small rise 1st, and all follow...jm
Everyone who was locked and open had fun climbing up the 1st section, and everyone made it thru the main rocky section (similar to Spring Creek's 'rock garden') higher up. Except these rocks don't eat your undercarriage up if you take a wrong line. Correct tire placement and a smile, will get you thru just okee dokey. Some stock vehicles made it up ok, as driver skill and placement got them thru. Those with lockers and lift were able to 'play' a little more.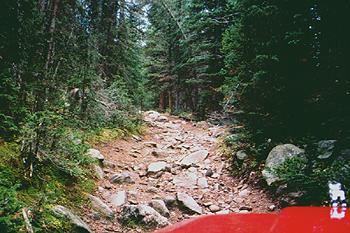 The bottom of Miner's 'rock garden'...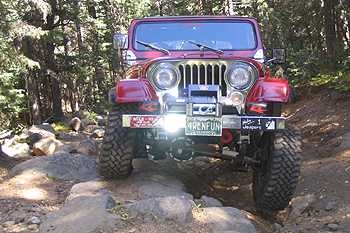 I work the right line 1st...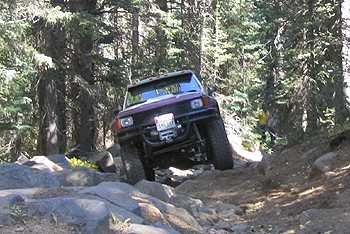 as Tom A. follows...
others take the left line, which affords some articulation...jm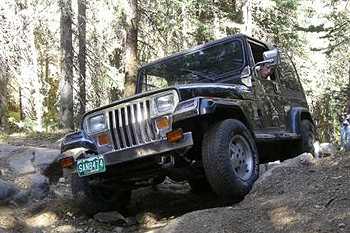 Driver skill and trial and error got the 'stockers' thru...jm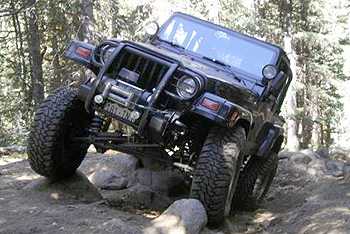 Pete R. looks for larger rocks too fit under his 37's...jm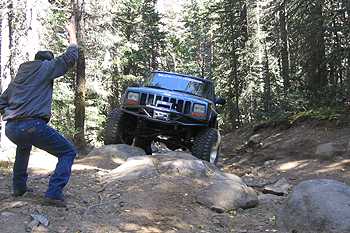 XJ over the 'big stuff'...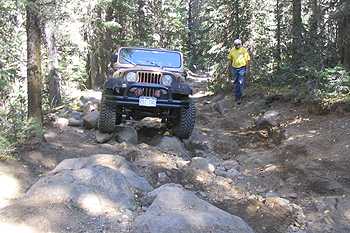 As more follow...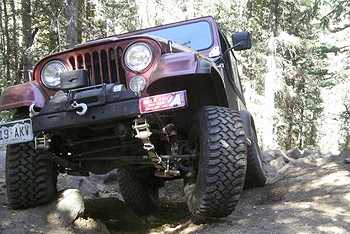 Dips create air...mg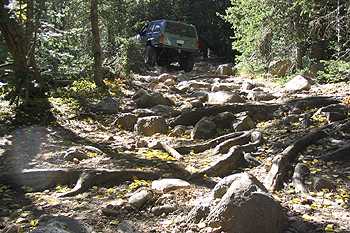 An alternate rocky section (if you want more)...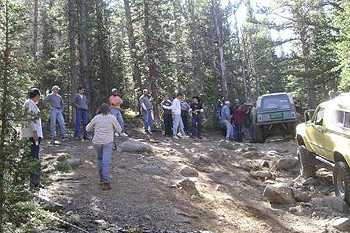 The audience watches the 'show'...jm
Halfway thru, the area opens up to afford a break if you need one. Mush! The trail still dishes out some decent rocky sections as you keep climbing up out of the gulch. After winding around trees, we finally reached to ridgeline (& FR175.3). As it was only 3pm ish, we headed down east on FR 175.3. Soon, we were enveloped by many beautiful aspen groves shimmering with shades of yellow, gold and red as we descended the trail.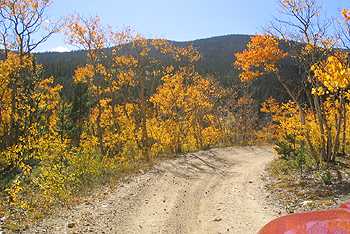 Did I mention the aspens were in full color???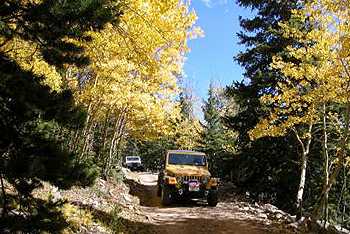 Driving down thru color...mg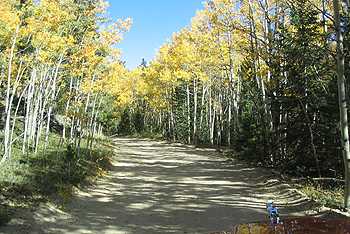 Every turn presented a new photo opp...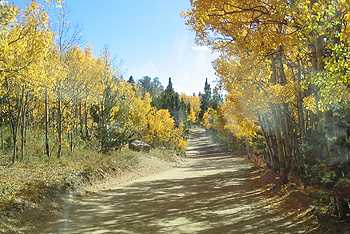 Wish it could stay like this longer...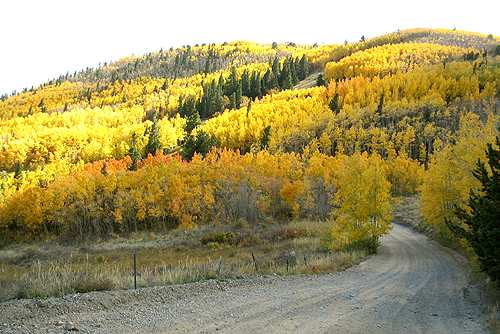 Near Pisguh Lake...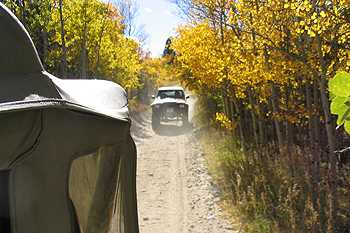 Even thru the dust, aspens glittered...


Finally, we reached the cemeteries above Central City. Some chose to head to camp, while some stayed to air up. It was nice to see (thanks guys) those who had air (York's), share it with others who didn't. Soon, it was a little after 4pm, and the scent of pig drew us back to camp down thru Central City. Great trails with good friends awesome aspens in full colors is what Aspencades is all about!!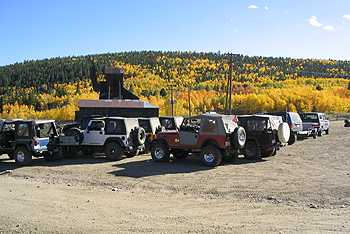 Airing up above Central City near the mines and cemetery...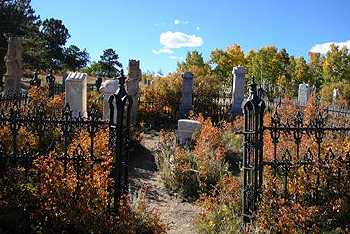 Central City's 1890's cemetery...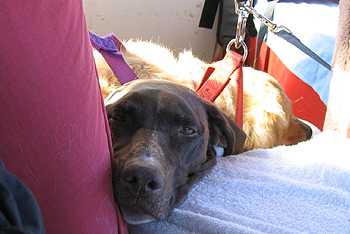 Molly and Charlie were all tuckered out after a fun day, as we headed back to camp...

Did someone say 'Here Piggy, Piggy!'
After a fun day on the trail, Frank (who stayed behind) was watching our catered pig get roasted, and was soon ready to consume at 5pm!! The line formed and we all partook in bbq'ed pork, beans, potato salad, fruit salad, and refreshments (with or without alcohol) at the amphitheater. Some enjoyed the trails, or just came up for the aspens and pig roast on Saturday. Over 40 vehicles, and around 100 people made this a fun event! After a great meal around 5:30pm, Frank thanked everyone for coming and supporting an 'inter patrol' MHJC event like Aspencades. It was one of the highest attended ever!
I also thanked everyone, and especially Patrol 14 for putting Aspencades 2003 on. I read off the names of those who has RSVP'd to come up and received a magnetic dash plaque.
Those in attendance for the 'Pig Roast' were (Abbreviated name, followed by Patrol #-some missing):
Bill & Molly H. (1), Mike & Pam B. (2), Kiby J. (2), Dirk & Sue B. (2), Chevette L. & kids (2), George H. (3), Kirk Z. (3), Ken M. (7), Wayne & Linda H. (7), Barry S. (7), Gene K. (7), Heather B. (8), Richard & Sherry D. (10), Todd F. (11), Dennis & Marci E. (11), Norris M. (12), Paul P. (12), Don M. (12), Tom A. (12), Robert & Jill S. (12), Dale & Zane Z.(14), Neil & Jill M. (14), Frank & Debbie E. (14), Eric L. (14), Bryan H. (14), Don C. (14), Paul T. (14), Greg M. (14), Bryon M. (14), Tom H. (14), Max B. (14), Henry P., & Jeff & Laura M.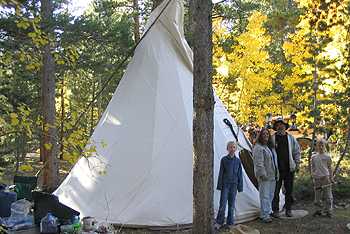 Dirk and Sue B. set up there TePee Condo...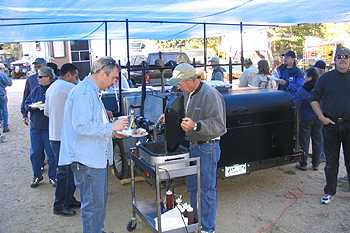 Pig is served!!
Instead of buggin' the local 4x4 shops again for some door prizes, MHJC member Richard D. donated $250 of his trip planner budget for some. I went to Walmart and purchased about 26 different items I wouldn't mind winning. Small stuff, one could always use. As the sun was setting, Frank drew tickets, and the winners accepted their prizes (some even bartered--which was allowed). At 6pm after the door prizes and as the chill in the air became apparent, warmth by fire was a popular choice (unless you were the Ervin's, at a toasty 68 degrees in their RV).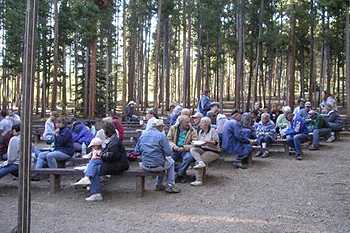 All eat at the amphitheater, and wait for some free door prizes...
Seems we started so early (like 5pm), most everyone ran dry in the 'refreshment' department. Though last year's, the kegs went dry, this year was just the opposite. Maybe the average age was a bit higher? There was plenty of spirits to go around though, including the pony kegs. When it seemed like 11pm it was only 8. As most seemed tired, fire entertainment was the highlight, as we discovered aluminum does not burn too well in a campfire. As temps hovered around 35 degrees at 10pm, the few diehards of Patrol 14 tended the fire. Even munchies called, and Frank E. brought some pig and corn to feast on (goes good with beer). Soon though, around 11pm the fire got cold, and the camp was soon quiet after that.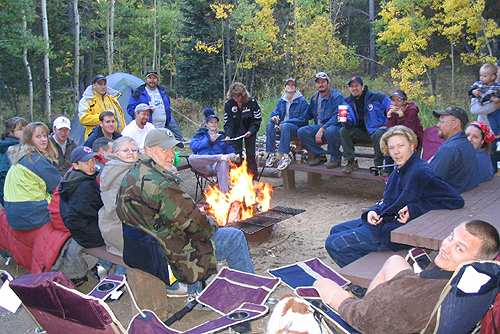 The Fall chill in the air is quenched by the warm cozy fire and bad jokes...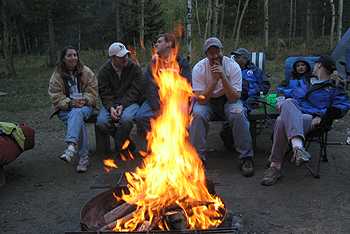 Heights of 7 feet were reported...
No snow this year! Nice 'cold' weather and good friends.......... A very chilly Sunday morning (like 26!--ok, we didn't have fancy furnaces in our tent trailer!) came as everyone seemed to 'sleep in' past 9am. For those who were up early (I was frozen!), Krispy Kreme donuts and coffee were served. Thanks again!

Sunday aspen drive/hike...best ever!!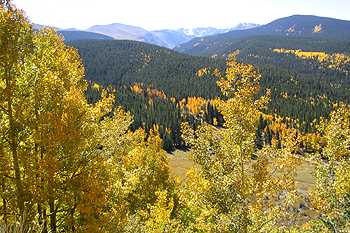 West of Echo Lake, the aspens were in full color...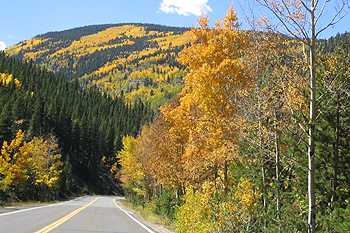 A must drive in the Fall...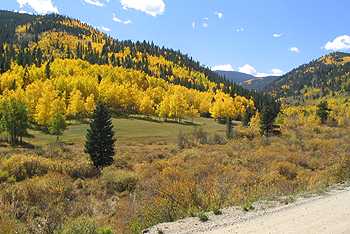 West Chicago Creek drive is nice too...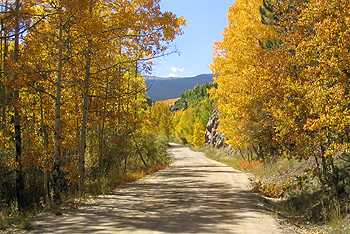 Color everywhere!!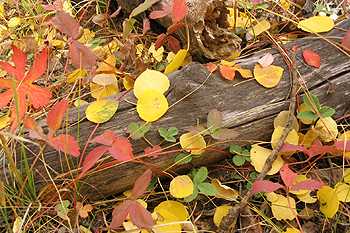 Fall's ground cover...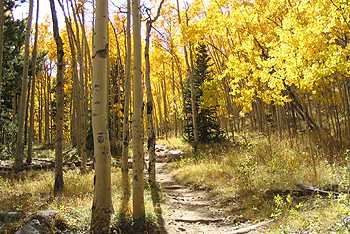 The hike is beautiful and easy!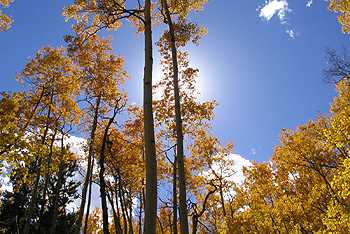 WOW, what a great weekend!!
Thanks again to Frank E. and Max B. (and the rest of Patrol 14) for a fun Aspencades 2003!
As we bid farewell to the golden aspens, and welcome in the winter snows!!!
"Jeep,Jeep"
'See ya on the trail'!!!!!
Bill Hallinan MHJC Patrol 1 HOBOJEEPERS
Other HoboJeeper Miner's Gulch/Aspencades Trip Reports:

ASPENCADES 2001-HoboJeepers

ASPENCADES 2000-HoboJeepers

Pickle Gulch/ Miner's Gulch 2000-HoboJeepers

Miner's Gulch 'Nite Run' 2001-HoboJeepers

Miner's Gulch 'Nite Run' 2002-HoboJeepers

Miner's Gulch/Kingston Peak Trails 2000-HoboJeepers

Kingston Peak/Yankee Hill/Miner's Gulch 2000-HoboJeepers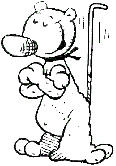 "Jeep, Jeep"
*To HOBOJEEPERS HOMEPAGE w/frames*
To HOBOJEEPERS HOMEPAGE without frames

(c) Copyright 2001,2002,2003,2004,2005,2006,2007,2008,2009,2010 MHJC Patrol One HoboJeeprs
Jeep is a registered trademark of Daimler Chrysler Corporation