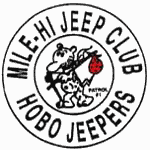 Bill & Molly's Excellent Off-Road Adventure
in 'Jeep News' Winter 2002 issue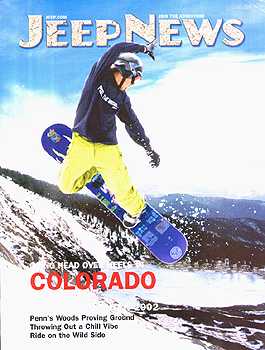 Back in September of 2001, I received a call from Maggie Patton of Jeep News. She said they were going to be out in Colorado (they are based in Michigan) to do some articles on people who drive Jeeps that have unique stories to tell. She found our website and liked the special relationship Molly and I have for Jeepin'. Jeep News is a magazine put out by Daimler Chrysler for all Jeep owners who purchase a new Jeep. It's a well done magazine, and centers it's focus on Jeep owners.
On October 17th, Molly and I drove up to Alice to meet with the crew for a photo shoot around noon for lunch. There was Maggie, a Jeep News Rep, a photographer, and 2 assistants. It was pretty cool, I felt a little like a celebrity as the photographer burned off rolls and rolls of film. We 1st went up to Yankee Hill, and she had me stop on the hill almost near the top (on a rock of course), shooting off to the west and the Front Range in the background. It seemed like forever as she took picture after picture as I had my foot on the brake to the floor! She then had me take my full top off, and I doned the 'summer look' on top of Yankee Hill, and took more shots (all of which didn't make it though).
image loading......hang on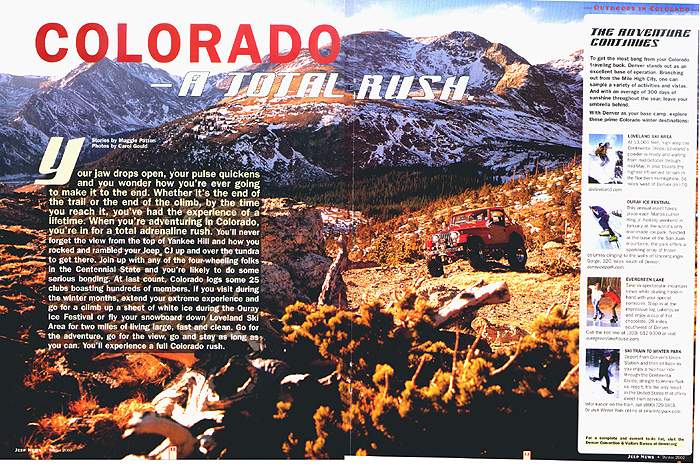 We then went over to below the Rock House on the trail up to Kingston Peak and took the one on the large page (above). Finally we went up to the Rock House where the one of Molly was shot (below). We tried to get to the upper pass, but the snow that fell the week before was piled up to deep. They followed me in a stock Cherokee rental. It was a lot of fun! It seemed like along time ago, but finally the Winter issue came out in late Jan 2002. You can also see a better resolution .pdf file of Jeep News at Jeep's website (www.jeep.com), go to 'News and Articles' and scroll down. Hey,,,,,,,,maybe someone from Purina or Alpo will have a Jeep, and see Molly in one of their commercials?!?
image loading......hang on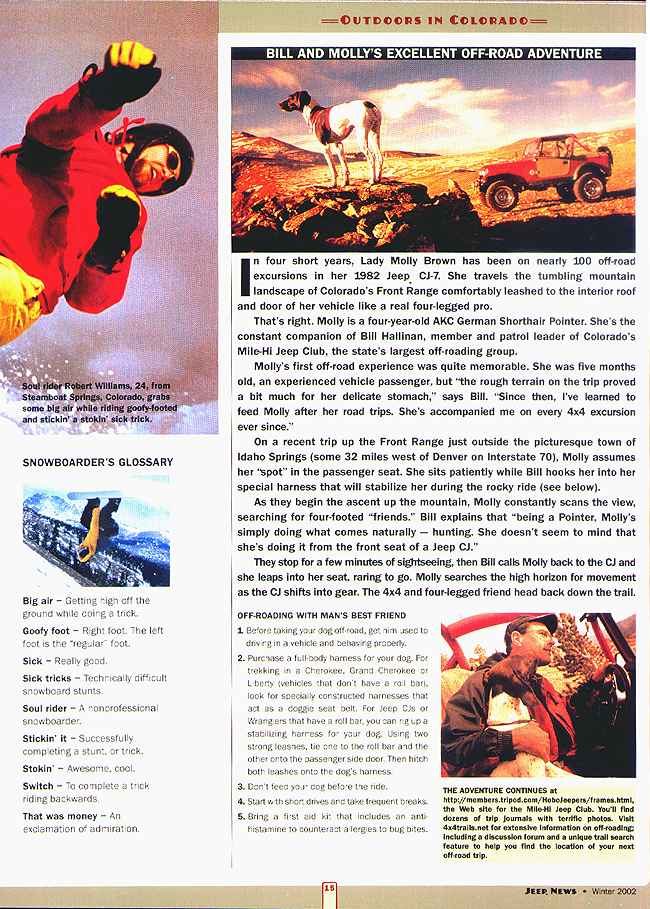 (c) Copyright 1999/2000/2001/2002/2003/2004/2005/2006/2007/2008/2009/2010 MHJC Patrol One
Jeep is a registered trademark of Daimler Chrysler Corporation