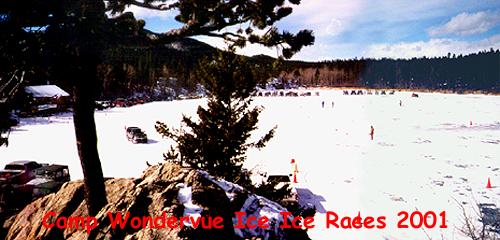 Camp Wondervue--a nice quiet private lake that provides a great Winter setting
Is it February in Colorado? Is it windy and cold?? Do you need take your jeep out for a 'spin"? It must be time for the annual Camp Wondervue Ice Ice Races sponsored by the Cliffhanger's of MHJC Patrol 11. For two Sundays in February for the past many years, they have been hosting this fun event at a private lake up Coal Creek Canyon.
On Sunday February 11, Hobos Scott "Mad Max" (Suburban) and Janet (Exterra) Maxwell, Steve "Da Moose" Gilbert (TJ), Chris "Curly" and Debi Veith (YJ), and myself (CJ) with my jeepin-sidekick Molly, met with prospective Hobo Bobbette Mathews and kids (TJ), and Steve's buddy (Explorer), at Hwy 93 and Hwy 72 in the early morning cold to drive up Coal Creek Canyon.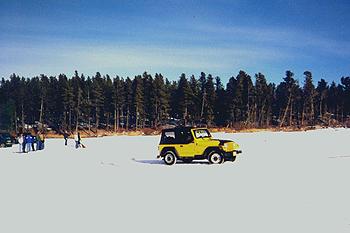 Bobbette takes her "Smiley" yellow TJ out for a "spin" and wins her 1st race!!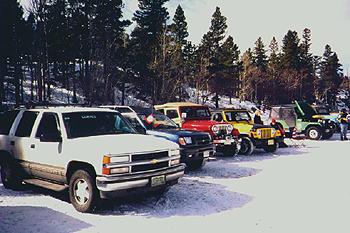 Most smart and warm souls, wait in their vehicles for their number to be called...
Once at Camp Wondervue, we were greeted by Patrol 11, and received a cheery inspection and some paperwork before going out on the ice. Registration was at the warm boathouse, and soon all ice drivers were together for a meeting. With single elimination racing, it's a one-time shot to win, and then play again. The ladies (Bobbette and Janet) won their 1st races, while all the men lost theirs. So, we got to cheer them on, which is half the fun of racing. Come to find out, if one had won just 2 races, the next race would be the trophy round.
Janet Maxwell in the family Exterra wins her 1st race!!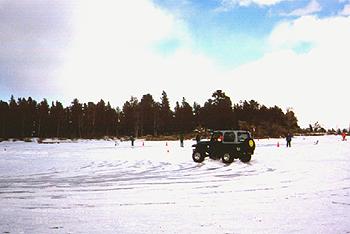 Hobo Chris "Curly" Veith gets his YJ with sipped tires sideways...
The track was in good shape, and the ice was nice and thick. Though all those cracking noises you could hear were just the ice adjusting under the load, at least that's what I was told. There was a lot of snow on the track, as you could see people were making good time on. Later on in the morning and some 200 tires later, the ice patches were getting bigger and bigger. For some reason, the sky to our North seemed clear all day, while one cloud hung over us and didn't let the sun peek out much. What a difference the sun can make, mentally that is.
On the 18th, Hobo Steve takes the very icy turn too far,
some say he was disqualified for going around the wrong side of a cone.....rumor??
I figured I would win my 1st race, and get at least two runs in, as Bobbette had let me drive her smiley yellow TJ with her original 205 tires. She was up 1st and won, so I even got to see the track 1st hand. Well, my number on the board was way at the bottom (second to last race). So it's my turn, and there's a lot more ice then Bobbette's run on the track. Well, at least that was my theory as to why I lost, though nobody believed me.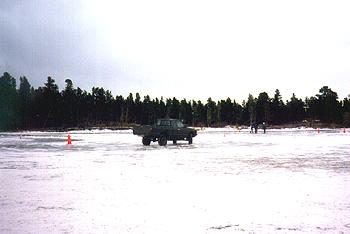 Chris Vieth takes on the ice, and wins 3 times on the 18th!!
After the races are down to the top 5 in the bare rubber class, they then run each vehicle separately for a timed run. Chris Vieth has his BFG MT's sipped, so we waited to see him almost win against a dinky CJ5 with Blizzacks!
On Sunday February 18th, some more Hobos made a return for the ice (way much more!!) and fun. I drove just drove up in my car to be a spectator, while Steve Gilbert (still sick from a suspect bowling alley pretzel), and Chris and Debi Vieth, were already there. Chris came up ready to do battle with his spare Nissan truck. He won 3 races!! Finally, with only one win shy of the trophy round, he lost to a similar Toyota truck!!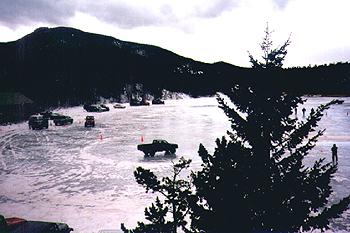 A view from the February 18th day of racing,
note the lake was much more icey with hardly any snow cover...
Thanks again to MHJC's Patrol 11 for another great Ice Races, keep the tradition alive!!
Bill Hallinan HoboJeepers

Here are other HoboJeepers Ice Ice Races Reports:
Camp Wondervue Ice Ice Races 99'
Camp Wondervue Ice Ice Races 00'
25th Annual Georgetown Ice Races 01'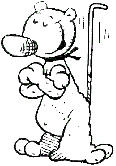 (c) Copyright 1999,2000,2001 MHJC Patrol One
Jeep is a registered trademark of DaimlerChrysler Corporation