PATROL ONE OUTINGS
ALL-4-FUN 99' Fairplay
Mt. Lincoln/ Mt. Bross Trails
Near Alma, Colorado

On Sunday Aug 1st, I led a trip up to Mt. Lincoln/Mt. Bross, with 33 or so in tow. Hobo Chris Potter and his son Jason, were among the group. Everyone lined up at staging areas, and we pulled out of our soggy camp at 8:30am sharp.
Mt. Lincoln/ Mt. Bross staging area "D"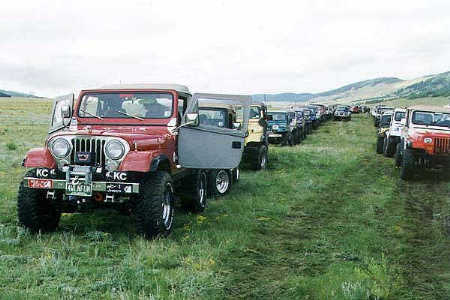 Just past the small town of Alma, we exited off the pavement and up a series of switchbacks to the trailhead for an air-down.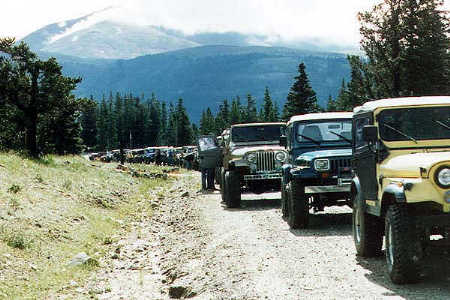 Air-down at the trailhead to Mt. Lincoln
Having 33 vehicles on a trip like this was manageable, though the group does get spread out a bit. All 33 did take in some great views (when there were some), and tested their high-altitude fuel systems. After a brief climb up 2/3rds of Mt Lincoln, we did have to turn around at a locked gate. There is a mine shaft just past the gate right near the road, and the mine owner limited access to the area, and the summit.
Click on this photo to enlarge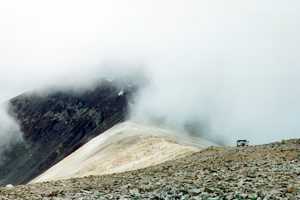 The trail up to Mt. Bross at 14,000'
Both trails are more scenic then technical, but since most in the group were "Flatlanders" scenic won that day. Though, most of the day we did spend "in the clouds", there were some breaks to afford a quick view.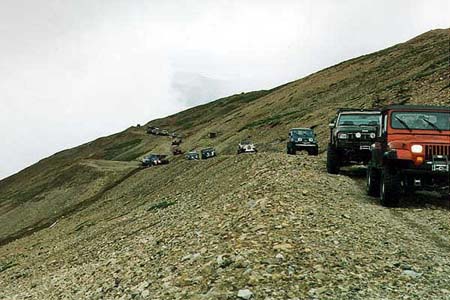 Jeepin "in the clouds" at 13,000' up Mt. Lincoln
It's not everyday you can line up 33 jeeps on a 14,200 foot mountain like Mt. Bross. We had a 42% cloud-free lunch at the top of Mt. Bross, and finished just in time for another pellet-sized hail/rain/lightning storm to come and tell us it was time to get down.
33 Jeeps at 14,200'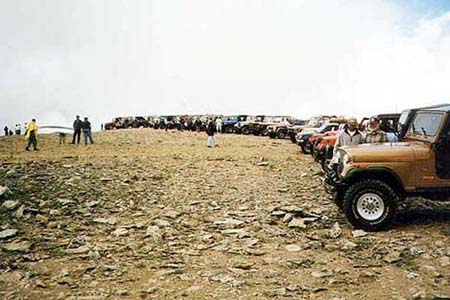 Back at camp, Thanks to the Kings and his Door Prize Committee for some door prizes from local Fairplay merchants that night under the big top.
Bill Hallinan HoboJeepers
(c) Copyright 1999,2000,2001 MHJC Patrol One
Jeep is a registered trademark of DaimlerChrysler Corporation