PATROL ONE OUTINGS
ALL-4-FUN 99' Fairplay
Mosquito/Weston Passes
Near Fairplay/Leadville, Colorado

Friday Aug 6th arrived as the last day for trails. I and my sidekick Molly, led a group of about 13 jeeps up and over Mosquito Pass, down into historic Leadville for some "tourist shopping", then back over Weston Pass and back to camp.
Click on photos to enlarge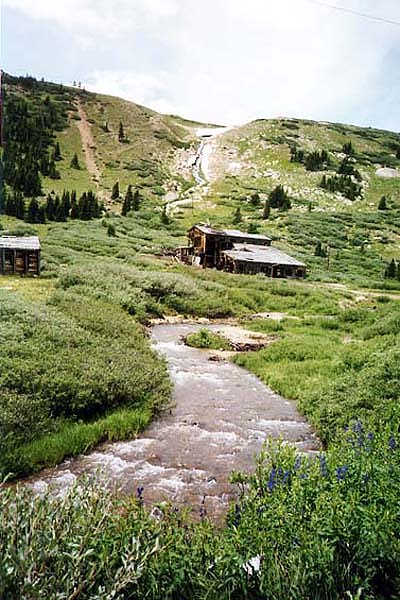 New London Mill above Fairplay
After stopping at the New London Mine and Mill, we drove on up into the clouds. Yep, pea soup more like it. Well, no great view from the highest pass in the U.S., but the town of Leadville was a nice stop. The trail on the east side of Mosquito has some rocks on it, just enough to give your shocks a small workout.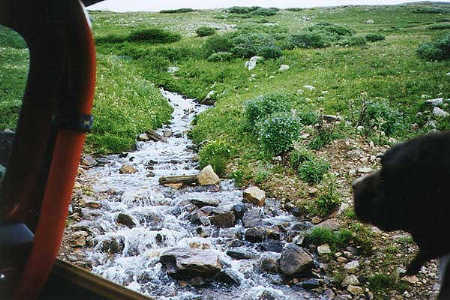 Molly enjoys a cool mountain stream
The clouds broke just in time for a look at Leadville off in the distance
As we headed to Weston Pass, a really big thunderstorm (common place all week) was right in our path, and followed us all the way to the top then vanished. The trail is an easy one, but scenic just the same. The trail topped off a great week of jeeping and fun!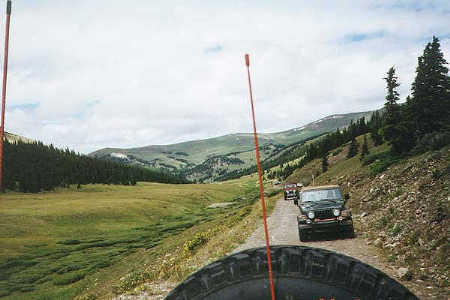 Looking back west as we approached Weston Pass
We all headed back to camp, hungry for some free hotdogs and burgers put on by Warn. A great Country and Western band entertained us as we grubbed, and Harold Ogden of Warn handed out a winch to a lucky winner. Oh yes, I almost forgot, it didn't rain that night!!
Bill Hallinan HoboJeepers

(c) Copyright 1999,2000,2001 MHJC Patrol One
Jeep is a registered trademark of DaimlerChrysler Corporation