PATROL ONE OUTINGS
Aspencades 99'
Jenny Creek Jeep Trail
Near Rollinsville, Colorado
On Saturday Sept 25th, we all awoke to a calm (an omen), and crisp morning during Aspencades 99', ready to see some aspen and do some jeepin. I (with my sidekick Molly), set out to follow trip leaders Dennis and Marci Ervin.
Click on photos to enlarge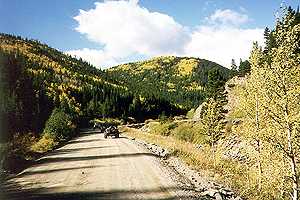 Heading up to the trailhead near Tolland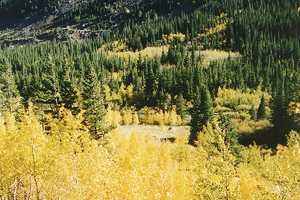 Passing grove after of grove of golden aspens!
About 15 of us with Dennis Ervin aired down just outside Rollinsville. As the winds picked up, we paraded up past Tolland, and groves of peaking aspens up the old railroad grade to Rollins Pass. So we all "chugged" up the railroad grade and played follow the leader around potholes for a few miles, until we came to the Jenny Creek trailhead.
All 15 of us airdown just outside Rollinsville

Our group had never been to the Jenny Creek Jeep Trail, so we were ready for a new trail! The trail starts off in the deep thick trees as you maneuver to avoid some "rocky mtn. pinstripes" (well some did). We reached Jenny Creek and a cool obstacle. After coming off what remained of a bridge, Dennis spotted everyone up and over a rocky ledge bounded by a tree. Thanks Denny!
No breakdowns at that obstacle, but the "coffin" seemed to require a little TLC. No one was really sure what was aching the "coffin", and no one was about to ask either. Pressing on, we forged up Jenny Creek many times as the creek had found the trail was easier to navigate then its own channel.
The trail follows up Jenny Creek many times...cool!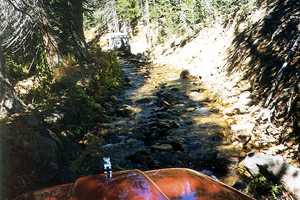 There were lots of rocks to crawl over, and tight trees to maneuver around (as Hobo Ken found out, and slipped thru without a scratch, thanks to Kevin's spotting). The rocks are not huge by no means, but ignoring them could result in undrcarriage damage. We stopped for lunch at a small break in the trees, and Ken used his air compressor to pump up a suspected flat tire that held it's pressure for the rest of the trip (now that's compressed air!).
Typical Jenny Creek Jeep Trail..............rocky and fun!!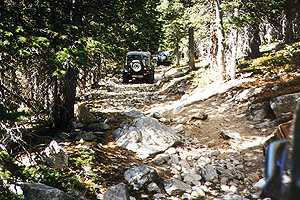 We all made it up to Yankee Doodle Lake, and connected back up with the old railroad grade road up to Rollins Pass. They say an old steam locamotive fell into the lake way back, still there as the cold water helps keep the rust down. Dennis in his yellow Toyota (in lead in photo), led a great trip up a fun trail!
Yankee Doodle Lake and the "train" on Rollins Pass Railroad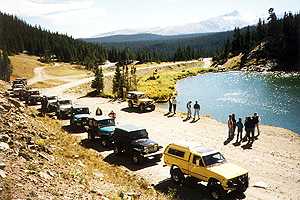 Kevin tightens down the spring bolt nuts, seems without them the tire goes up into the fenderwell.
We all headed back down towards Tolland, when Heather of the Patrol 8-ballers lost her "nuts" on the trail. Nuts you say? Well, that's what they call them do-hickys that keep your spring bolts on. Thanks to Kevin "mechanic of the day" Carter for a quick trail repair, and we were all heading for camp.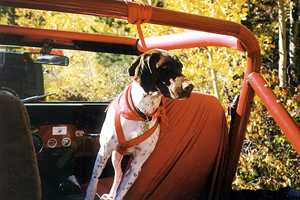 Molly is always on alert for squirrels, rabbits, and bugs!
The road back to camp, what a great way to end a perfect fall day!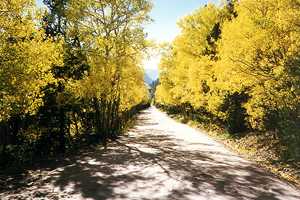 Bill Hallinan HOBOJEEPERS
More Jenny Creek Photos: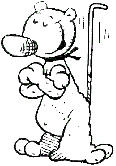 (c) Copyright 1999,2000 MHJC Patrol One
Jeep is a registered trademark of DaimlerChrysler Corporation