PATROL ONE OUTINGS
Spring Creek Trail
near Downieville, Colorado

On Saturday June 17th, 2000, the Hobos and guests, headed up to run the Spring Creek Trail, since rumors were it was open to the top. The Spring Creek Trail, west of Idaho Springs, Colorado. Exit off I-70 at Downieville, proceed east on the frontage road north of the freeway. Go under the freeway and a quick left to cross Clear Creek and the trailhead is on the left. Hobos Paul Weisz, Chris Vieth, and Chris Potter , were joined by Sean Tallant TJ, Jeff '61 Willys, Adam [Pawk] TJ, Jon TJ, George TJ, and Curt '86 Blazer.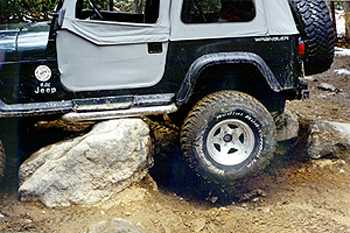 Hummmmm, How can this happen?
Cold, clouds and rain gave way to a nice day of jeepin at Spring Creek. Up early to beat the crowds, meeting time was moved up to 7:30am. At the first obstacle, Chris Veith's front air locker line blew out of the differential, and required some repair before he attempted it again, and ran up cleanly. Later on, he managed to get some good use off his nerf bars ("a picture is worth a 1000 words"). Curt in his Blazer stopped due to the smoke and an oil burning smell coming from the engine Curt forgot to replace his oil cap, so Paul came up with an idea to use an empty 35mm film container and some duct tape for a makeshift oil plug.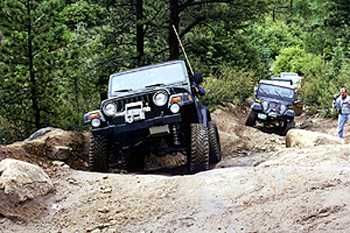 Jon's TJ, with Chris Potter just behind watching the line...
Hobo Paul Weisz in an entry on the Hobo Café gave a short interpretation of the day: "Brett, and I had a great time! From snowball fights on the trail, to muddy, steep obstacles to play on, team work to get us through, and spectacular views, what more could you want? Also I'd like to thank you guys for the help after my front drive shaft pulled apart. Should be an easy fix before next weekend."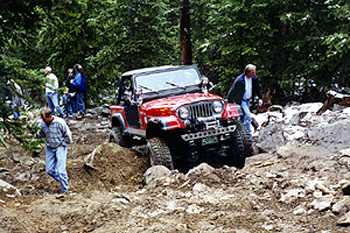 Hobo Paul's front drive shaft is the "Rock Garden's latest victim...
Chris Potter said "The Potters had a great time. Thanks to all on the trail and the teamwork that followed. Jon, I appreciate the spotting on both obstacles. My boys Michael, Scott, and Jason had a great time. You all should be seeing more of Michael & Scott this summer. Adam, Sean & Jeff were also a nice addition to our group."
Bill Hallinan HoboJeepers

Here are some other Spring Creek Trail Reports:
Spring Creek (aka Family Fun??) -Fractured Axle Club by the Flatlander

Spring Creek by Cindy Beaudean of the Bighorn 4x4's
Spring Creek Trail on CoSports.com
Hobo 1999 Spring Creek Trip Report
More Spring Creek 1999 Photos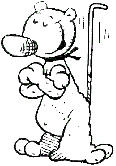 (c) Copyright 1999,2000,2001 MHJC Patrol One
Jeep is a registered trademark of DaimlerChrysler Corporation