PATROL ONE 2002 OUTINGS
Jenny Creek Trail
Near Rollinsville, Colorado

On Saturday, June 29th 2002, the Jenny Creek Hobo trip headed up to the trail head from the meeting spot of Highway 93 and 72 at about 9:00 A.M. Six Hobos, Ken 'Toolman' Kordes (61 Ford), Jason Brew (XJ), Paul 'Weiszguy' Weisz (CJ7) and family, Drew Middleton (TJ), Bill 'Willy' Hallinan (CJ7) and his jeepin sidekick Molly, and myself (Jed 'Clampett' McClelland-CJ7) as the trip leader. We were joined by three guests, Mark in his 02 TJ, Matt and Lori who are new MHJC members in there 79 CJ7, and their friends Troy ('Troybult') and Lisa in there 00 TJ. The eight Jeeps and one Ford were all fairly well equipped, and ready for a great day out of the heat of Denver.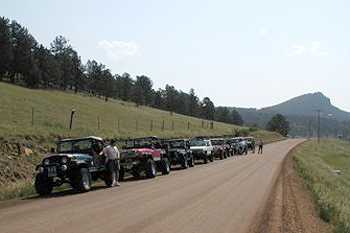 Airin' down and doin' da disco...
We aired down and disconnected just west of Rollinsville for the dusty ride up past Tolland to the Moffat Road. We rode the old railroad grade for another mile or so to the welcome Jenny Creek trailhead. The Jenny Creek area is still green and the creek itself had enough water in it to make the driving fun. Arriving at the 1st obstacle crossing Jenny Creek, we ran across one at a time with smiles. No one had any trouble on the few obstacles along the trail; for the most part we tried to figure out the most difficult (fun) rout to take.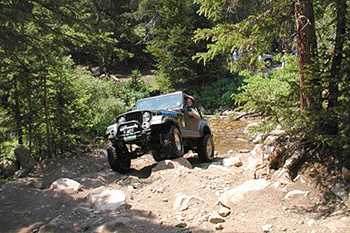 Jed is the 1st to cross nice & easy...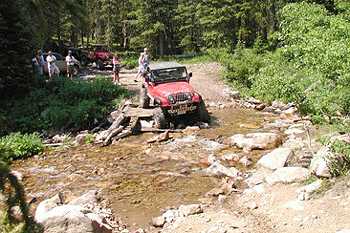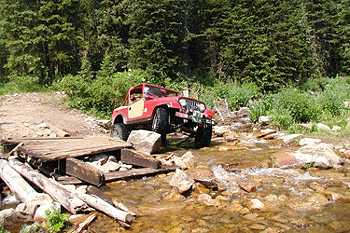 'Weiszguy' takes on the bridge and the big rock to the left...
Hobo 'Willy' climbs over the big rock, then uses the rocker panel...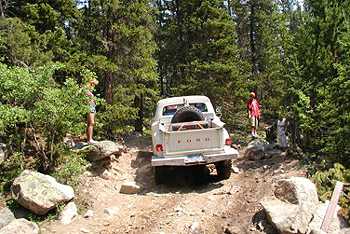 'Toolman's 61 Ford runs great (except for the small ARB leak)...
The trail follows along side Jenny Creek, and eventually up and in the creek. A long time ago, the creek jumped it's banks and took the least path of resistance, which was the existing trail. This makes Jenny Creek unusual and different from all other Colorado trails (except for a portion of Taylor Pass), a chance to run up (and down in our case) a creek. With the low runoff this year from snow banks, the water in Jenny Creek was running fairly low but clear! Seemed a little strange driving up the creek bed, but like I said, this is the trail. For a good hundred yards or so in two different locations we were running up the creek. There is even a good spot we took one at a time with two large rocks presenting one with a challenge to get thru.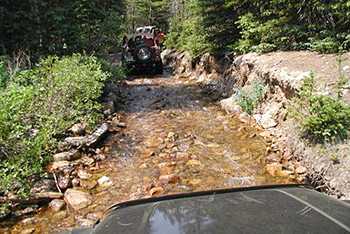 Running up Jenny Creek, the water a little low but fun...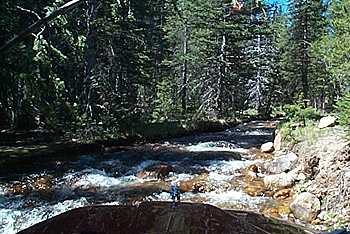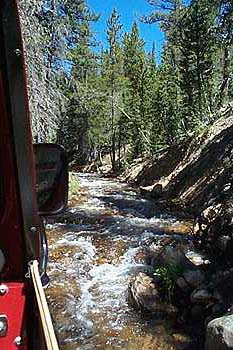 Here is near the same area but from last June's trip...
You can see it was much higher...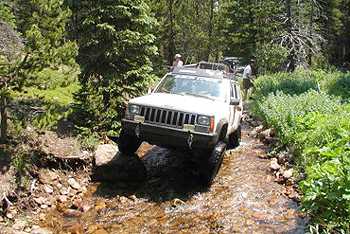 Hobo 'Milkdude' finds a rock to perch on this year....
At one point in the trial we even added a few rocks that had been removed, "OK boulders", to the trail in order spice it up a bit! The trail is nice and tight, with trees and rocky sections to keep you happy. Near the end of the trail, one last snowdrift was an optional climb with momentum and a higher gear.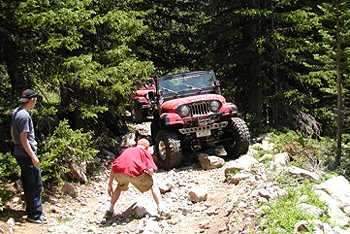 Bret (Weiszdude) tries to stop his Dad with some rocks...
Matt takes on the loose rocks well...

Troy also runs them over...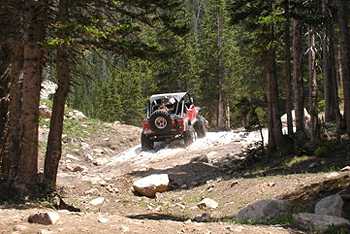 Paul puts his power to work on the last remaining snowdrift near the end of the trail...
Then we started up the north side of Jenny Creek and climbed various small rocky hills thru some small rocky sections. We had lunch at Yankee Doodle Lake where it was nice and cool compared to Denver, and it was not hazy with smoke at the time. After lunch, we drove to the end of the eastern leg of the Moffat Road then turned around and headed down.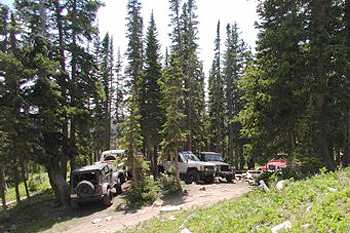 Lunchtime, 'nice and cool'...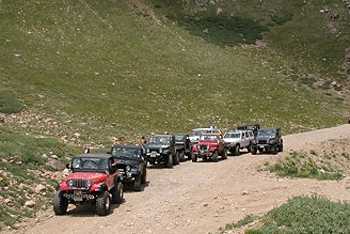 Coming down from the end of Moffat Road...
Jenny Lake below, hazy skies from the fires
obscure the views of Denver...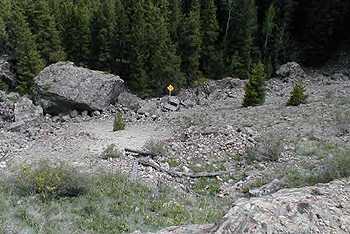 Off the Moffat Road, a lone car rests with a 'Dip' sign marking it's resting place...
Being it was around 1pm, there was still enough time left in the day for some more "4-wheelin". So instead of going down Jenny Creek, we decided to head out for nearby Miners Gulch. This was an opportunity to run this short ½ mile fun section before October when we have it scheduled.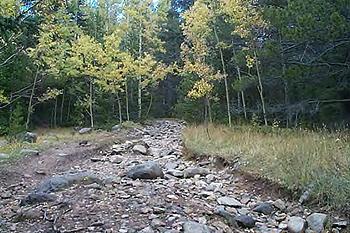 Here (next 4 photos from a previous runs) is the beginning of Miner's Gulch...
It's a fun tight trail with a rocky streambed

(this year though it was almost dry)...

Nice-sized rocks that are not too big...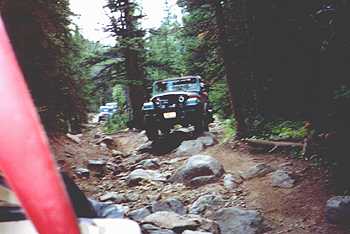 But big enough for a nice rocky climb!
Located just south of Tolland and the Apex road, Miner's Gulch has a nice little rock garden that is nothing to difficult, but just enough to mark up your under-carriage a little. This trail doesn't get a lot of use, so the rocky sections have become and get bigger all the time. One by one, we crawled up the lower section til we reached the 'rocky playground'. We took turns climbing up, and taking different lines. The rest of the trail was a nice ride through the trees.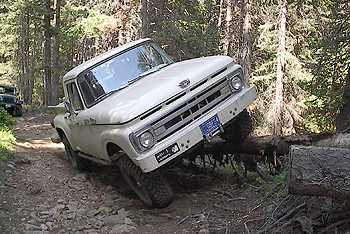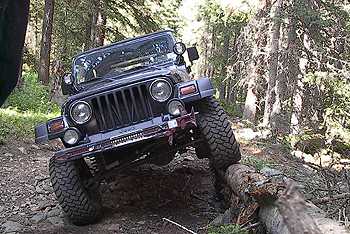 Ken flexes his Ford...
Drewby get some nice arching too...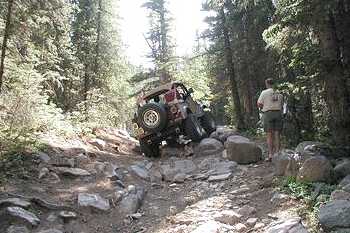 This trip, Bill guides his 82 CJ7 to the 'hard line'...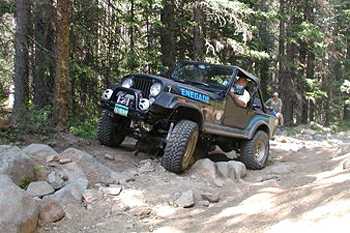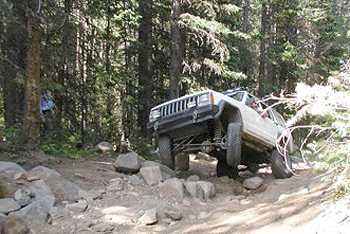 Jed's CJ7 also does well...
Jason's XJ can't quite make it without lockers in front...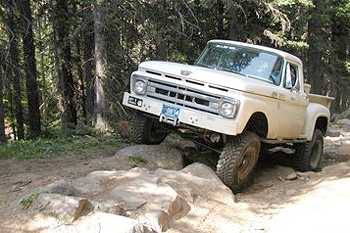 But Ken's Ford has no problems...
We passed a tent trailer near the easy FR 175.3 and noticed numerous big flies in it. Paul stopped and checked to make sure nothing was 'fishy', and seems nobody was there except tons of flies. On up the 2nd half of Miner's, the trail becomes steeper with some more rocky sections. We ended up on the ridgeline on FR 175.3 and headed NE towards Central City. We ended up coming out above Central City near the cemeteries, and all aired up and reconnected around 5:30ish.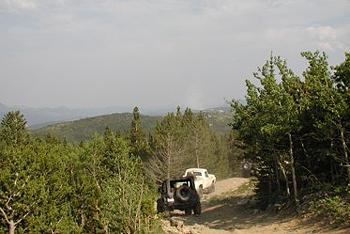 Straight ahead, a small white smoke
is the start of the Fountain Gulch Fire SE of Central City...
Thanks for the free air! We planned to come home together, so we cruised through casino row and gave the tourist a little 4-wheelers parade. After grabbing some Taco Bell at the just east of town, and we took a nice cool cruise on down Highway 6 to Golden along Clear Creek, where the heat, smog, and traffic awaited, and made us all anxious for our next trip to the mountains.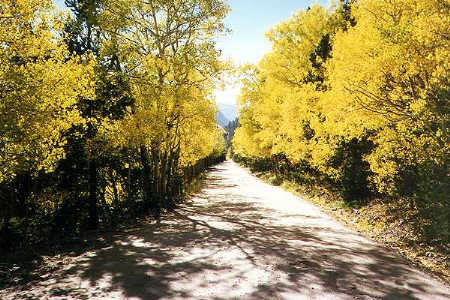 Here is the drive back down the Aspen-lined Moffat Road in the Fall...
"Jeep, Jeep,"
Storyline by Trip Leader:
Hobo Jed 'Clampett' McClelland HoboJeepers
*Web design and captions by Hobo Willy
*Thanks to Drew Middleton the 2002 digital photos...

Here are some other Jenny Creek Trip reports:
**2001 Jenny Creek Trail-HOBOJEEPERS**
** 2000 ALL-4-FUN Jenny Creek Trail**
**Jenny Creek Trail Directions**
** Jenny Creek Trail by Larry Heck**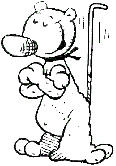 (c) Copyright 1999,2000, 2001,2002 MHJC Patrol One
Jeep is a registered trademark of Daimler Chrysler Corporation