Middle St. Vrain/Coney Creek Trails
Near Peaceful Valley, Colorado

On October 9th, The Hobos and guests set out to enjoy another indian summer Saturday on the trail in Colorado. The weather was perfect, with some aspens still at their peak, and the Middle St. Vrain/Coney Creek Trails calling to be jeeped! We met at Hwy 72 & Hwy 93 at 9am, and headed up thru the stoplights of Boulder, past Jamestown, and ending up at Camp Dick campground for the air down ritual. Along with myself (and my sidekick Molly), were Hobo's David Parrett (and his dog Tucker), and Hobo Chris "Colonel" Potter (and his son Jason). It was great to see these two Hobos on the trail again. Also along were Pete Ramirez and his wife, and Pete's friend Lynn, also joined us for a great day of jeepin.

Click on photos to enlarge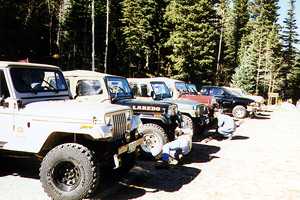 The traditional air down/disconnect ritual
After airing down and sway bar disconnects, we headed up the Middle St. Vrain Trail with the Indian Peaks Wilderness bounding the trail to the north. This trail is moderate to easy in some spots, but lots of rocks to negotiate or risk undercarriage damage.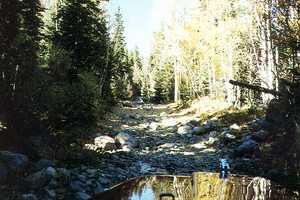 Fall colors border this rocky section at the trail's outset
Group photo above crystal clear Middle St. Vrain Creek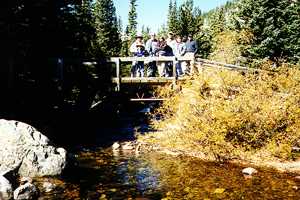 Most of the willows were at peak fall color, giving a look and smell of fall in the air, with winter not far behind. We crossed the clear Middle St. Vrain a couple of times, and reached the hiking trailhead into the wilderness at about 3 miles up the trail. We stopped for a break, and a group shot above Middle St. Vrain Creek.
Hobo Colonel Potter ends up in rear only 2WD!
Pete looks for some rocks to crawl over, any rocks!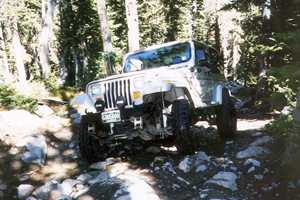 Backtracking about 100yards was the turn off to the Coney Creek Trail. A few obstacles are along the hillside, and with only 2WD (in rear) can be quite challenging. The one obstacle that Hobo Chris is shown on had rocks filling the holes. Now any good wheeler knows that if you need rocks to get over an obstacle that you need to remove them for the next person. As Chris can attest, 3WD is much better then 2WD. He had just been to High Country 4x4 to have front ARB's installed the week before, well they were not working that day. No front lockers, and the hubs were locked and would not go back into the free position. So, combined with not finishing the Job on last Friday the 1st as promised (he missed the Bill Moore trip), and removing his muffler hanger for some odd reason, his 1st call that next Monday morning was directly to big Al himself (which the promptly fixed-the hub was installed wrong).
The Coney Creek Trail is different from the Middle St. Vrain Trail, as it's rocky and has numerous water catch basins to run thru, and a tighter tree-lined trail mixed in. Some of these "puddles" actually reach bumper height, though running in the springtime they must be much much higher, or impassable since there is nowhere for the water to go.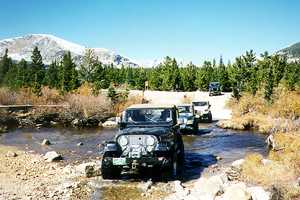 Crossing Coney Creek
Great views of the mountains during the lunch stop!
We stopped at a picture-postcard view of a lake along Coney Creek, with the Front Range and Sawtooth Mountain in the background. As trip leader, and never had been to Coney Creek Trail, I assumed once we hit the lake the trail would turn easy (SUV trail) down towards Beaver Res., well I was wrong. Rocks and puddles were the norm for the downhill trip, not an SUV trail just yet.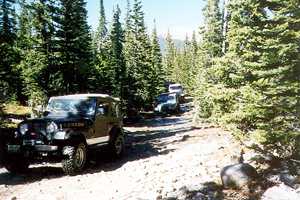 Rocks and puddles, rocks and pools.
Hummmmm, another rocky puddle section!
Down almost to the Beaver Res., we encountered some true-life full-size beer drinking 4-wheelers stuck bumper deep in a mud bog off the trail. Of course I took a photo for future educational purposes only, as we surveyed the situation. This side trail went nowhere past this bog, and all they wanted to do was "get muddy". Well, the muds on their face now, as even their winch wouldn't pull them out. Normally, if this was a jeeper in real trouble we would help, but this wasn't the case. They had a second unstuck vehicle, another 12-pack of Keystone, and the rest of the weekend. So, as soon as they got cranky and realized we were not willing to sacrifice our winches/jeeps for help, we headed on down the trail to enjoy the rest of our day.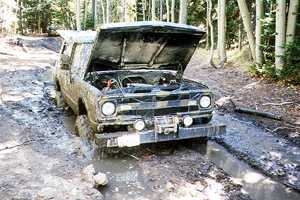 (No narration needed here)
We reached Beaver Res., unlocked, and put on our sway bar disconnects for our trip down to Nederland and some quick 25-cent air. Coney Creek Trail is a neat little jeep trail, with no serious obstacles, but enough medium-sized rocks and puddles to play on and in for a great day on the trail!
Bill Hallinan HOBOJEEPERS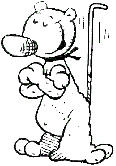 (c) Copyright 1999,2000,2001 MHJC Patrol One
Jeep is a registered trademark of DaimlerChrysler Corporation