PATROL ONE OUTINGS
SLAUGHTERHOUSE GULCH TRAIL
Near Conifer (Crow Hill on 285), Colorado

On Saturday November 25th, Mother Nature was kind to us all as she warmed up the week before and melted the snow off the Slaughterhouse Gulch Trail near Crow Hill off Hwy 285. Though it had snowed a dusting the night before, the 40's quickly melted the snow in the sun. The shaded areas proved to be snowy and icy though.
Hobos along to "ride the trail" were Chris "Colonel" Potter (CJ), Sean Tallent and friend (TJ), and myself-Bill Hallinan (CJ) with my jeepin-sidekick Molly and rider Thomas Elliot. Others ready and eager for a great run at Slaughterhouse were Tom Hester (P14-CJ), Pat Rinkle (Prospective of P14-XJ), Richard Dillon (Commando) and his soon-to-be wife, Bobbette Mathews (Yellow TJ) and friends.
We met up at the Bugling Bull in Conifer at 9:30 am, and headed out Hwy 285 to Crow Hill just before you head down to Bailey. As trip leader I remembered the trail from the trailhead, now just not how to get to it was another thing. We aired down and disconnected just off the pavement.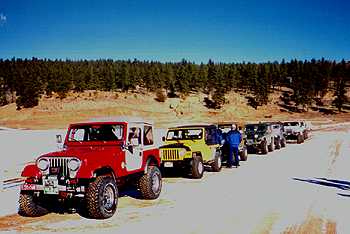 We aired down and disconnected in Deer Valley ready for a fun trail!!
Tucked away somewhere south of the Deer Creek valley, just past some houses, keep your eyes peeled for a yellow metal signpost. The Colorado Go-4er's adopted Slaughterhouse Gulch, and provided many "Closed to Motor Vehicle's" at strategic locations of spurs off the main trail. Efforts like that keep most 4Wheelers hopefully in check and responsible.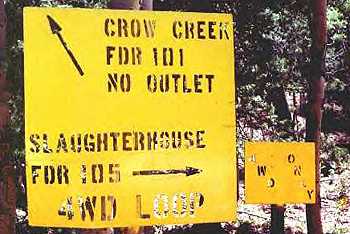 The Colorado Go-4er's have signed the trail well...
The 1st part of the trail is easy and 2WD as a single lane road winds around to a steep hill climb that challenges any stock vehicle. We all climbed on thru, as Tom skillfully drove his open CJ thru some deep moguls too. Bobbette's 2000 stock TJ with 31's climbed up and she stayed on most of the high sides of the moguls while keeping forward traction up the hill. Those locked up were able to crawl up thru the deepest moguls with just a smile that says it all.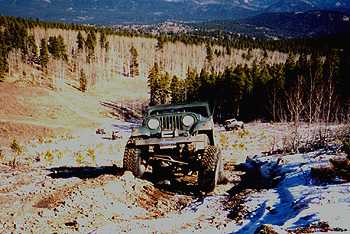 Richard Dillion's Jeep crawls up the deep moguls...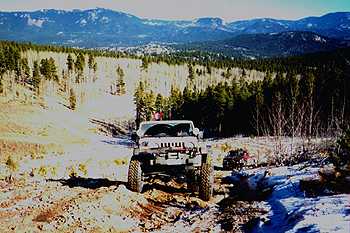 Hobo Sean Tallent makes good use of his
low gears and lockers with a smile...
Moving on, we made it up to another yellow signpost marking the beginning of a loop that would take us down into a small valley, then climb back out thru another saddle to the Southeast. Just past the saddle the trail gets steep and a little smaller and rockier and with some fresh snow in the shade a little slick. Taking our time as not to slide into a tree and leave sap marks we made it to the bottom of the hill and what used to be a mud hole now barely a hole to drive thru. We had lunch in a small meadow away from the cold November winds.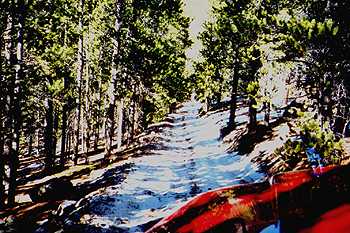 The trail going down the saddle is steep and
more off camber then this photo shows,
then toss in some ice and snow to keep your attention...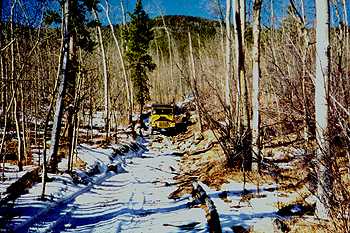 Some rocky sections are combined with a touch of snow...
Just down the trail, you can venture further on, but you must backtrack to a turn and head up the steep hill. The line to the left had some deep moguls and everyone had no trouble with them. At the other "mud hole", it was dry and the steep embankment to climb out of was all but gone. Sean decided to take the harder way out and found the left wall to his liking.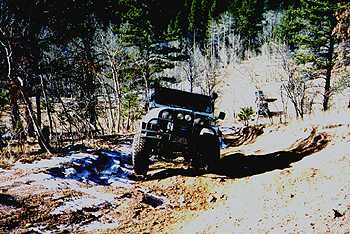 Tom Hester of Patrol 14 maneuvers up the 1st steep moguls...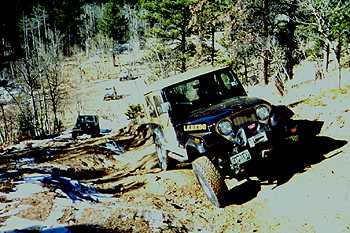 Hobo "Colonel" Potter takes the hardest line with ease...
Sean takes the harder way out...
Just up from there is a series of deep fairly level moguls that afford some great Kodak moments, as spring flex was evident for all! The trail stays steep and a little rocky till the next saddle brings you on the north-facing slopes still fresh with about an inch or 2 of snow. Couple that with some off-camber up to 25 degrees and trees lining the trail made for some fun maneuvering.
We met up with the Crow Hill portion of the trail and if you go right it will take you down a valley to a dead end about 3 miles. We opted for an early return, and took a left to retrace our tracks back to the trailhead. A nice way to "get out" even still in November and a great way to spend the Thanksgiving weekend away from "pregnant chads" and CNN.
Thanks to everyone for a nice day…
Bill Hallinan HoboJeepers

Here are some other Slaughterhouse Gulch (Near Crow Hill) Trip Reports:
Slaughterhouse Gulch Trail Map and Report 00'-www.4x4trails.net
Slaughterhouse Gulch Trail 3-00'- MHJC Patrol 14
Slaughterhouse Gulch Trail 4-00'- MHJC Patrol 14
Slaughterhouse Gulch Trail 99'- HoboJeepers
Slaughterhouse Gulch Trail 99'- Rocky Mountain Pinzgauers
Slaughterhouse Gulch Trail-www.muddytires.com
Slaughterhouse Gulch Trail- by Dave's 4x4 Page
Slaughterhouse Gulch Trail Photos-unknown source
Slaughterhouse Gulch Trail 98'-Sleeoff-Road.com
Slaughterhouse Gulch Trail-98' Bighorn Jeep Club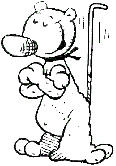 (c) Copyright 1999,2000 MHJC Patrol One
Jeep is a registered trademark of DaimlerChrysler Corporation