Once thru the 1st few tight switchbacks, it became apparent we were back in civilization, as we encountered two-way traffic of SUV's, and not so happy hikers on the "road" at the main waterfall house. We worked our way down the dusty switchbacks avoiding SUV's and hikers to finally reach the valley floor. Seems Telluride was having a festival of some kind (a protest I heard), so parking was impossible. We got some gas, and headed up the Imogene Pass Trail without a quick tourist look of Telluride. Telluride is quite the change from the peaceful Silverton to the yuppie ski town of Telluride, almost too yuppie for me.
Climbing out of Telluride, the Imogene pass Trail winds around some mines and up into the ghost town of Tomboy and the Savage Basin mines. Being Monday of the 4th, this was a great place to set-up a lemonade stand and sell sunscreen and umbrellas on the side. Yes, we were not the only one's up there. Everyone from Grandma Ethel, "girly" rental TJ jeeps, to the "We drive, You ride" tours were there. Well, it was a nice day for a ride. After lunch, we headed up above the mine to the summit of Imogene Pass, the 2nd highest pass at over 13,114' (only Mosquito Pass is higher in the US.). What a view! Better yet, we moved to the eastern section of the pass and looked east over the Red Mountains. With the sun at your back, it provides a kodak moment and postcard view of the San Juans. Seems the jet stream was kicking up at 13,000', so we headed down the trail and into Imogene Basin below.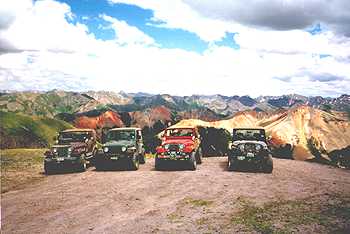 Looking East over the Red Mountains...One of the best views in Colorado!
This starts us on a decent of over of about 5,200' in less then 5 miles, down to the town of Ouray below! We reached the last dusty county road stretch into town and headed for our campsite on some private land just north of town. HUMMMM....Talk about getting your full of scenery and jeepin', this day had it!!
Bill Hallinan HoboJeepers
Here are some other San Juan Sites:
San Juan Mountain Jeeping Routes by Ed and Julie: http://www.twenj.com/ourayjeeproutes.htm
Lake City, Colorado-A short History: http://www.narrowgauge.org/ncmap/excursion7_lake_city.html
Engineer Pass Trail Report by Jerry Clark: http://www.narrowgauge.org/4x4/html/engineer.html
Black Bear Pass Trail by Bob Norton: http://www.4x4now.com/trcobb.htm
Black Bear Pass Trail photos: http://www.cyberport.com/~dbradshaw/bb.htm
Black Bear Pass Trail description: http://www.fastlane.net/~mazz/travel/colorado/blackbear.htm
Imogene Pass Trail by Flatlander: http://www.4x4now.com/trcoip.htm
32nd Annual All-4Fun in Silverton by Jeff Fox: http://truckworld.com/Travel-Adventure/98-all4fun/all-4-fun-4.html
32nd Annual All-4Fun in Silverton by Flatlander: http://4x4now.com/a4f98.htm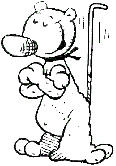 (c) Copyright 1999,2000 MHJC Patrol One
Jeep is a registered trademark of DaimlerChrysler Corporation