Near Red Mountain 1, 2, and 3, which are so called for the iron staining draped over the mountains, we stopped for another view break. Looking off to the west one can almost make out Black Bear Pass, and the viewpoint off 13,000'+Imogene Pass that are planned trails for the next day.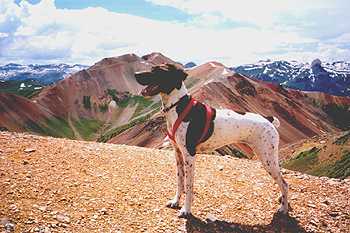 Molly seems to find the views second, behind finding out what's making that chirping noise...
At the break, and further investigation (hood up of course), seems Pete's YJ has been making some contact noises on the trail. Come to find out, the right engine mount was not functioning properly and the engine was literally resting on the frame. With less room, the distributor cap, and the oil filter took some denting. So, we headed on down Corkscrew Gulch with an engine mount absent on one side.
We headed down Corkscrew (yes, lots of switchbacks), and found a campsite near the Ophir Pass entrance. Being it was Chris Potter's B-Day; we all headed down to play tourists and have dinner in the modern-day ghost town of Silverton (home of ALL-4-FUN 98'). Silverton has that ole' mining town feel, with some modern day tourists mixed in by train and car. It's a great home base to run the many San Juan trails. Monday, it's up and over Black Bear and (13,114') Imogene Passes.....oh yeaaa!
Bill Hallinan HoboJeepers
Here are some other San Juan Sites:
San Juan Mountain Jeeping Routes by Ed and Julie: http://www.twenj.com/ourayjeeproutes.htm
Lake City, Colorado-A short History: http://www.narrowgauge.org/ncmap/excursion7_lake_city.html
Engineer Pass Trail Report by Jerry Clark: http://www.narrowgauge.org/4x4/html/engineer.html
Black Bear Pass Trail by Bob Norton: http://www.4x4now.com/trcobb.htm
Black Bear Pass Trail photos: http://www.cyberport.com/~dbradshaw/bb.htm
Black Bear Pass Trail description: http://www.fastlane.net/~mazz/travel/colorado/blackbear.htm
Imogene Pass Trail by Flatlander: http://www.4x4now.com/trcoip.htm
32nd Annual All-4Fun in Silverton by Jeff Fox: http://truckworld.com/Travel-Adventure/98-all4fun/all-4-fun-4.html
32nd Annual All-4Fun in Silverton by Flatlander: http://4x4now.com/a4f98.htm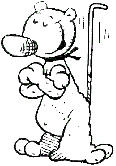 (c) Copyright 1999,2000 MHJC Patrol One
Jeep is a registered trademark of DaimlerChrysler Corporation