PATROL ONE 2002 OUTINGS
KREMMLING
ROCK CRAWL 2002
Near Kremmling, Colorado

On Saturday June 22nd & Sunday June 23rd, Len Marks and the Central District of the Colorado Association Of 4Wheel Drive Clubs put on the 1st Annual Kremmling Crawl. Held on some private land 2 miles NW of Kremmling, it was 2 days of fun competition. No prize money, no trophies, just pure fun with an audience. Gate entry per day was only $5 and proceeds go to COVCHO to KEEP TRAIL OPEN. A well worth cause for a weekend of fun. Camping was allowed just east of the event area (shown on top of photo below). My jeepin sidekick Molly and I showed up on Friday night with the Jeep and set up my tent trailer. Some other MHJC members were also camping nearby, while some opted instead for a nearby RV Park or a motel in town. A storm blasted thru at 5pm on Friday night, but the rain and wind did not last long (the rain kept some dust down).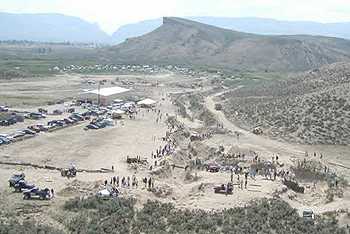 The Kremmling Crawl 2002, the course follows the ditch...
The event was set up to be a 'relaxed competition' between wheelers that love the sport. It took the serious pressure of winning off, and introduced the 'doing it for fun' attitude. Many MHJC members were present to compete. Sorry if I missed you, but in the Production Class I saw Jeff Fish (Bronco-P10, MHJC Commander and was a judge), Steve (driver) & Tracy Schuster (TJ-P10), Richard Dillon (Commando-P4), Brad Gosnell (TJ), Dale (driver) & Zane Znamenacek (TJ-P14), and Greg Mackey (CJ-P14). MHJC spectators (missing some?) included Dennis & Marci Ervin (P-11), Neil & Jill McMorrison (P-14), Eric Lister (P-14), Tom Hester (P-14), and Gene (was a judge) & Jean King (P-7). HoboJeepers Jed 'Clampett' McClelland (Sat), and Chris 'Colonel' Potter & sons (Sun) also came up for the day. Food and refreshments were available, and door prizes were also given out to certain ticket numbers throughout the day. The weather was nice and cool and the winds calm each morning. The opposite was true in the afternoon, and the wind kicked up the powder dust into a frenzy at times Saturday.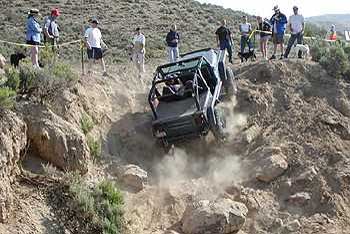 MHJC's Dale Znamenacek was the only women driver in the Production Class...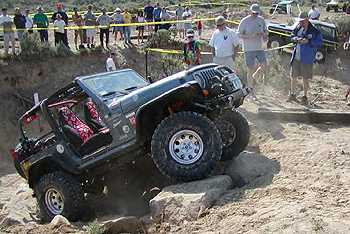 MHJC's Steve Schuster...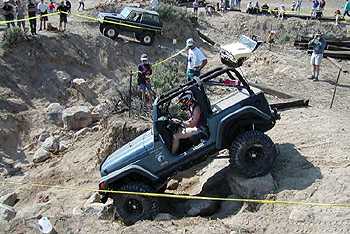 Dale Znamenacek down the extra credit obstacle...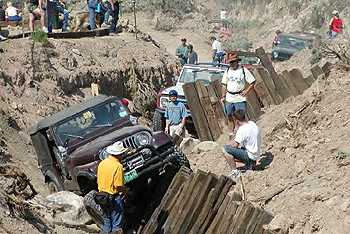 Railroad ties provided a unique 'twist' to the course...
Judges (most in yellow shirts) scored each driver (with one spotter) at each of the 8 obstacles. A 5 minute time limit to get thru was required. A '0' score was recorded if the vehicle did not hit any flags place along the course. Points were given for hitting flags. The flags were placed in different locations to make the course more difficult for the Open Class drivers. Extra credit obstacles were a crowd favorite. The Production Class included most rigs you would see on the trail and a daily driver. Even some open rigs were seen. Multiple carnage and scrapage of the undercarriage were common, even with the best rig and spotter. There were even spotters with different styles of spotting. It was interesting to see the different styles of 'crawling', from bonsai to finesse.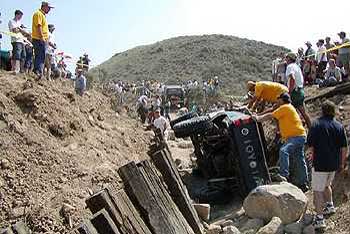 This Toyota was one of the few 'lay downs'...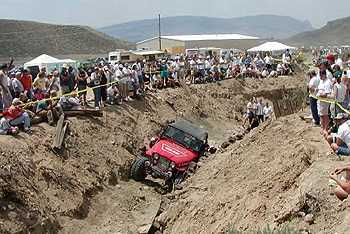 Crowds were thick where the action was...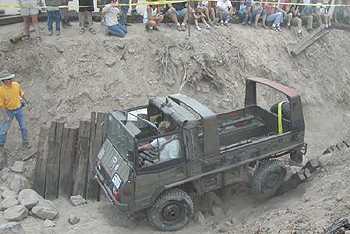 This Pisgah provided some great action (complete with the Army helmet)...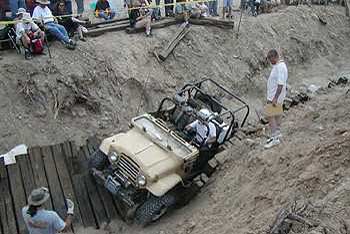 All types of rigs participated...
It was standing (or sitting) room only on some of the 8 obstacles. Since the course was run along a ditch, there wasn't a bad seat along the course. You could always tell where the action was by the depth of the crowd. You could stay in one place and watch how each driver takes different lines on one obstacle, or follow that driver thru the whole course. Each drive and spotter deserved a good round of applause when he or she conquered a certain obstacle or challenge.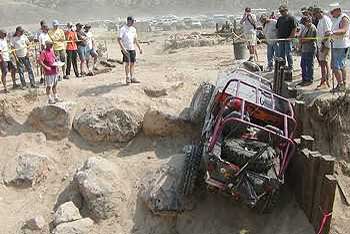 This extra credit obstacle took everyone to the right along the railroad ties and scrapage...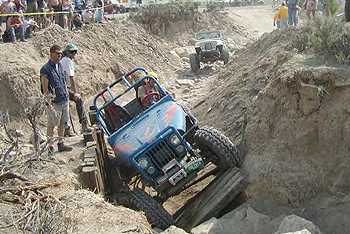 Robert Schleppy's CJ7...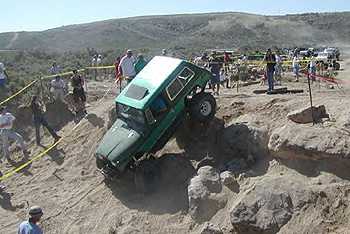 Richard Dillon's Commando...
Later on in the day on Saturday, the winds kicked up from the west and it was hard to see the action at times. I couldn't imagine what it was like to drive or spot thru it. Sunday saw less drivers, but they were required to drive the course in reverse order (time slots also). The crowd was lighter on Sunday, but still a great showing of support.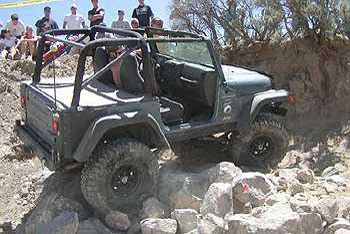 Dale Znamenacek avoids all flags and gets 0 points for both days...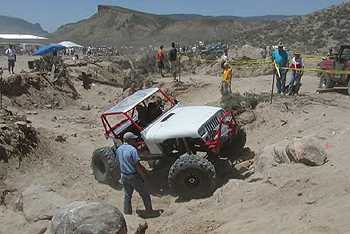 The Super Class bought out some rock buggies...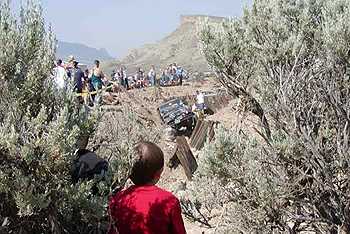 Some shade with a view of the course for these kids...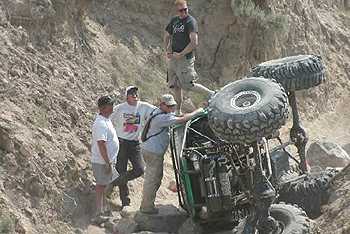 Aaron (top) of Rockstomper.com lays down the Mantis...
The following is the final scores for the 2002 Kremmling Rock Crawl:
MHJC members noted by #
*Production Class Drivers who completed two day.
Combined scores of Saturday and Sunday.
#Kevin Alcox 0 points
Aaron Parker 0 points
#Dale Znamenacek 0 points
Jeff Wills 0 points
Ryan Heath 10 points
Harold Michael 10 points
Mike Prestel 10 points
#Brad Gosnell 20 points
Aaron Holdaway 40 points
Justin Booth 110 points
Drivers who completed one day.
Robert Schleppy 110 points
Bryan Patterson 100 points
Rob Meredith 0 points
John Light 30 points
Travis Simmons 100 points
Calvin Simmons 100 points
Ken Baumgartner 20 points
David Pool 20 points
#Steve Schuster 0 points
Josh Budimlya 0 points
#Greg Mackey 320 points
Bruce Minney 200 points
#Jeff Fish 50 points
Chad Burchik 210 points
Dan Garcia 310 points
Greg Schneegass 500 points
Jim Berg 200 points
Barrett Viksne 520 points
Eric Cornell 310 points
John Bongiovanni 220 points
Bill Gilmore 210 points
Scott Tomlinson 210 points
John Carl 600 points
John Kilpatrick 310 points
Mark Ferguson 0 points
Greg Blakely 100 points
Richard Kirk 0 points
*Super Production 2 day total
Dan Dilley 20 points
Daniel Dilley 40 points
*Unlimited Class Drivers who completed two day.
Combined scores of Saturday and Sunday.
Mike Braskich 60 points
Brad Buter 70 points
Jon Jacobs 140 points
Mark Drummon 190 points
Victor Almeida 190 points
Scott Polk 190 points
Aaron Brucker 240 points
Merle Turner 280 points
Mike Everhart 300 points
#Richard Dillon 320 points
Jason Heusel 370 points
Shelley Surface 430 points
John Teti 470 points
Unlimited Class Drivers who completed one day.
Nick Sessions 40 points
Kent Stewart 100 points
Patrick Zimmerman 100 points
Larry Mason 570 points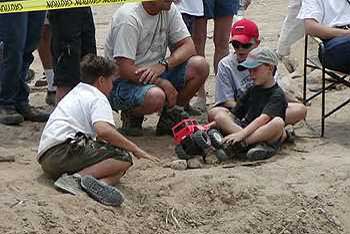 Future wanna-be rockcrawlers...
"Jeep, Jeep,"
Storyline & captions by Bill Hallinan HoboJeepers
*Thanks to Neil McMorrison for the digital photos...
A Colorado 4x4.org BB Forum posting on the event: http://www.colorado4x4.org/cgi-bin/ubb/ultimatebb.cgi?ubb=get_topic&f=3&t=001171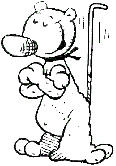 *To HOBOJEEPERS HOMEPAGE w/frames*
To HOBOJEEPERS HOMEPAGE without frames
(c) Copyright 2002 MHJC Patrol One HOBOJEEPERS
Jeep is a registered trademark of Daimler Chrysler Corporation