PATROL ONE 2005 OUTINGS
PICKLE GULCH

SNOW RUN

Near Central City, Colorado

It was such a nice day Saturday March 5, near 70 degrees in Denver, so we decided lest go jeeping! Thinking of something close and easy, we decided to retrace the Halloween night run the Hobo's do, just to see what it looks like in the light.
So Jed & Diane McClelland met up with Charlie Duncan and Marsha K. in Golden about noon and headed out. Everyone figured it would be dire for the most part, to our surprise Pickle Gulch was full of snow with a layer of ice underneath. We aired down and took off. It was great! The snow was perfect, deep but not too deep.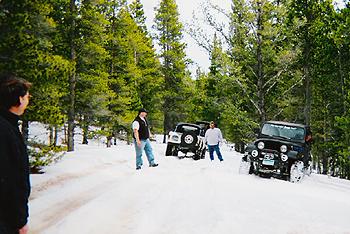 About a mile in we ran across a group or four rigs coming out.
One pulling another with a broken axle, a little to much fun maybe.
I pulled off the road to let them by, that was the first time I got stuck.
But with a little pushing we were back on the road again....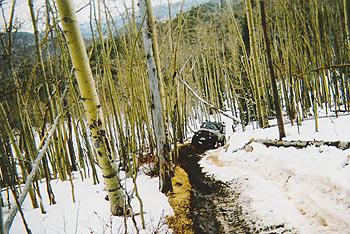 Up the trail a couple of miles we hit the first real climb.
I made it up my first try but in doing so made it as slick as ice,
probably because that's what was left -- ice...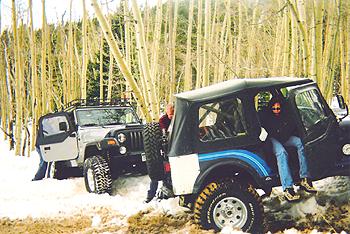 In backing down, or sliding back down he ended up
off the road and sank in some really deep snow...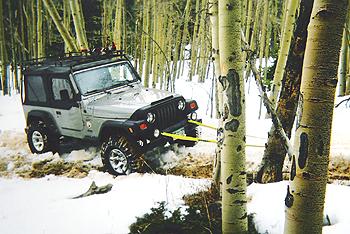 As I pulled up as far as I could to help, Diane said I'm out of here.
I was able to wench the both of us out and back onto the road again...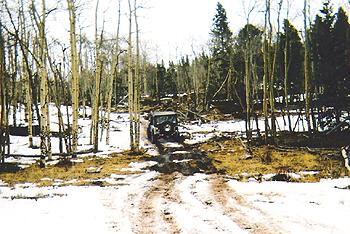 We then tried another rout, it looked easy -- but again we hit ice about halfway up.
So we decided to head out and get something to eat at Idaho Springs...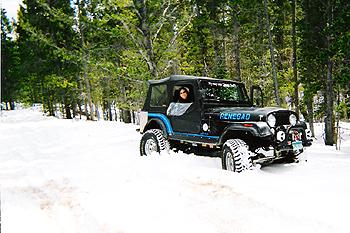 Great day for a little jeepin' in the snow!
"Jeep, Jeep,"
Storyline & captions by Jed McClelland HoboJeepers
*Web design by Hobo Willy, Thanks to Charlie for the photos...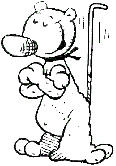 (c) Copyright 2005 MHJC Patrol One
Jeep is a registered trademark of Daimler Chrysler Corporation