PATROL ONE OUTINGS
ALL-4-FUN 2005
Gunnison, Colorado
GUNNISON or BUST!/
REGISTRATION/
SET-UP
Friday, July 22nd to Saturday, July 23rd
Near/@ Gunnison, Colorado

Yea!! It's finally come! It's All-4-Fun time in the Colorado Rockies!
I had prepared and put in for this week since the beginning of the year. This would be my 10th All-4-Fun in a row and I wasn't going to miss it! This was also Molly's 8th in a row (Molly my Jeepin' Sidekick as she just turned 8 on June 26th). Days before I was to leave, I looked over the Jeep for any unusual and 'not good' items (like no engine bolts, or u-bolts almost falling off, both of which have happened). Other then an oil change and axle fluid change, I was ready for Gunnison and a week of Jeepin'!
On the morning of Friday July 22nd, around 10am, I set my Jeep's rear Rancho shocks to 5 and hitched up the tent trailer. Then I put on Molly's harness and hooked her up in her usual seat, and set off on a sunny warm morning West towards the mountains we went. We took our time (I drove--Molly slept) going up and over Kenosha Pass, Red Hill Pass, and arrived for gas at Johnson Village (near Buena Vista). All gassed up, we headed over Monarch Pass and down into Gunnison by 2:30pm.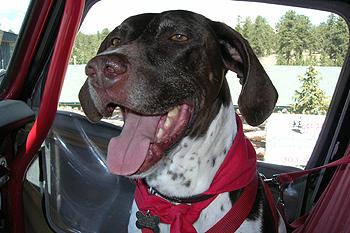 At a stop near Conifer (just west of Denver),
Molly was still excited about the adventure to come...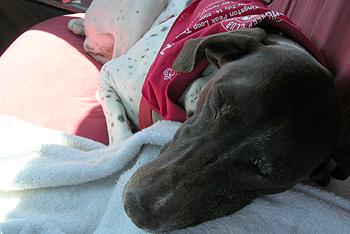 ...then once I started down the road, and it was nap time again.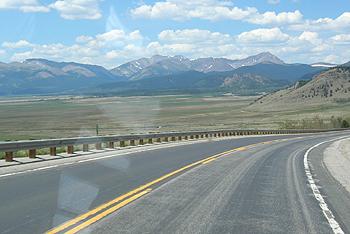 Just past Kenosha Pass, South Park and the Summit range in view...
Only MHJC committee member were allowed to camp on Friday night. As I arrived, many were already set-up and ready for the week. I found a spot and started to set-up the tent trailer. Two other Hobos were planning to attend All-4-Fun (Dan and Denise, and Jed). Just as I was setting up, Dan and Denise showed up and set up their tent trailer too. The rest of the day was some R&R, and the night was really quiet (except for the occasional prop plane landing-as we were near the Gunnison airport). We knew the place (lot) to our west would be full of happy wheelers Saturday night ready for a fun week.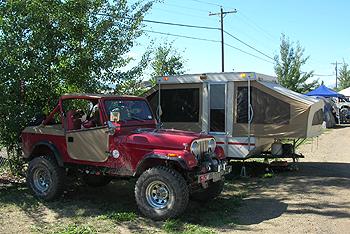 Home for the week...
On Saturday July 23rd, RV's and Jeep's began to line up at 7am, for the 8am registration opening. Many had arrived Friday and scouted a location they would want to camp for the week. They area was a dirt/paved lot just wet of the main fairgrounds. The main grassy area of the fairgrounds were off limits. Most had RV's and didn't mind. The Ireson's and Tom Allen (and the rest of the Registration Committee--and Logistics--Cory Moul) did a great job in organizing everyone that morning. Parking RV's in special spots (so we can fit everyone in) is no easy task--hats off! All day they were there, as people funneled from around the country into the fairgrounds.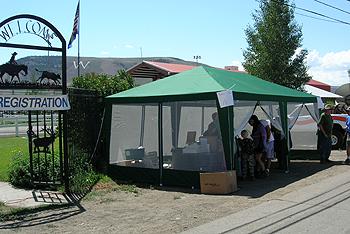 Registration tent set up...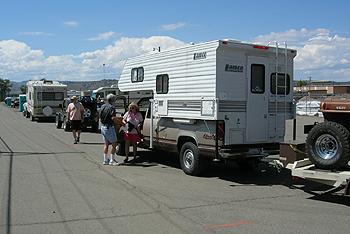 ...for arriving guests.
The day got a bit toasty, as the temps hovered in the upper 80's to 90. Still, much better the the 100's in Denver! After a much needed sleep, Molly and I headed out west of Gunnison about 8 miles to try some fishing on the Gunnison River (Molly for bugs, and me for fish). I had tried it in 97 (when we had All-4-Fun here), and it was good then. I stopped at a couple of places, dropped a line in, but no luck. Even a beautiful spot just up from Blue Mesa Reservoir yielded no bites. Oh well, fun anyway.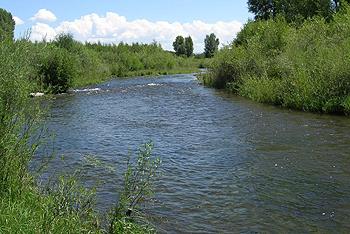 Gunnison River...
The Gunnison River near Blue Mesa (left photo looking North, Right looking South)...
Late in the afternoon, a little storm brewed up and sprinkled enough to keep some of the dust down. Jed arrived, but can only stay a day (Sunday). His parents and brother Jim plan to stay at least until Thursday.
By 7pm, all of the new arrivals had set-up camp and were ready for a fun week. No 'big top' this year, but we did have a nice huge pavilion were we had our gathering. This year's chair Chevette Lovisone had a full house at hand at 7pm as she welcomed all to the 39th Annual All-4-Fun in Gunnison!
After some common camp rules and Q&A, many signed up for the 1st trip due to go out Sunday (trips Sunday, Monday, Tuesday, Thursday, and Friday). It was back to camps and the mingling began....til we all get up in the morning to kick off and see some of the beautiful countryside the Gunnison area has to offer!!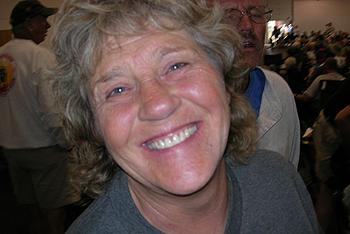 Nancy is ready for a fun week in Gunnison!!


Everyone listens to the Orientation meeting...Welcome!!
"See ya on the trail"
Bill Hallinan HoboJeepers
Other All-4-Fun 2005 Trip Reports
Sat: Registration/Set-up Sun: Alpine Tunnel/Hancock Pass
Mon: San Juans-Engineer Pass/Animas Forks Tue: San Juans-Black Bear/Imogene Passes
Wed: Family/Vendor Day Thur: Italian Creek/American Flag Mtn.
Fri: Poverty Gulch/Devils Punchbowl/Crystal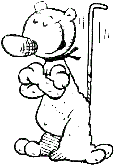 *To HOBOJEEPERS HOMEPAGE w/frames*
To HOBOJEEPERS HOMEPAGE without frames
(c) Copyright 2005 MHJC Patrol One
Jeep is a registered trademark of Daimler Chrysler Corporation