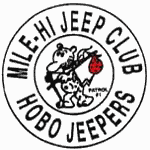 Jeep, Jeep!
Join Patrol 1 and Eugene The Jeep for the:
9th Annual
*HOBO RUN 2007*
Over the Kingston Peak Loop Trail
Saturday July 14, 2007
Congrats to Dan Pardikes!
"Top Hobo" 2007!!
"As real Hobos ride the rails, we instead ride the trails."

Come be a Hobo for a day, and ride the Kingston Peak Loop with us. As a Hobo, you'll need to muster up needed supplies along the trail to survive. Each item collected at five different checkpoints along the trail will be assigned a point value. The Hobo with the highest point total will be rewarded with the 9th Annual "Top Hobo" Trophy. Trophies will also be awarded for 2nd and 3rd runner-ups. In addition to collecting vital supplies, a playing card will be at each checkpoint for a high poker hand and extra credit points. Oh yea, Did I mention we'd be jeepin? During the lunch stop, points will be tallied, a fun contest will be held while the judges tally the point totals. Dash plaques and a souvenir 9th Annual Hobo Run bandana (to hold your survival goodies), will be presented to each participant at registration, along with an instruction sheet. You will need a 4x4, a CB (Citizen's Band Radio-hand held ok, but reception may be weak), tow hooks, fire extinguisher, lunch, and a big smile!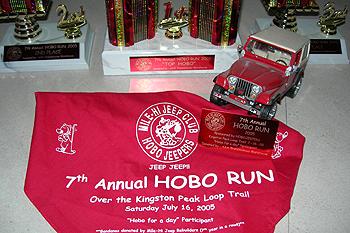 For the 9th straight year, the bandanas (handed out to each participant) will be donated by
Mile High Jeep Rebuilders of Denver: Jim @ 303-629-0378...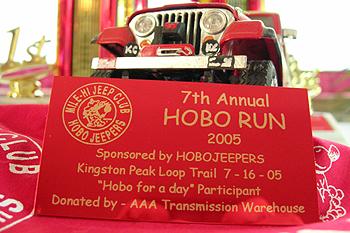 The Hobo Run 2007 dash plaque handed out to each participant...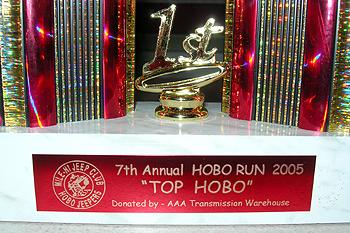 Our 'Top Hobo' Trophy...
Schedule:
WHEN: Saturday July 14, 2007
MEET: Village Inn @ 6th Ave and Union/Simms (West Lot) in Lakewood, Colorado
TIMES: 7:15am-8:20am Breakfast (Dutch)
8:00am-8:35am Registration /Sign in (receive goodie bag and instructions)-See red HoboJeepers logo sign.
8:35am- Hobo Run Raffle Drawing (need not be present to win)
8:45am- Hobo Driver Meeting (Instructions, Q&A's, and swear in)
9:00am- The Hobo Train will depart for Yankee Hill (Alice) trailhead via I-70 thru Idaho Springs/Fall River Road
on Channel 13 for the air down/disco', and your 1st Hobo survival item/card. So…."Jeep,Jeep" See ya There!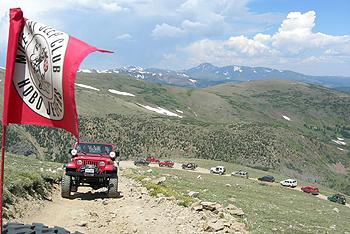 A special "Thanks" and please support all
of this years local Hobo Run Sponsors (SO FAR):
*AAA TRANSMISSION WAREHOUSE- of Englewood: John-303-789-2001: HOBO RUN 2007 Dash Plaques & Trophies
-We are the 'Baddest Boyz in the Tranz Bizness'! We offer a full service of Automatics to manual repair. 4x4 custom trannys always welcome.
*MILE-HI JEEP REBUILDERS- of Denver: Jim-303-629-0378: 9th Annual HOBO RUN Traveling Bandanas
-Established 1962 in Denver, CO--We carry a full line of new and rebuilt JEEP replacement parts, & aftermarket accessories.
*FUNTREKS.COM- of Colorado Springs:--Joan-toll free-1-877-222-7623
-Guidebooks by Charles Wells cover back roads & 4-wheel-drive trails for SUV owners and serious 4-wheelers. Books include Colorado, California, Arizona and Moab, UT.
*4WHEEL PARTS- of Aurora/Denver:--Jeremy-303-347-5337
-$25 Gift Cards for each Hobo!! That's $750!!!
-Wholesaler supplies aftermarket parts and accessories for Jeep and other four-wheel drive vehicles.
*BESTOP- of Westminster:
-Replacement tops and accessories for Jeep Wrangler, Jeep CJ, Jeep TJ and Jeep YJ.
*ROCKY MOUNTAIN DRIVELINE- of Denver:--Scott-303-433-8683
-All your driveline needs!!-
*HIGH COUNTRY 4x4- of Englewood:--Ernie/Jason-303-761-7379
-Gift Cards for 1st,2nd,& 3rd places!!
-Specializes in the sales service, and custom 4 wheel drive equipment.
This year's other national donators:
*JD MOTORSPORTS-BFGOODRICH Tires
*OH BOY OBERTO! BEEF JERKEY- For over 85 years, "Have Fun" has been more than the company motto!
*BUSHWACKER FENDER FLARES- We have fender flares for all makes and models.
*RADIATOR SPECIALTY PRODUCTS- Quality automotive, hardware, plumbing, and traffic safety products to the world, including GUNK.
*DELORME Colorado Gazateer MAPS- Provides mapping programs for handheld computers, Gazeteer Maps, and more...

A RAFFLE TOO!!!
Raffle items for 2007!!
Tickets ($1 ea or 6 for $5) sold at morning registration and given out before we leave the parking lot...
*4-BFGOODRICH All Terrain T/A KO
or Mud Terrain T/A KM Tires!!!!!
Donated by:
JD MOTORSPORTS--BFGOODRICH
and
*BESTOP- of Westminster:
- A Flexatrunk (~$350.00 value)
- Set of Fender Flares for any application (~$450.00+ value)


Click above to enlarge the Interactive Photo Map
of the Kingston Peak Loop Trail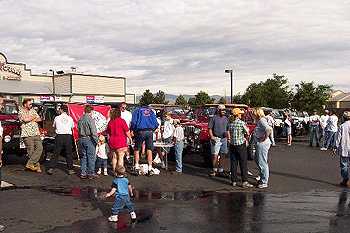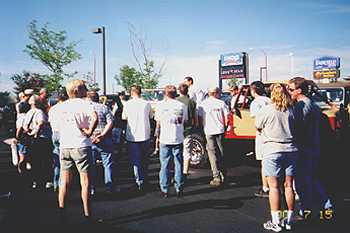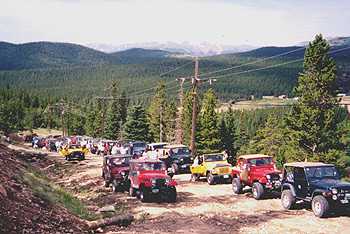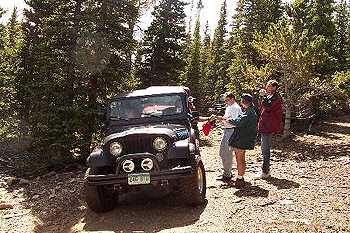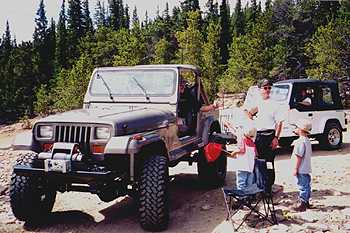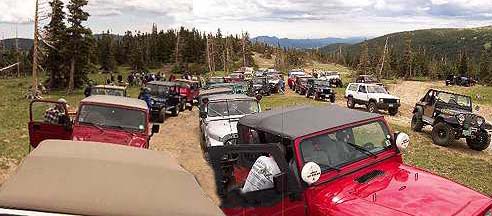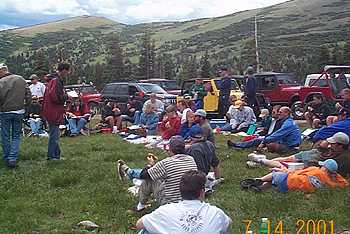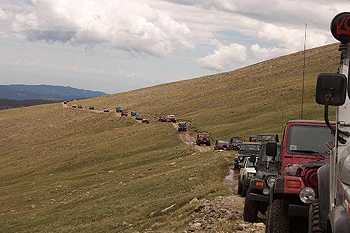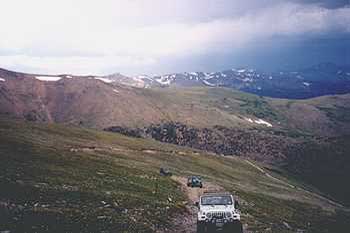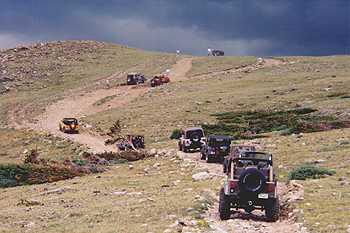 Check out the 1st Annual Hobo Run

Check out the 2nd Annual Hobo Run 2000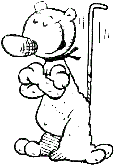 Click above to check out Eugene the Jeep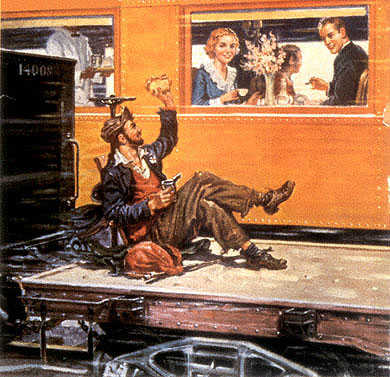 "Ridin' the Rails"

(c) Copyright 1999,2000,2001,2002,2003,2004,2005,2006,2007 MHJC Patrol One HoboJeepers
Jeep is a registered trademark of Daimler Chrysler Corporation